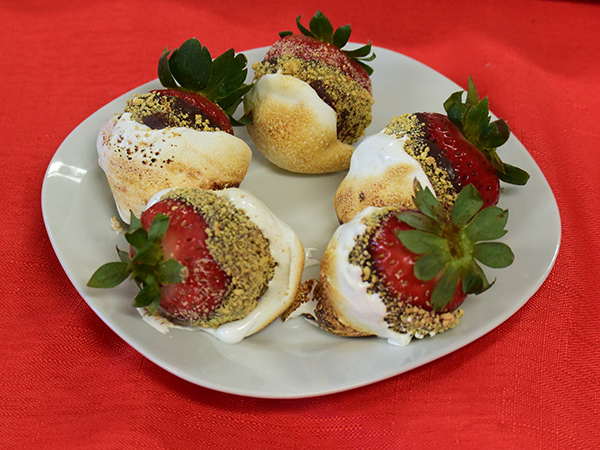 Strawberry S'Mores
The holiday season is in full-swing as well as the Florida Strawberry season. Create a festive holiday dessert spread with a Strawberry Christmas Tree, Chocolate Dipped Strawberry Reindeer, and these delectable Strawberry S'Mores.
Strawberry S'Mores are a perfect snack to have around the fireplace. Don't forget to leave a plate for Santa!
Ingredients
12 medium Florida Strawberries washed and dried with the stem and greens intact
2 cups melting chocolate wafers
6 graham crackers, crushed
1 jar of marshmallow creme
Tooth picks
Bowl for melting chocolate in the microwave
Small butane torch
Parchment paper
Cookie sheet
Method
Place chocolate wafers in a microwave-safe bowl. Microwave at 30-second intervals (at medium power), each time stirring. Continue until melted.
Dip each strawberry in the melted chocolate using a toothpick.  Let dry just until it stops dripping then roll in crushed graham crackers.  Place the berries on the parchment paper until chocolate is set. When chocolate has set completely, spoon marshmallow creme on the end of the berry one at a time. Brown the marshmallow to a golden brown with the torch.  Serve immediately.
Be sure to look for strawberries that identify Florida as their point of origin, and please treat yourself to some during this wonderful time of year.  And for a little strawberry fun, showcase your Florida Strawberries on Instagram by tagging #FlStrawberry and @flastrawberries!
On behalf of the Florida Strawberry Growers Association, I want to wish you and yours the happiest of holidays.