Florida Strawberries — Enjoy the taste of Florida sunshine all winter long!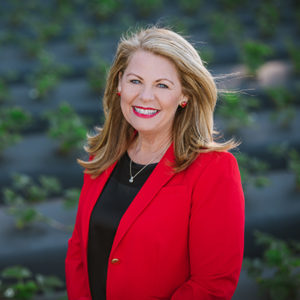 Sue Harrell, known affectionately as Strawberry Sue, is FSGA's director of marketing, seasoned strawberry grower and the voice of the blog. We invite you to visit often. Sue will keep you informed and inspired. You'll find helpful strawberry-related links, year-round news from the fields, special events and easy to prepare strawberry dishes.
Not only will Strawberry Sue be feeding you the facts, the blog will feature tasty (and tested) recipes from guest chefs, tips and techniques for cooking with strawberries and information about how to select, store and handle fresh-from-Florida strawberries. And you won't want to miss her interesting and innovative ideas for easy holiday entertaining and delicious gifts starring red, ripe and ready winter berries. Chocolate dipped strawberries anyone?
Here's a tip or two for you now. Did you ever think about using the clamshell container as a colander? And did you know that strawberries are best when served at room temp? How about the fact that just eight medium strawberries contain more vitamin C than one orange? Wait and see – Sue will fill you in on a plethora of strawberry specifics.
Of course, winter strawberries from Florida are available from Thanksgiving to Easter, but no matter. This blog will dish out inspiration all year, so keep coming back. Sue is already at work on her next post to StrawberrySue.com.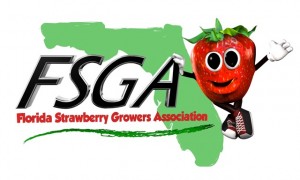 So that you know you're buying Florida-grown winter strawberries, look on the container for "Jammer," FSGA's mascot. If Jammer's picture is on it, you'll know you're about to put the reddest, sweetest and juiciest strawberries in your shopping basket. Jammer's image is on billboards and in specially designed coloring books too. A live, costumed Jammer makes personal appearances at special events. Jammer even has his own Facebook page. Take a look and become a fan.
Be sure to let us hear from you when you can. We hope you will share our blog with your culinary community to keep the fresh and fabulous Florida winter strawberries buzz alive.
Remember, Fresh, Florida strawberries are available from Thanksgiving through Easter. They're coming to a retailer near you soon. Enjoy them while you can.
The Florida Strawberry Growers Association