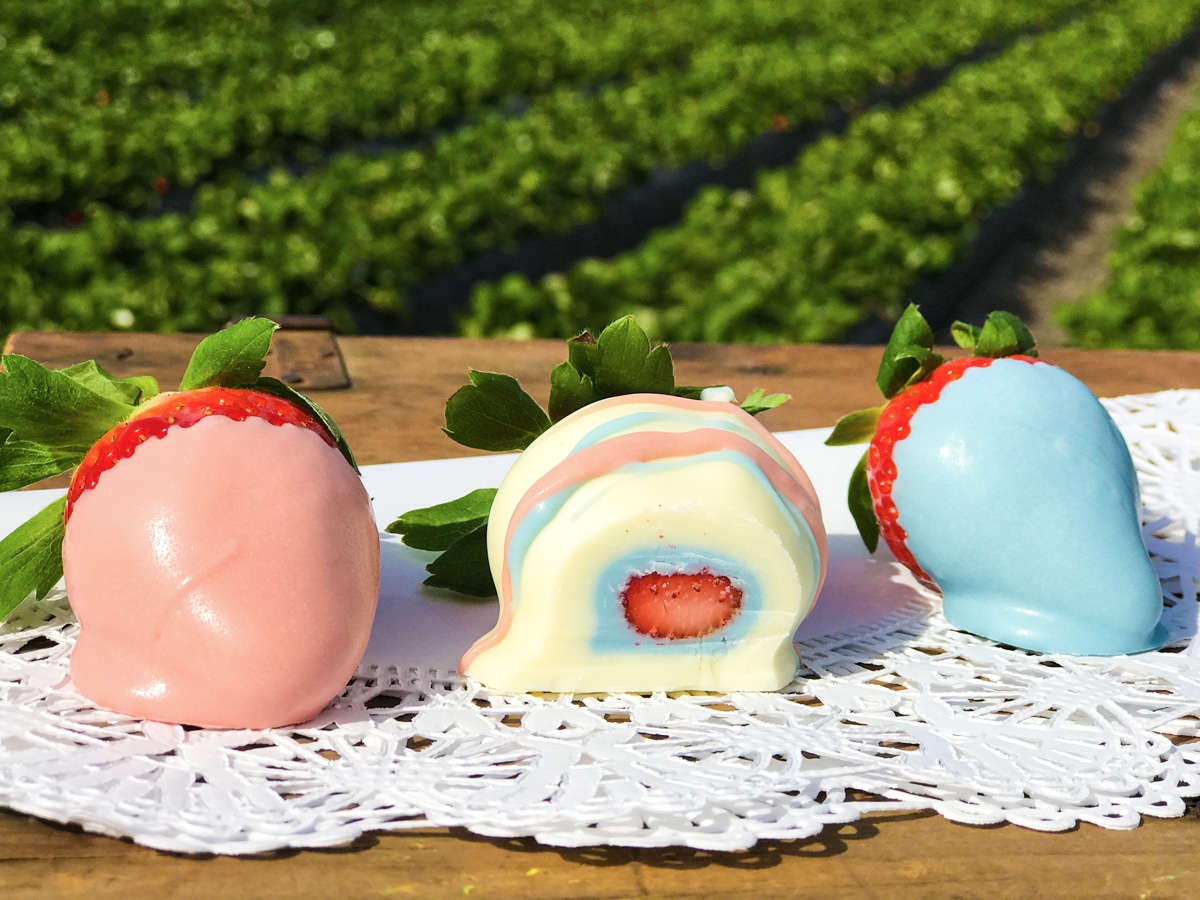 Gender Reveal Chocolate Covered Strawberries
Looking for the perfect gender reveal party idea? Pink and blue chocolate covered strawberries are a tasty and fun way to celebrate! It's easy to make gender reveal chocolate-covered strawberries. All that you need are fresh Florida strawberries, and pink, blue, and white chocolate to dip them in! Your guests won't know the gender until they've bitten into a tasty chocolate-covered strawberry, making these a fun and delicious idea for a gender reveal party!
Just make sure you get the gender right the first time! You may want to check for certain using this home prenatal gender DNA test kit so you know what color you're covering your strawberries in!
Ingredients
1 pound Florida strawberries
1 cup light pink candy melts or white chocolate wafers and light pink food coloring
1 cup baby blue candy melts or white chocolate wafers and baby blue food coloring
white chocolate wafers
Method
Wash, drain, and pat your strawberries down with paper towels.
Melt your candy melts and chocolate wafers. You can do this easily in the microwave using a microwave-safe bowl, preferably wide and with tall sides. Heat the chocolate for 15 seconds at a time, and then stir. Repeat as necessary until the chocolate has melted.
Skewer your strawberries, and then dip them in the appropriate color for your gender reveal party. Swirl the strawberries in the pink or blue chocolate just below their green tops to cover them completely.
Let your pink or blue chocolate covered strawberries cool off in the refrigerator for about 15 minutes.
Pour some of the melted pink or blue chocolate into small plastic bags, twisting the tops to push the chocolate into a corner of its bag. Pierce the tip of each bag with a skewer.
Using the plastic bags with colorful chocolate in them, decorate each of your chocolate dipped strawberries with pink and blue lines.
Refrigerate for approximately 15 minutes until the chocolate is set.
Enjoy your gender reveal chocolate covered strawberries!
Pin it!