Tres leches cake, or "three milks" cake, is a light cake soaked in three different kinds of milk. Chef Sandy Giblisco, a research-focused culinary consultant, shared her recipe for this classic dessert with us! Using self rising flour makes it easy to achieve the perfect sponge cake texture for our tres leches cake. Of course, we top ours off with fresh Florida Strawberries!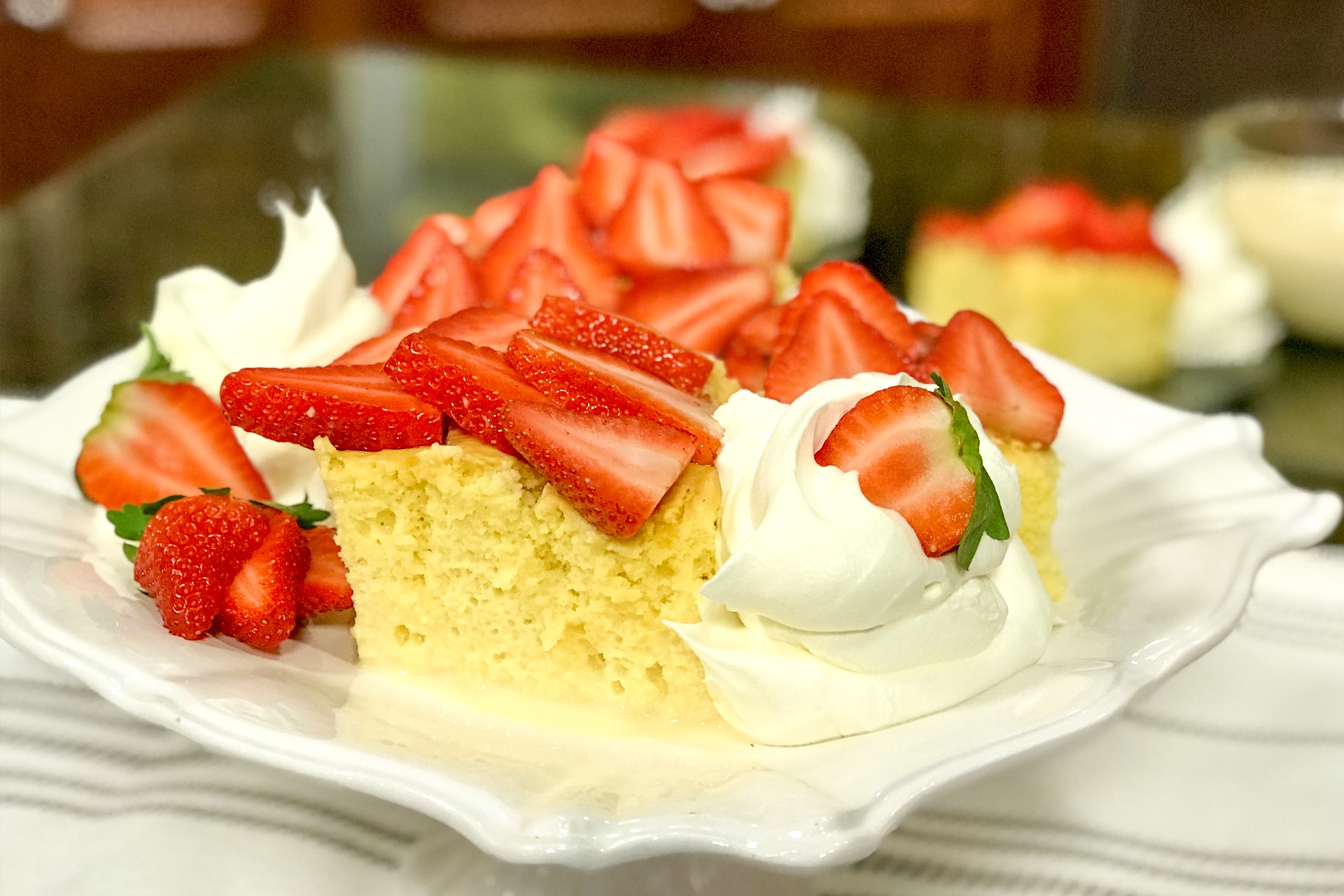 You will need:
1 9" X 13"baking pan
1 medium-mixing bowl for egg whites
1 large mixing bowl for egg yolks and other ingredients as follows
1 medium-mixing bowl for combining 3 milks
1 medium-mixing bowl chilled, for whipping cream
Rubber spatula
Oven pre-heated at 325°F
Ingredients:
Unsalted butter at room temperature, to grease baking pan
6 large eggs, separated (room temperature)
1 cup sugar
1 cup self rising flour
14 ounce can sweetened condensed milk
1 cup whole milk
12 ounce can evaporated milk (chilled)
1 quart Florida strawberries, washed, dried well, caps removed and thinly sliced, lengthwise
1 ½ cups heavy (whipping) cream
2 to 4 tablespoons confectioners' sugar
Mixing Directions:
Assemble all ingredients.
Butter baking pan and set aside.
In a clean, cool mixing bowl, beat egg whites on high speed until soft peaks form.
In another bowl, mix egg yolks and sugar until light and fluffy.
Using a rubber spatula, gently fold beaten egg whites into egg yolks until combined.
Gently fold flour into egg mixture until well combined.
Note: Try not to over mix or cake will become tough.
Spread cake batter in prepared pan.
Bake until golden color and cake pulls away from sides of pan when touched.
Cool cake 20 minutes.
Combine sweetened condensed milk, evaporated milk, and whole milk, and pour slowly and evenly over baked and cooled cake.
Cover cake with plastic wrap and refrigerate for at least 3 hours, or up to 1 day.
Prepare whipped topping by whipping cream until soft peaks form and gradually adding confectioner's sugar.
Place sliced strawberries, in rows, over top of cake.
Cut cake into squares and top with a generous amount of whipped topping or place whipped cream on the side.
Makes 15 servings.
Pin it!