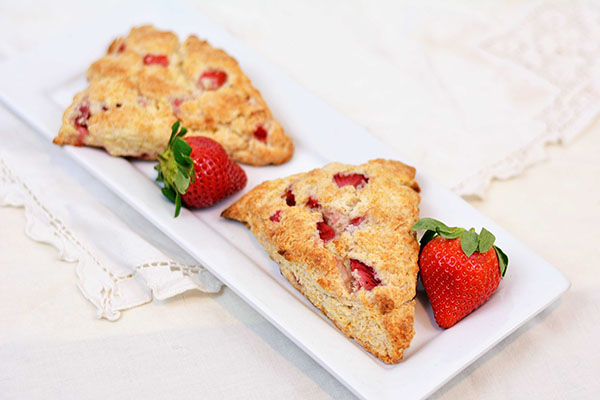 Sweetheart Strawberry Scones
Constance Smith considers herself a "seasoned" army wife after having been all over the world for the last 23+ years and has three grown kids. She chronicles her journey through her blog Cosmopolitan Cornbread and vlog Cosmopolitan Cornbread TV. She made her last move in the summer of 2013, from Alaska to Alabama. She is looking forward to putting down roots for the first time in "the land of sweet tea and rocket scientists", and looking towards life after the army.
Ingredients:
2 cup all-purpose flour
3 teaspoons baking powder
¼ cup sugar
½ teaspoon fine sea salt
5 tablespoons cold, unsalted butter
8 medium Florida strawberries
1 cup heavy cream
Method:
Preheat your oven to 425 degrees.
Combine the all-purpose flour, baking powder, sugar and fine sea salt in your food processor, fitted with the metal blade. Give them a couple pulses to mix them together.
Cut the cold, unsalted butter into small pieces, and drop them into the processor. Pulse them together until it forms a crumbly mixture, with no pieces of butter larger than a pea.
Transfer the mixture to a large mixing bowl and set it aside for a moment.
Trim and dice the strawberries into ½ inch pieces. Add the strawberries to the crumb mixture and fold them in.
Add in the heavy cream and gently mix it in with a rubber spatula until a dough begins to form.
Transfer dough and all of the messy flour mixture in the bowl, to your clean work surface. Knead the dough with floured hands just until it comes together into a sticky ball.
Pat the dough into a circle that is about ¾ inch thick. Cut the scones into 8 wedges, like a pie to form them.
Place your scones on an ungreased baking sheet and bake for 12 to 15 minutes, or until lightly golden brown. Transfer the scones to a wire rack, and cool for about 10 minutes.
Serve the scones warm or at room temperature, with a dusting of powdered sugar if you like.
Originally posted at Cosmopolitan Cornbread.
Check out the Cosmopolitan Cornbread website, follow Conni on Facebook, Twitter, Pinterest, and Instagram.