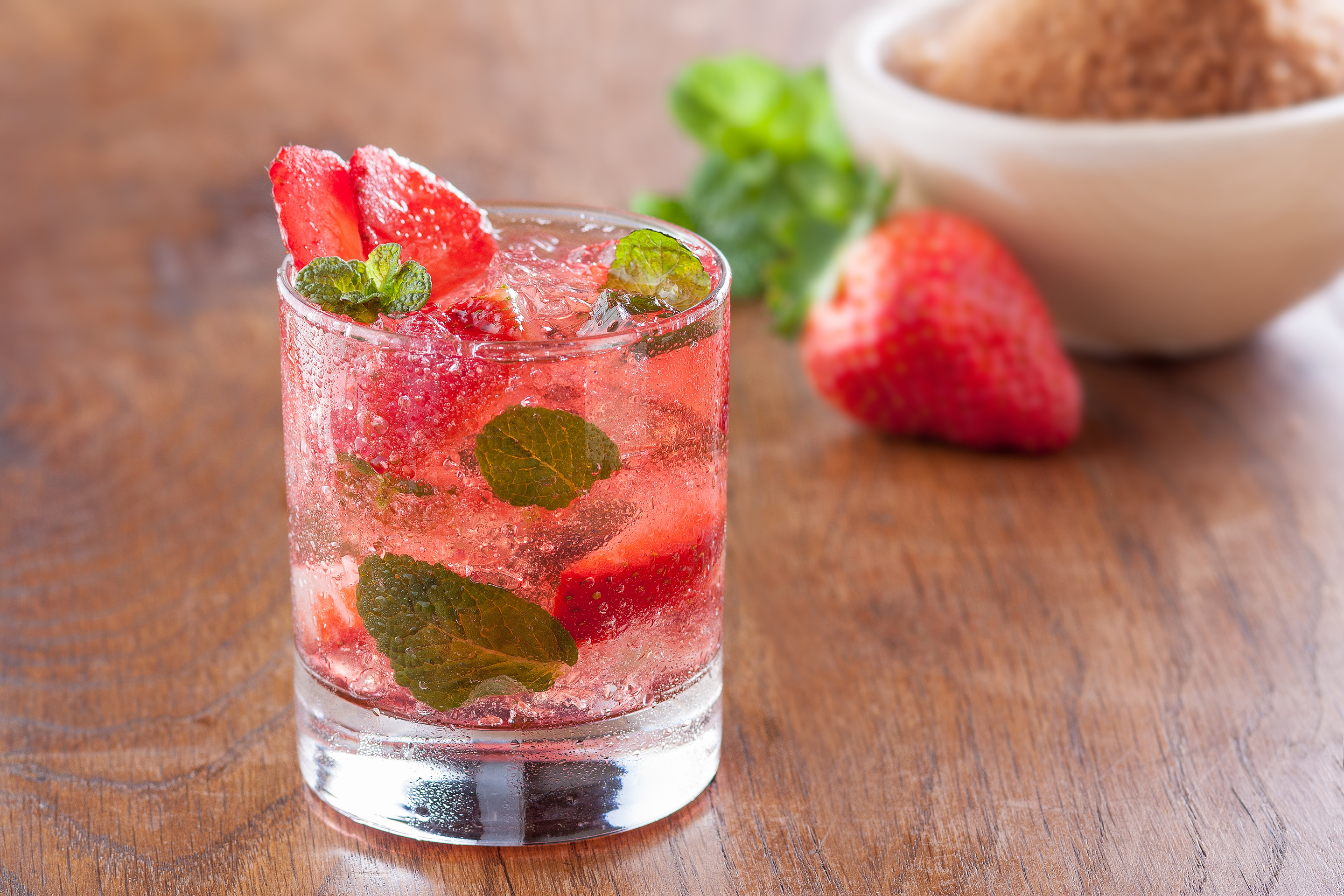 Sweet Strawberry Mojito
Mojitos are sweet, minty and icy-cold cocktails; perhaps the best hot weather cocktail around! It's no wonder it comes from Cuba where the average temperature is 77°F with 75% humidity. Mojitos also have some interesting origin stories relating back to their Cuban heritage.
One story claims that after Francis Drake's successful raid at Cartagena de Indias, his ships sailed towards Havana, Cuba. Unfortunately his crew suffered an epidemic of dysentery and scurvy. Drake is said to have sent some of his men to Havana to get a remedy from the South American Indians who were known for their cures to tropical illnesses.
The men brought back a primitive version of rum called "aguardiente de caña", fresh mint, sugar and limes; four of the five key ingredients in a Mojito. Another popular tale contends Cuban sugar farmers used ingredients readily available to make a refreshing cocktail after spending hours chopping sugar cane, coining the name from the Spanish word for wet, "mojado."
Either way the Mojito is a delicious and easy to make cocktail requiring only five ingredients; lime, sugar, mint, rum and club soda, and a little bit of ice of course. Our version includes Florida strawberries and is all the better for it. The extra sweetness of our strawberries means you can get away with using a dark rum. You'll also need a cocktail shaker and muddler for this recipe. We used a muddler for our Strawberry Mint Julep recipe if you need a refresher on what it is and how to use one.
One more bit of Mojito trivia. Did you know that the Mojito was Pulitzer Prize and Nobel Prize winning author, Ernest Hemingway's, favorite cocktail?
To this day a quote from Hemingway hangs on the wall of La Bodeguita del Medio in Havana, Cuba where he discovered his love for the cocktail. It reads, "My mojito in the Bodeguita del Medio and my daiquiri in the Floridita."
Sweet Strawberry & Lime Mojito
2 large strawberries, hulled and sliced
1/2 lime juiced
8 large mint leaves
2 teaspoons granulated or super fine sugar
2 shots ounces of white rum
1 cup ice
Club soda as needed
Add strawberries, fresh lime juice, mint and sugar to a cocktail shaker and muddle until strawberries are broken down and mint leaves are torn apart.
Add rum and ice and shake vigorously. Pour cocktail with ice into a glass and top off a splash of club soda. Garnish strawberry slices, lime slices and/or mint leaves and enjoy!