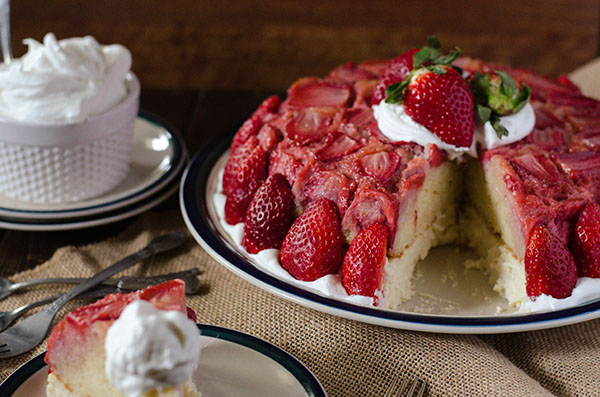 Strawberry Upside-Down Cheesecake
Erica Acevedo is the founder and voice behind the blog The Crumby Cupcake. Despite the name of her blog, Erica shares both sweet and savory recipes, all accompanied by gorgeous photos.
This Strawberry Upside-Down Cheesecake is one of those recipes! This is what Erica says about this recipe:
A shortcake twist on a classic upside down cake, stacked on top of creamy vanilla bean cheesecake, then studded with fresh Florida strawberries – a beautiful winter treat!
Ingredients
Cheesecake Layer

3 8oz. packages cream cheese, softened
½ Tablespoon vanilla bean paste (or extract)
Pinch of salt
1 cup granulated sugar
2 Tablespoons all-purpose flour
3 eggs, room temperature
1 cup sour cream, room temperature
⅓ cup heavy cream, room temperature

Upside-Down Layer

6 Tablespoons butter, melted
½ cup brown sugar
2 teaspoons vanilla extract, separated
4 cups fresh Florida strawberries, halved & separated
1⅓ cups flour
2 teaspoons baking powder
Pinch of salt
½ cup (1 stick) unsalted butter, softened
¾ cup granulated sugar
2 eggs, room temperature
¾ cup milk, lukewarm
Whipped cream, for garnish
Fresh Florida strawberries, for garnish
Method
Cheesecake Layer:
Preheat oven to 325 degrees F, placing the shelves in the bottom third of the oven. Double wrap the bottom of a 9-inch or 10-inch springform pan with aluminum foil. Butter the inside generously, then set inside a deep roasting pan. Set aside. Place a pot of water to boil on the stove, keeping an eye on it as you mix the cheesecake.
In the bowl of a stand mixer, beat cream cheese, vanilla, and salt together on high speed for 3-4 minutes, until smooth and creamy.
Add in sugar and flour and incorporate on low speed, then raise to high for 1 minute. Beat in each egg 1 at a time, blending each one fully before adding the next. Add the sour cream and heavy cream until fully incorporated.
Pour the cheesecake batter into prepared pan. Place roasting pan containing cheesecake pan in the oven, and pour boiling water into the roasting pan until it reaches halfway up the springform pan.
Bake for 75-90 minutes, until the outside is puffy and firm to the touch, but the center is still slightly jiggly. Turn the oven off, and leave the door cracked open, allowing the cheesecake to cool for two hours in the oven before removing it from the water bath and placing it in the refrigerator.
Upside-Down Layer
Preheat oven to 350 degrees F. Place butter in a 9-inch or 10-inch cake pan, and melt it in the preheating oven. When butter is melted, swirl it around the pan to ensure coverage, then add brown sugar and vanilla. Stir until well blended and spread evenly around pan.
Place halved strawberries along edges of pan and all around the bottom, cut side down. Set aside.
Sift flour, baking powder, and salt into a bowl and set aside.
In the bowl of a stand mixer fitted with the paddle attachment, cream butter and sugar together for 2 minutes on high speed. Add eggs one at a time, blending fully on low in between. Add in vanilla.
On low speed, add the dry ingredients and milk alternately in 3 additions, starting and ending with flour.
Pour batter into prepared pan. Bake 45-55 minutes, until golden on top, and mostly dry when an inserted toothpick comes out clean.
Remove from oven and allow to cool for 10 minutes, then run a sharp knife around the edge of the pan, to help loosen the cake. Carefully invert the hot cake onto a cooling rack and allow to cool to room temperature, then place in refrigerator.
When ready to assemble, remove the cheesecake from the springform pan and carefully place it on a large serving plate (it may help to freeze the cheesecake when removing it from the springform base.) Place the cooled upside down cake on top of the cheesecake.
Pipe a ring of whipped cream around the base of the cake, and press remaining halved strawberries around, covering the cheesecake.
Garnish with more whipped cream and whole strawberries. Enjoy!
Originally posted at The Crumby Cupcake.
Check out the The Crumby Cupcake website, follow Nichole on Facebook, Twitter, Pinterest, and Instagram.