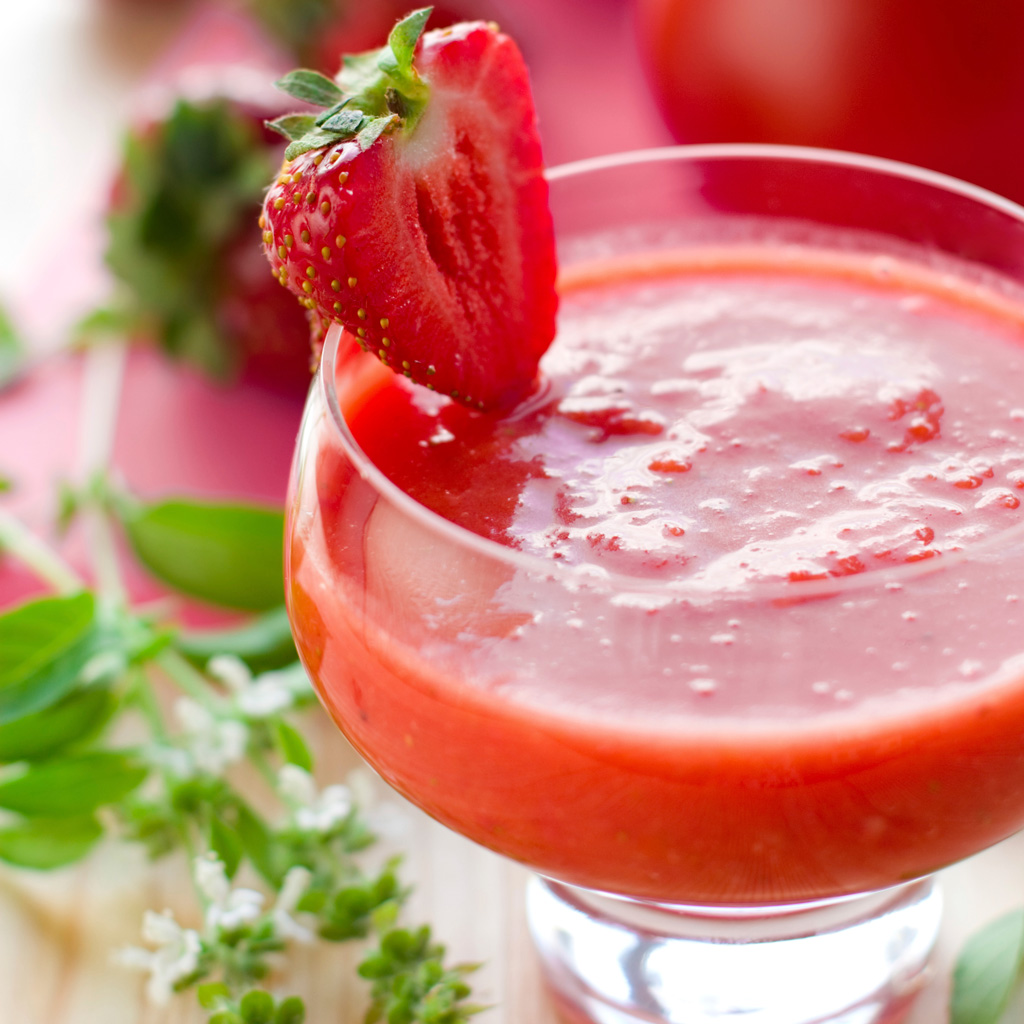 Strawberry Tomato Gazpacho
Gazpacho. Say it with me, guh-spah-choh. Despite its somewhat complicated pronunciation it's really quite easy to make. Gazpacho is a Spanish and Portuguese tomato-based soup typically served chilled with bread for dipping. It's the solution to craving soup on a warm day, all the flavor and comfort of a rich tomato soup without the heat.
The recipe presented to you today is from the kitchen of Executive Chef Judson McLester, McIlhenny Company. And it's because of where this recipe originates, the test kitchens for Tabasco® brand products, that a cold, gazpacho soup has a natural heat.
Chef McLester pairs the sweetness of Florida strawberries with the smokey-heat of Tabasco® brand Chipotle Pepper Sauce. The flavors dance a tango on the tongue.
A scarlet red, cool broth with the crispness of strawberries and cucumber pairs perfectly with the warmth provided by the smoked jalapeño sauce.
Florida Winter Strawberry Sweet & Spicy Tomato Gazpacho
1 1/2 pounds fresh Florida strawberries
2 vine-ripened tomatoes, about 1/3 pound
1 small cucumber, 3 ounces
1 small red bell pepper, 3 ounces
1 tablespoon olive oil
2 tablespoons balsamic vinegar
2 tablespoons Tabasco® brand Chipotle Pepper Sauce
Remove tops from strawberries and tomatoes. Wash and drain. Cut berries into quarters and add to the bowl of a food processor fitted with the chopping blade. Hand chop tomatoes and cucumber into ¼ inch pieces. Seed bell pepper and cut into strips. Add tomatoes, cucumber and bell pepper to strawberries. Pour olive oil and balsamic vinegar over all. Add Tabasco® brand Chipotle Pepper Sauce.
Pulse mixture until smooth and creamy. Season to taste. Pour into large bowl, cover with plastic wrap and refrigerate until ready to serve. Soup may be served chilled, at room temperature or hot. Garnish with fresh basil and serve with French bread.
Makes 4 to 5 servings.
You can download a copy of Chef Judson McLester's fabulous recipe card by clicking the download button below.