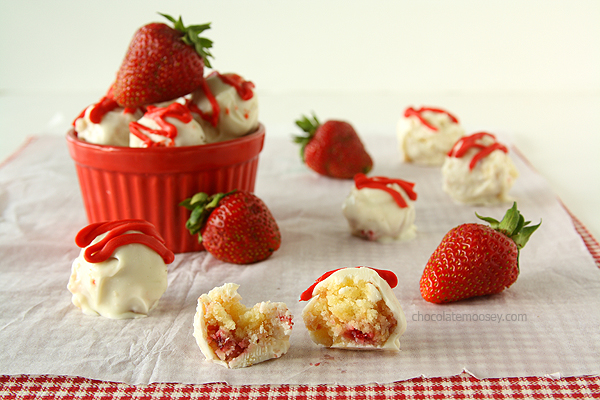 Strawberry Shortcake Truffles
It was the venerable Julia Child who once said, "If you're alone in the kitchen and you drop the lamb, you can always just pick it up. Who's going to know?" and  "Maybe the cat has fallen into the stew, or the lettuce has frozen, or the cake has collapsed — eh bien, tant pis! …the cook must simply grit her teeth and bear it with a smile — and learn from her mistakes."
Perhaps it was by following this advice that featured blogger Carla Cardello, of Chocolate Moosey, created this magnificent treat.
Strawberry Shortcake Truffles – it's a classy way of saying "my cake failed but I'm not wasting it." I mean sure, I could sit here and tell you about this trendy new way of serving cake or that  I needed a fancy treat for a picnic. …But if I did, I would be lying (and I don't want my pants to catch on fire). Instead, I took what was a kitchen disaster and served these Strawberry Shortcake Truffles anyway – crumbled sponge cake mixed with whipped cream and chopped strawberries then dipped in white chocolate.
Who knew that something so beautiful and delicious could come from a mistake in the kitchen? Guess that's a lesson to us all. Don't throw out your mistakes, turn them into something even more delightful!
Strawberry Shortcake Truffles
Sponge Cake (see Chef's note)
3/4 cup all purpose flour
1 teaspoon baking powder
1/8 teaspoon salt
1/2 cup granulated sugar
4 tablespoons butter, melted
1 egg
1/2 teaspoon vanilla
1/4 cup milk
Truffle Mix
1/2 cup heavy whipping cream
2 teaspoons powdered sugar
1 cup strawberries, finely chopped
Candy Coating
6 cups vanilla wafer candy melts
1 cup red wafer candy melts
For the cake:
Preheat oven to 350ºF. Grease one 9-inch round pan; then line with parchment paper cut to fit the bottom of the pan.
In a medium bowl, whisk together the flour, baking powder, and salt. Set aside.
In a large mixing bowl, beat together the sugar and melted butter for 2-3 minutes. Beat in the egg then vanilla. Alternating between the flour mixture and milk, gradually add the flour in three parts and the milk in two parts, starting and ending with the flour.
Scrape the batter into the pan then bake 20 minutes or until a toothpick comes out clean. Let cool for 10-15 minutes then turn out of the pan onto a wire rack and cool completely.
For the truffles:
Crumble the cake into a large bowl.
In a large mixing bowl, beat the cream until it thickens and soft peaks form (when you pull the beaters straight up, peaks will form but fall over). Add the sugar then beat until stiff peaks form (peaks will not fall over).
Stir the whipped cream and strawberries into the cake crumbs until well moistened. Form one-inch balls and freeze for at least 1 hour.
Working with 1/2 cup at a time, melt some of the vanilla wafers either in the microwave or in a bowl over a pan of simmer water. Roll each cake ball into the chocolate and let harden on a cookie tray lined with parchment paper. If the cake starts falling apart when rolling, place back into the freezer for 15-30 minutes then dip again. Keep melting the vanilla wafers until all of the truffles are made.
Once all of the truffles are dipped, place the red wafers into a sandwich bag and microwave 30 seconds. Massage the bag a little then microwave in 15 second increments until melted. Push the chocolate into one corner and the bag and snip a tiny hole. Pipe lines onto the truffles. Let harden before serving. Keep refrigerated in an airtight container for up to two weeks.
Serves: 6-7 dozen
Chef's Note: If you want to save some time or already have a cake available, this recipe uses about 9 cups cake crumbs. Feel free to use sponge cake, pound cake, yellow cake, or even white cake.
If you only want to make a few dozen, bake as cupcakes for 18-20 minutes. Crumble a few of them then either eat the rest as cupcakes or freeze unfrosted for future truffle making.
Originally posted at Chocolate Moosey.