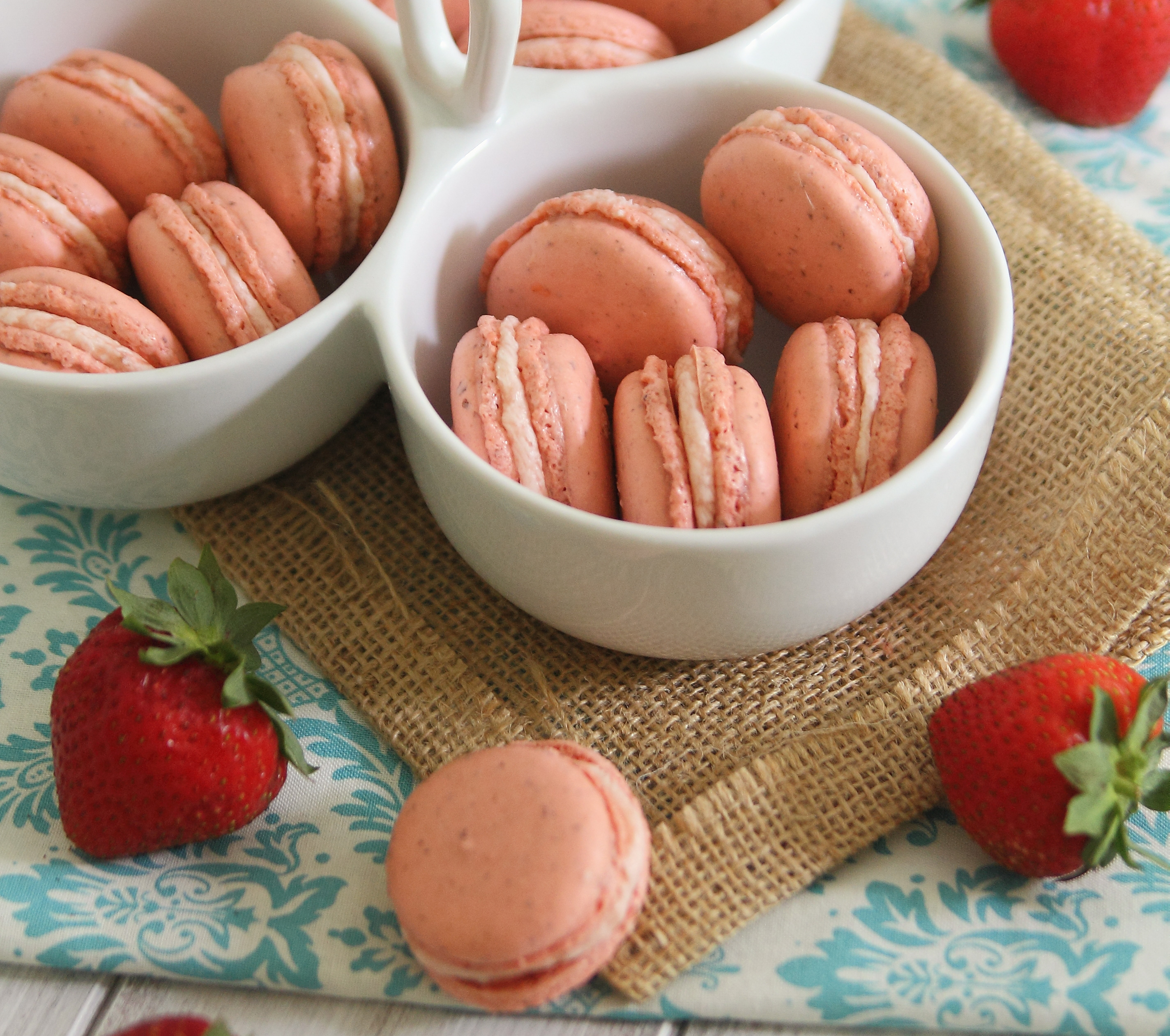 Strawberry Rhubarb Macarons
Macarons are a French confection made of two sweet meringue cookies sandwiching a sweet filling. The meringue cookies are delicate with a crunchy crust and their filling rich with flavor. Their bright variety of colors make them some of the most beautiful confections you can ever come across.
If you're ever in Paris you must make a visit to Ladurée. This French bakery has been around since the late 1800s making some of the best baked goods in all of Paris. And while the macaron was first created in Italy in the 1500s, it wasn't until 1930 when Pierre Desfontaines, the grandson of  Louis-Ernest Ladurée, came up with the idea to stack two macarons between a creamy ganache filling. And thus was born the French Macaron as we know it today, and the beautiful window displays they fashion.
Now's the time to explain the difference between a macaron and a macaroon. A macaron, or French macaron, is the shiny, crispy confection we're making today. A macaroon, however, is another meringue-based  confection but this time made with coconut and instead of a crispy shell and rich filling, it's a fluffy, somewhat chewy cake. The difference in appearance is dramatic while the difference in spelling is just an extra "o" which is where the confusion comes in.
Making macarons is no easy task and one that requires patience along with some essential kitchen tools, namely a scale. Macaron baking is as much a science experiment as it is art. Everything has to be just so. Gina Matsoukas, shares with us this recipe for Strawberry Rhubarb Macarons. But before Gina had these beautiful macarons she had a series of macaron mishaps in a post titled "How Not to Make Macarons." I recommend you read that, and the dozens of helpful comments, before embarking on your own macaron mission.
Gina gives much credit to Culinary Chronicles alum, Audra Wahhab, for macaroon mastery this time around.

We met at an event in NYC back in March and after seeing my miserable first attempt at macarons, she so kindly offered to haul her kitchen scale, pastry bags and candy thermometer up to the boonies and make a day of macaron baking so I could redeem myself.
Check out Audra's post titled, "Making Macarons: What I Learned in Paris," for an incredible primer and stunning photography on the making of the perfect French macarons.
This is one of those recipes where you really do need the right tools. In this case you'll need a kitchen scale, pastry bags and a candy thermometer. With those tools in hand, and with the help from Gina and Audra's posts, you're ready to make your own macarons. Now on to the recipe!
Strawberry Rhubarb Macarons
For the macarons
300 grams almond meal (or ground blanched almonds) sifted.
300 grams powdered sugar- sifted
110 grams egg whites
300 grams white sugar
75 grams water
110 grams egg whites
drop of red gel food coloring
For the filling
½ stick butter
½ cup powdered sugar
3-4 tablespoons strawberry rhubarb compote
Instructions
In a large bowl, whisk together the sifted almond meal and powdered sugar- breaking up any lumps or large bits. Make a well in the center of the bowl and pour 110 grams of egg whites in. Fold them in gently until the mixture is well combined, thick and paste-like.
Meanwhile, place the other 110 grams of egg whites into the bowl of a stand mixer fitted with a whisk attachment. Leave it be while you make the sugar syrup.
In a small saucepan, combine the sugar and water and stir together until dissolved. Clip a candy thermometer to the side of the pan.
When the syrup reaches 225°F, turn the stand mixer on high and start whisking the eggs. You want them to be at soft peak stage, so as soon as they are, turn the speed to low. The egg whites can wait for the syrup, but once the syrup is ready, it cannot wait.
When the syrup hits 239°F, carefully pour it into the side of the bowl while the mixer is running. You don't want the syrup to run down the bowl, or it will cool, so aim to pour it right at the spot where the egg whites meet the side of the bowl.
Whip on high for about a minute- and then reduce speed to low and continue beating until the bowl has cooled slightly, and glossy stiff peaks have formed.
Add ½ of the meringue to the almond mixture, and gently fold it in until combined and smooth. Gradually add the rest of the meringue until batter is smooth and it almost ribbons off the spoon. Add gel coloring at this time and fold it in until the batter is smooth and shiny and totally ribbons of the spoon.
Fill piping bags with a round tip and preheat oven to 300°F.
Prepare baking sheets with parchment paper. If your oven has a strong fan you may want to pipe dots of batter onto the corners to stick the parchment down.
Pipe small rounds with the bag perpendicular to the baking sheet. Let the piped macarons sit out until a trace of a shell is formed- 20-30 minutes will do- maybe less. This helps keep their shape while baking.
Bake for about 15 minutes. To test if done- open the oven and wiggle the top of a shell back and forth. If it's super "wiggly" they need more time. Perfect macs will be just a little wiggly- but overall firm.
When done, remove parchment from the sheet and let cool for 5 minutes on the counter top. Gently peel parchment paper off and cool completely before filling.
Macarons taste best when "ripened" in the fridge for 24-48 hours, but can last in the fridge air-tight for up to a week or two.
Combine butter & sugar in a stand mixer fitted with the paddle attachment. Mix on medium-high speed until combined.
Add the strawberry rhubarb compote 1 tablespoon at a time with the mixer on low speed to make sure the filling doesn't get too runny. You want to add as much compote for flavor as possible while still keeping a butter cream consistency.
Scoop the filling into a pastry bag and pipe onto a cooled macaron shell. Place another macaron shell on top and gently press down to sandwich the cookies together.
Macaron recipe from The Baker Chick and reposted from Running to the Kitchen with permission.