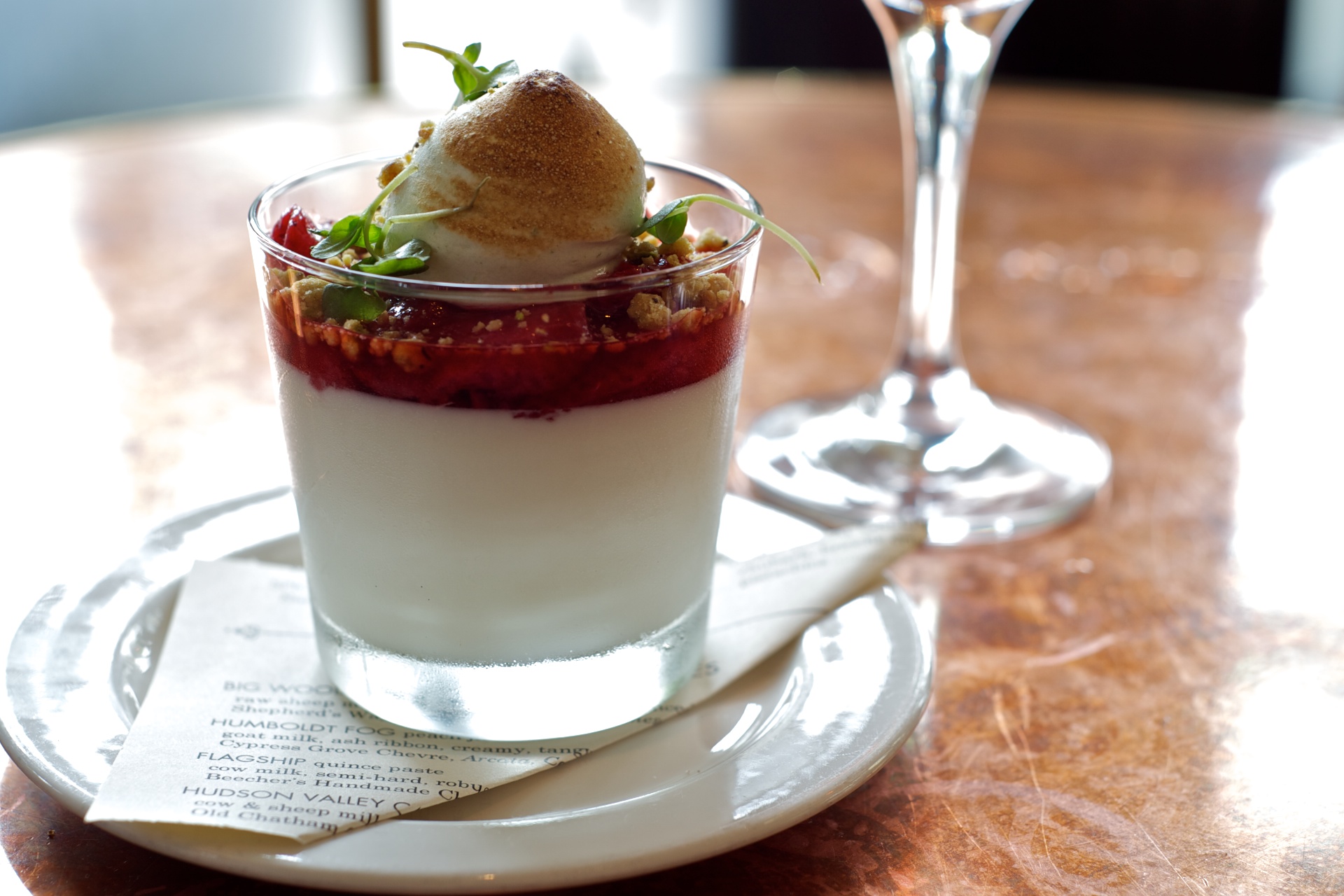 Strawberry Panna Cotta
Inspired by a dish from Absinthe Brassiere and Bar, this panna cotta recipe is sure to delight any dinner guests. Panna cotta, for those who don't know, is Italian for "cooked cream".
The origin of this creamy dessert is generally believed to be the Piemonte region of Northern Italy, where they paired it with hazelnuts and fresh fruit.
This gorgeous, layered dessert belies its easy preparation. The creamy buttermilk panna cotta, which can be made up to one day ahead, is the perfect foil for the sweetness of the roasted Florida strawberries.
Guests will become even more impressed with the basil-infused whipped cream and crunchy toasted pistachios.  This is elegance with ease.
Panna Cotta, Roasted Florida Strawberries, Basil Whipped Cream and Toasted Pistachios
Buttermilk Panna Cotta
2 tablespoons water
1 (.25-ounce) envelope unflavored gelatin
1 cup half-and-half, not fat-free or reduced fat
3/4 cup sugar
1 teaspoon vanilla extract
Pinch of salt
2 cups buttermilk, at room temperature
 In a small bowl, add the water and sprinkle with unflavored gelatin. Let stand for 5 minutes. While gelatin is dissolving, heat half-and-half, sugar, vanilla, and salt in a medium saucepan over medium-low heat. Stir constantly until sugar dissolves, about five minutes.
Reduce heat to low and stir in gelatin and buttermilk. Carefully pour mixture through a fine sieve into eight 6-ounce ramekins. Cover and chill for at least four hours or overnight (can be made to this point up to one day in advance). Top with roasted strawberries, basil-infused whipped cream, cinnamon (optional) and pistachio crumble (recipes follow).
Roasted Florida Strawberries
2 pints fresh strawberries, washed, stemmed and chopped
1/4 cup sugar
Vanilla bean, split and seeds removed
Preheat the oven to 450 degrees. In a small mixing bowl, stir sugar and vanilla seeds to combine. Place the strawberries on a baking pan and toss with the sugar. Roast in the oven for 20 minutes. Cool to room temperature.
Basil-Infused Whipped Cream
12 basil leaves
1 cup whipping cream
2 tablespoons sugar
¼ teaspoon vanilla extract
Wrap basil leaves in a paper towel and gently bruise by rolling over them with a rolling pin. In a medium saucepan, over low heat, heat whipping cream. Stir in basil leaves. Remove from heat, cover and steep for 30 minutes then place in refrigerator to chill completely. Place a medium mixing bowl and beaters in freezer. Pour whipping cream mixture through a fine sieve into chilled mixing bowl and beat just until soft peaks form. Add sugar and vanilla and beat until stiff peaks form. Cover and store in refrigerator for up to two hours.
Toasted Pistachios
Preheat oven to 325 degrees. Spread pistachios in a single layer on a baking sheet. Bake 5 to 10 minutes until light brown and fragrant, stirring occasionally to ensure even toasting. Cool then chop.
To serve, top panna cotta with a layer of roasted strawberries, a dollop whipped cream, cinnamon (optional) and toasted pistachios. Serves 8.
The combination of the creamy panna cotta, and the roasted flavor of Florida strawberries, is accented by the silky whipped cream and crunch of the toasted pistachios. I cannot wait to hear what your guests thought of this dessert!