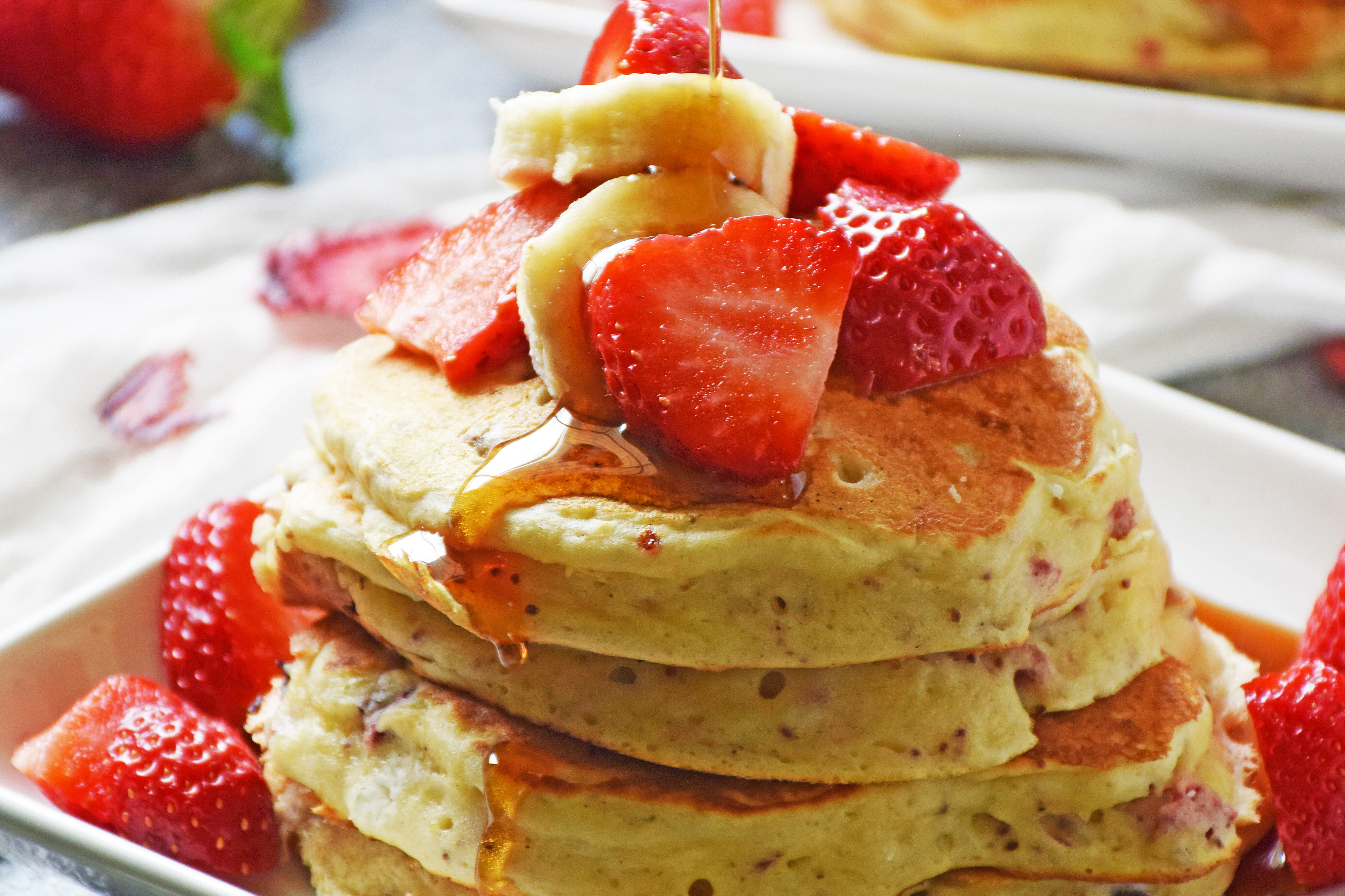 Strawberry Pancakes
Marion Myers is the chief cook, bottle washer, recipe developer, photographer, writer, social media crazy person, and founder of Life Tastes Good. She creates simple recipes utilizing fresh herbs and good cooking techniques. Marion is no stranger to Florida Strawberry; she has also shared her recipe for Strawberry Caprese Pasta Salad with us!
Marion is sharing her recipe for Strawberry Pancakes, but these are not your ordinary strawberry pancakes! Find out her secret ingredient that keeps these pancakes light and fluffy!
Ingredients:
2 cups all-purpose flour

1/4 cup sugar
2 teaspoons baking powder
1 teaspoon baking soda
1 teaspoon salt
1 1/2 cups buttermilk
2 eggs
1 teaspoon pure vanilla extract
2 tablespoons unsalted butter, melted
1 cup dried strawberries, chopped
Vegetable oil
Fresh fruit for topping (optional)
Pure maple syrup
Method:
Heat a cast-iron skillet or griddle to medium heat. A stainless steel skillet will work nicely too, but try to avoid non-stick. I've found the pancakes don't get a nice crisp, golden outside when using non-stick.

While the skillet is heating, mix 2 cups all-purpose flour, 1/4 cup sugar, 2 teaspoons baking powder, 1 teaspoon baking soda, and 1 teaspoon salt in a large mixing bowl.

Next, whisk 2 eggs into 1 1/2 cups buttermilk and add 1 teaspoon vanilla extract along with 2 tablespoons melted butter. Whisk to combine the ingredients. Pour the buttermilk mixture into the dry ingredients and stir until just combined. Be careful not to over mix. Lumps are okay.

Gently fold the dried strawberries into the batter.

Pour a little vegetable oil on a paper towel and coat the heated pan. I recommend using tongs to hold the paper towel so you don't burn your fingers! The oil should just coat the pan. You don't want the oil to pool at all as this will result in greasy, blotchy pancakes.

Spoon about 1/4 cup of batter into skillet per pancake and cook, undisturbed, for about 2 to 3 minutes or until bubbles appear all over the surface of the pancakes.

Flip over and continue to cook for about 1 minute longer. Please don't press down on the pancakes at any time! We want fluffy pancakes! Remove pancakes and keep warm while you finish making the rest of the pancakes. Remember to re-oil the pan in the same manner prior to putting new batter in the pan.

Serve with fresh fruit if desired and pure maple syrup. Enjoy!
Note: To store pancakes for later use, cool them completely and store in an airtight container until ready to use.
Originally posted at Life Tastes Good.
Check out the Life Tastes Good website, follow Marion on Facebook, Twitter, Pinterest, and Instagram.
Pin it!