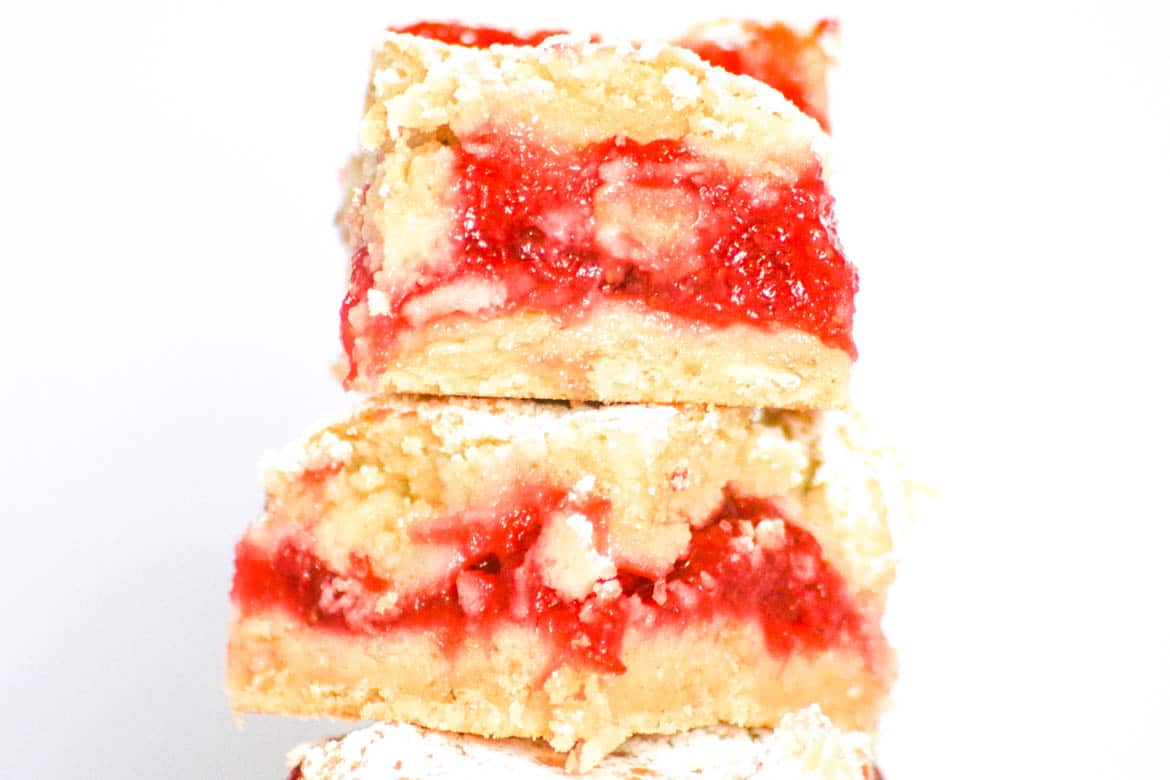 Strawberry Oatmeal Bars
Betsy Cohen shares her most beloved dessert recipes on her blog, Desserts Required. From cakes and cookies to mousses, puddings and more, delicious desserts are her specialty! She is the owner of Happylicious by Betsy, and loves to experiment with her recipes.
Betsy is sharing her recipe for Strawberry Oatmeal Bars. Here's what she has to say about the recipe:
Strawberry Oatmeal Bars are a terrific way to celebrate the fact that Florida Strawberries are in season. There are plenty of strawberries to enjoy in Strawberry Oatmeal Bars. The Florida strawberries are cooked on the stove first to give a jam consistency before they are transferred to the bars.
Ingredients
For the filling:
1 quart Florida strawberries, washed and hulled
⅔ cup (142 grams) sugar
1½ tablespoons (12 grams) cornstarch
1 tablespoon (12 grams) lemon juice
For the bars:
1 cup (143 grams) all purpose flour
⅓ cup (38 grams) oat flour
⅓ cup (28 grams) old fashioned oats
½ teaspoon (4 grams) salt
12 tablespoons (172 grams) unsalted butter, softened
1 cup (211 grams) sugar
½ teaspoon (2 grams) vanilla extract
1 egg
confectioners sugar for dusting
Instructions
For the filling:
Place the strawberries in a medium saucepan. Mash with your hands or a masher and add ⅔ cup sugar, cornstarch and lemon juice. Cook over medium heat until the mixture is thick and translucent, stirring constantly. Cool completely.
For the bars:
Preheat the oven to 350°. Line an 8″ x 8″ baking pan with parchment paper and set aside.
Whisk together the all purpose flour, oat flour, oats and salt. Set aside.
Beat the butter, sugar and vanilla in a large mixing bowl until light and fluffy, about three minutes. Add the egg.
Blend in the dry ingredients.
Spread half of the dough onto the bottom of the parchment lined baking pan. Top this with the cooled strawberry filling. Drop the remaining dough by the spoonfuls over the strawberry filling. The entire top will not be covered.
Bake at 350° for 45-50 minutes. Cool in the pan.
Cover with plastic wrap and refrigerate overnight.
Lift the parchment paper out of the pan and transfer it to a cutting board. Cut into 16 bars.
Dust with confectioners sugar.
Notes:
Additional time is required for the filling to cool and the bars to sit in the refrigerator overnight.
Originally posted at Desserts Required.
Check out the Desserts Required website, and follow Betsy on Facebook, Twitter, Pinterest, and Instagram!
Pin it!