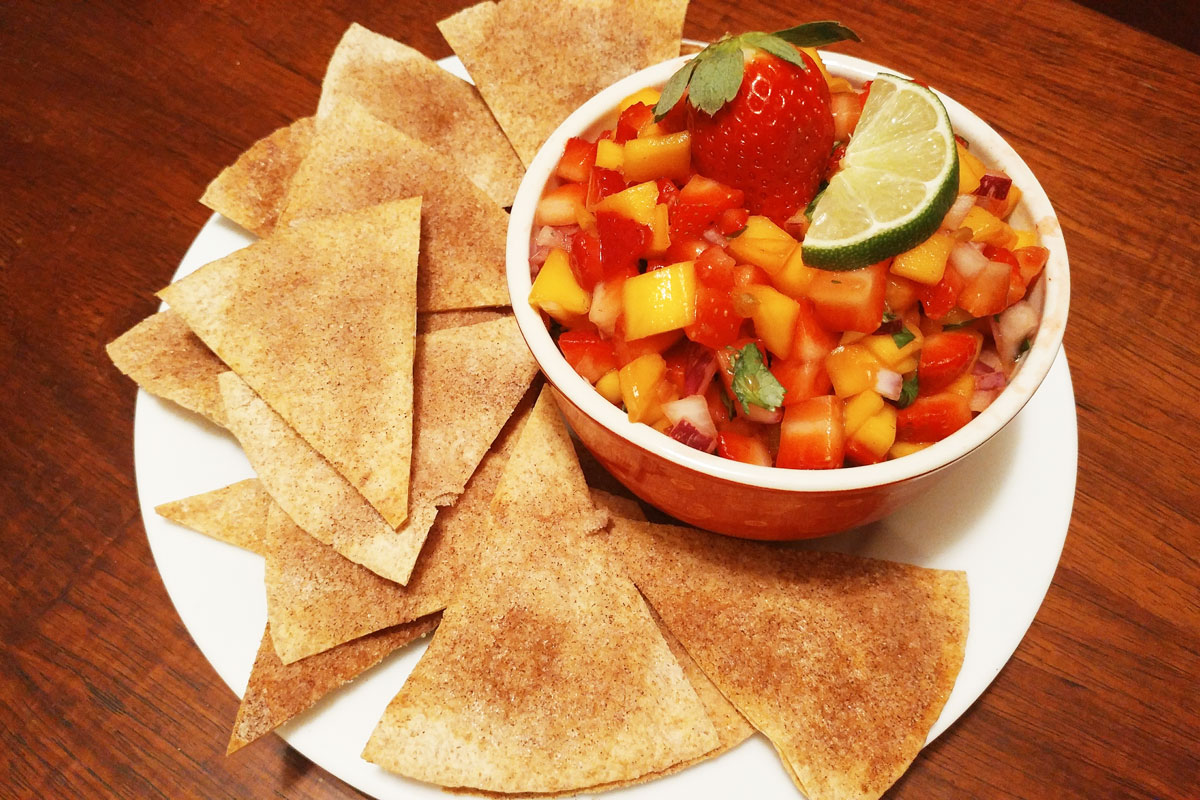 Strawberry Mango Salsa with Whole Wheat Cinnamon Chips
Meghan Roth is the voice behind Meghan on the Move where she shares her journey as a 30-something in Orlando, Florida. And she's certainly always on the move with her running, racing, and traveling!
This is what Meghan says about her Strawberry Mango Salsa:
This recipe is super easy, so it is great for a party, before a meal, or even just an afternoon watching football. You can even use the leftovers to top some chicken or fish, or to add to breakfast the next morning.
Ingredients:
For salsa:

1 cup chopped strawberries
1 cup chopped mango
½ cup diced red onions
½ – 1 tablespoon jalapenos (I used the kind from the jar)
2-3 tablespoon chopped cilantro
1 teaspoon sugar
Juice of 1 lime

For Chips: 

Whole wheat tortillas
1 tablespoon melted butter
½ cup sugar
1 tablespoon cinnamon
Method:
In medium size bowl, mix together strawberries, mango, and onion.
Stir in 1 teaspoon of sugar and let sit for 5-10 minutes.
Mix ½ – 1 tablespoon of jalapenos (to taste).
Mix in lime juice and cilantro (to taste).
While the salsa is marinating in the sugar, you can get your first batch of cinnamon chips in the oven.
Preheat oven to 350° F and line baking sheet with parchment paper.
Using a knife or pizza cutter, cut each tortillas into 8 pieces.
Melt 1 tablespoon of butter.
Mix together sugar and cinnamon. This will make more than you need. I recommend putting the mixture in a shaker so that it is easier to put on your chips and so that you can save the leftover.
Brush each tortilla piece with butter and then top with cinnamon sugar mixture.
Bake for 10-12 minutes.
Originally posted at Meghan on the Move.
Check out the Meghan on the Move website, follow Meghan on Facebook, Twitter, Pinterest, and Instagram.
Pin it!