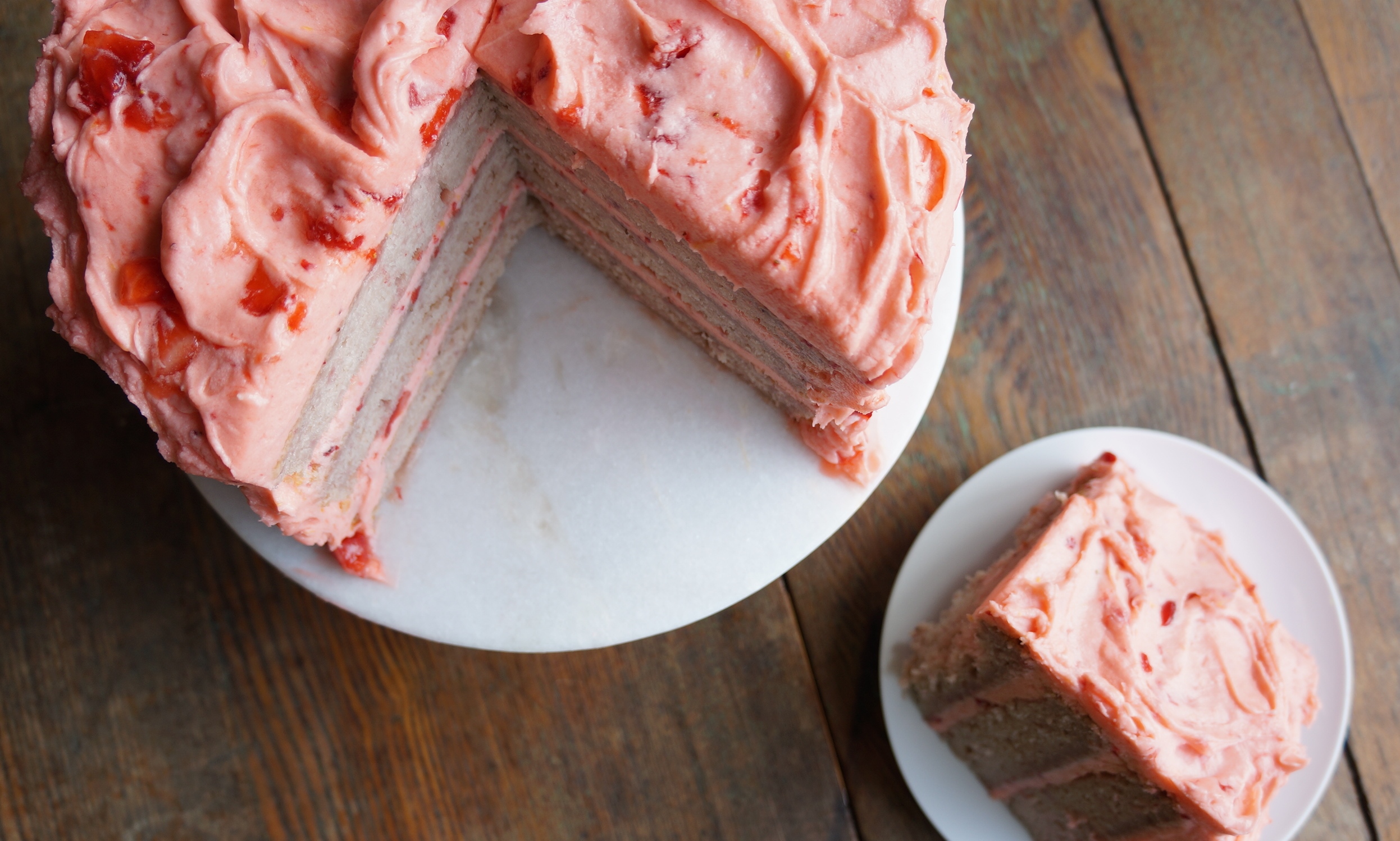 Strawberry Lemonade Cake
This recipe comes to us from food blogger Rebecca Gordon. Inspired by the incredible recipes from her blog, Buttermilk Lipstick, we sent Rebecca a bucket of fresh berries to do with as she pleased and here's what she had to say about them!
"I'm grateful for the beautiful bounty of ripe strawberries that arrived on my doorstep carefully packaged & brimming from a huge enamelware tub. I couldn't help but treat myself to a post lunch snack over the kitchen sink.

I've never quite had strawberries so juicy & flavorful… these are by far the best I've ever had so my new strawberry obsession will have me chasing this tastemaker, well… forever."
We're so happy Rebecca loved her berries, we sure do love her cake! Check out the full recipe below and her original blog post here. If you want even more of Rebecca's great work, she shares 30-minute recipes & great party ideas in The Half-Hour Hostess.
Old Fashioned Fresh Strawberry Lemonade Cake
3/4 cup butter, softened
1 3/4 cups sugar
2 eggs
3 Tbsp fresh lemon juice
2 1/4 cups all-purpose flour
1 tsp baking powder
1/2 tsp baking soda
2 cups fresh Florida strawberry puree
1/2 cup whole buttermilk
Grease & flour 3 (8-inch) round cake pans
Beat the butter & the sugar with an electric stand mixer until light & air. Add the eggs & lemon juice & mix until well blended (stop the mixer on occasion & scrape the sides of the bowl with a rubber spatula).Whisk together the flour, baking powder & soda in a small bowl. Add to the butter mixture alternately with the strawberry puree & the buttermilk, blending on low speed just until the ingredients are combined.
Portion & spread the batter evenly between the pans. Drop each pan about an inch from the counter surface 3 times to settle the leavening (this will ensure an even rise in the oven).
Bake at 350°F for 21 to 23 minutes or until a wooden pick tests clean. Cool on a wire rack 10 minutes. Remove cake layers from the pans & cool completely.
Wrap each cake layer separately in plastic wrap. Freeze 4 hours or overnight.
Strawberry Lemonade Buttercream
1 cup butter, softened
2 tsp fresh lemon zest
8 tsp fresh lemon juice
2 (16-oz) boxes powdered sugar
2/3 cup finely chopped fresh strawberries
3 Tbsp finely chopped fresh strawberries
Beat the butter, lemon zest & lemon juice with an electric stand mixer until light & well blended (stop & scrape the bowl on occasion with a rubber spatula).Add 1 box of powdered sugar & the strawberries. Mix on LOW speed until blended. Add the remaining box of powdered sugar & blend until crumbly. Crank up the mixer to HIGH & beat until combined. Fold in the remaining 3 Tbsp finely chopped fresh strawberries.
Spread a generous amount of frosting between cake layers & on top. Run a thin layer around the cake sides & push the frosting into crevasses to fill gaps. Swoosh the frosting around the sides & on the top of the cake using a small palate knife.