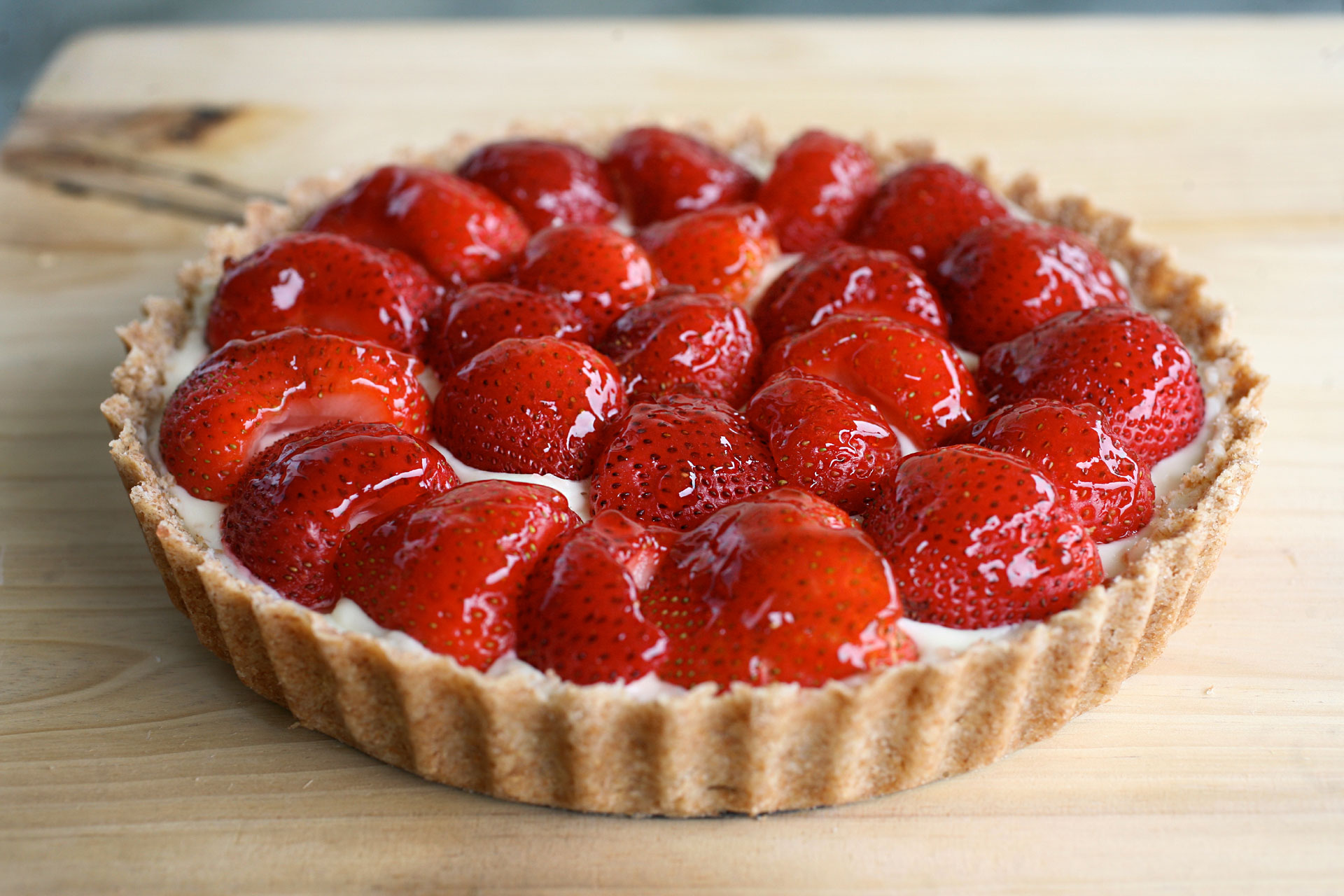 Strawberry Lemon Tart
I have already shared a delicious and easy Rustic Florida Strawberry Tart on the blog. Today though I am sharing a more traditional tart. For those who don't know, a tart is like a pie without a crusty top.
They are typically baked in a particular baking dish appropriately called a tart pan. Tart pans have a decorative rippled edge and often a removable bottom. Unlike most pies which are served from their baking dish, a tart, with it's beautiful rippled crust, is meant to be shown off.
And boy is the crust worth showing off! It is light-gold in color and buttery-rich in flavor. Most tarts are made from a shortbread base, dry yet buttery and absolutely irresistible.
The tart we're making today is a strawberry and lemon tart. A combination of bright strawberry flavor, a crisp citrus yet rich custard filling and butter crust. You are going to love it!
Florida Strawberry Lemon Tart
Ingredients
Crust
1 1/4 cups all-purpose flour
3 tbsp granulated sugar
1/4 teaspoon salt
7 tbsp unsalted butter, cut into 1/2-inch pieces
1 large egg yolk
1/2 tsp pure vanilla extract
1/2 tsp fresh lemon juice
3 tbsp cold water
Filling
3/4 cup sugar
2 tbsp. cornstarch
Salt (dash)
3/4 cup water
1 slightly beaten egg yolk
3 tbsp. lemon juice
1 tsp. grated lemon peel
1 tbsp. butter
Glaze
¼ cup sugar
2 tbsp strawberry gelatin
1 tbsp cornstarch
3/4 cup water
1 quart whole Florida strawberries (rinsed, drained and green tops removed)
Method
For the tart shell:
Pulse together flower, sugar, salt and butter in a food processor until mixture resembles coarse meal, butter lumps are expected.In a separate bowl, whisk together yolk, vanilla, lemon juice and water. Drizzle liquid over flour mixture pulse until mixture comes together.
Prepare to knead dough by flouring your hands and a cutting board. Gently knead flour mixture to form a ball or oval shape. Press dough evenly into the bottom and sides of a ten-inch tart. Prick the base of the tart shell with a fork. Place into freezer for ten minutes.
Preheat oven to 375°F.
Remove tart from freezer, line with foil and fill with pie weights to keep crust smooth. Bake for twenty minutes, or until sides are golden. Remove tart from oven and carefully remove foil and weights. Return to oven and continue baking for twenty minutes. Remove from oven; set aside to cool for thirty to forty-five minutes.
For the filling:
In a saucepan, mix sugar, cornstarch, and salt. Add water, egg yolk, and lemon juice. Cook over medium heat, stirring constantly, until thickened. Remove from heat; add lemon peel and butter. Mix well. Pour evenly into cooled tart
For the glaze:
Combine sugar, gelatin, and cornstarch. Bring water to a boil in a saucepan. Whisk in dry ingredients and cook until mixture thickens. Remove saucepan from heat and cool to room temperature. Dip each strawberry into the glaze and arrange attractively on top of the tart filling. Chill for 2 hours before serving.
Note: Pie weights can be rice, beans, ceramic balls, or linked steel beads that are spread evenly around the bottom of the crust to keep it from shrinking, bubbling, or rising up while it bakes. Typically, the pastry crust is pricked with a fork and then lined with aluminum foil or wax paper, after which 1 to 2 cups of weights are placed over and around the foil or paper lining, allowing for ease of placement and removal just before the baking is finished. If using rice or beans discard them after use.
Related articles