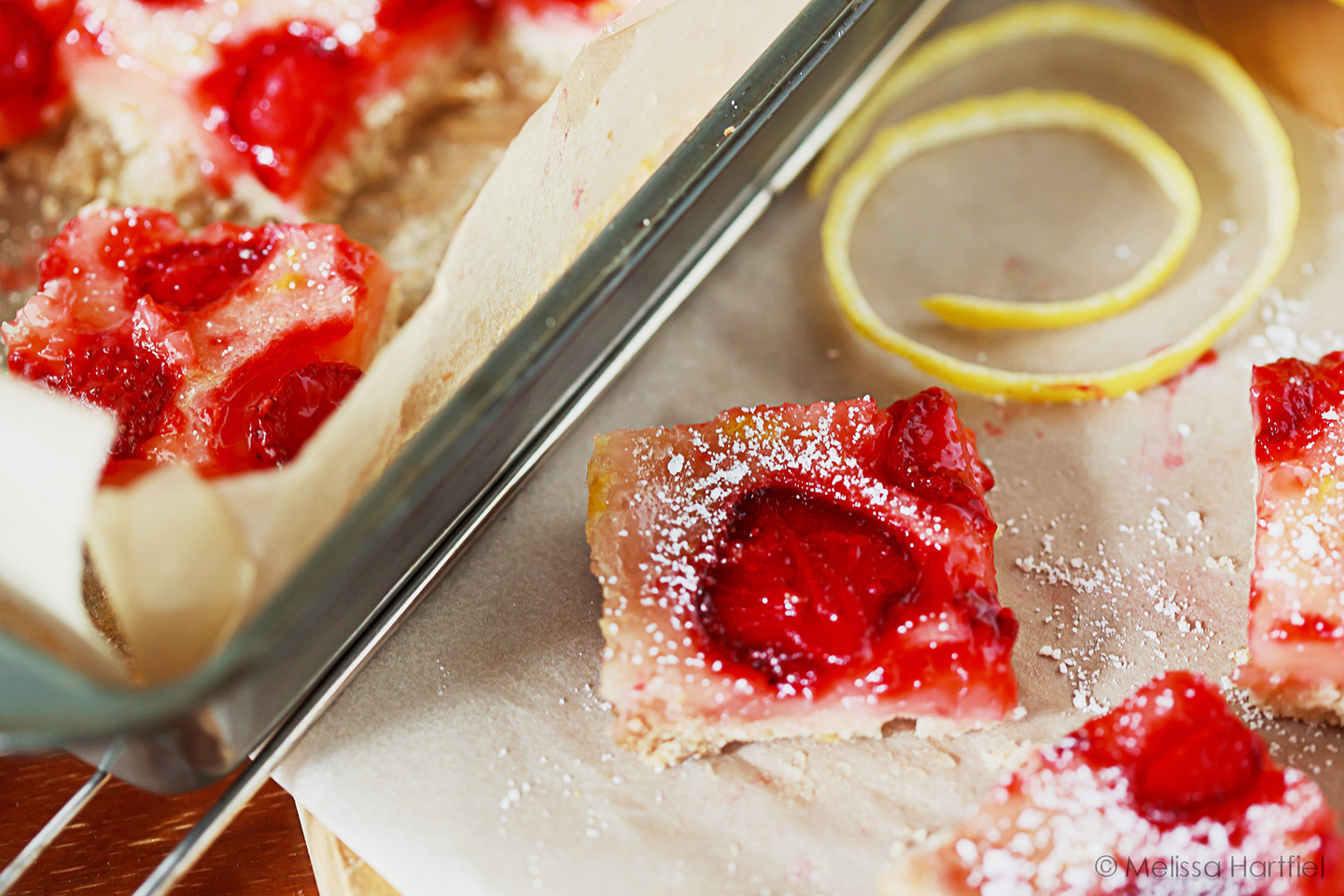 Strawberry Lemon Bars
We discovered this recipe by one of our friends on Twitter, Melissa Hartfiel. This is Melissa's combination of two other great recipes by Marc Matsumoto and Nicole Weston of Baking Bites.
These are quite tart bars, mainly because that's my preference.  I don't like my lemons overly sweet.  The crust was lovely and along with the powdered sugar topping, added enough sweetness for my liking.
A lemon tarts (tarte au citron) is one of those delicious desserts that you don't feel guilty about eating. Unlike a Chocolate Hazelnut Mousse Cake or Strawberry Crème Brûlée, tarts are bright, light and refreshing. They are the perfect dessert with an afternoon coffee, after a heavy meal or, honestly, any other time!
Lemon bars, such as these, are more a casual, portable version of a lemon tart. Plus this recipe adds the healthy and delicious flavor of strawberries!
And it only seems natural that this recipe comes to us from Canada. While we cultivate the plants with the Institute of Food and Agricultural Sciences at the University of Florida; many of the plants we put in the ground every fall come from our northern neighbors.
Now, without further adieu, here is Melissa's sweet and tangy recipe.
Florida Strawberry Lemon Bars
Ingredients
1 1/2 cups flour
1/2 cup of oats
1/2 cup of powdered sugar
1/2 tsp salt
1 1/2 sticks (3/4 cup) of cold, unsalted butter
1/2 tsp vanilla extract
1 tbsp lemon zest
1 1/4 cup sliced fresh Florida strawberries
1/4 cup sugar
4 eggs
1 1/3 cups of sugar (add more if you want a bit more sweetness)
3 tbsp flour
1 tbsp lemon zest
1 cup lemon juice
Method
Line a 9×13 pan with parchment paper. Leave enough paper on the sides so that you can use it to lift the bars out of the pan after cooking.
In a large bowl whisk together flour, oats, powdered sugar, and salt.
Cut in butter in small chunks and add vanilla and lemon zest. Using your hands, work the butter into the dry mixture until it looks like loose dirt. You can use a food processor for this step, but I prefer to use my hands.
Spread the base mixture evenly in the pan and press it down until you have a firm base. Freeze for 30 minutes
While the base chills, mix strawberries with sugar and let rest and preheat your oven to 350°F.
Whisk together eggs and add 1 1/3 cups sugar, flour and lemon zest. Continue to whisk until well combined. Add the lemon juice and continue to mix.
Remove base from the freezer and bake for 25 minutes or until golden.
When done, remove from oven and immediately spread the reserved sliced strawberries over the surface, keeping the juice/sugar mixture. Add the remaining juice and sugar to the lemon mixture and stir. Pour over the base and strawberries.
Lower the oven temperature to 325°F and return the pan to the oven and bake until the center of the lemon bars doesn't jiggle anymore. This took almost 30 minutes with my oven and the other recipes called for about 20 minutes so keep an eye on it once you hit the 20-minute mark.
Remove from oven and let completely cool. Slice and sprinkle with powdered sugar before serving. I made 24 small bars but you could easily make 12-16 large bars.