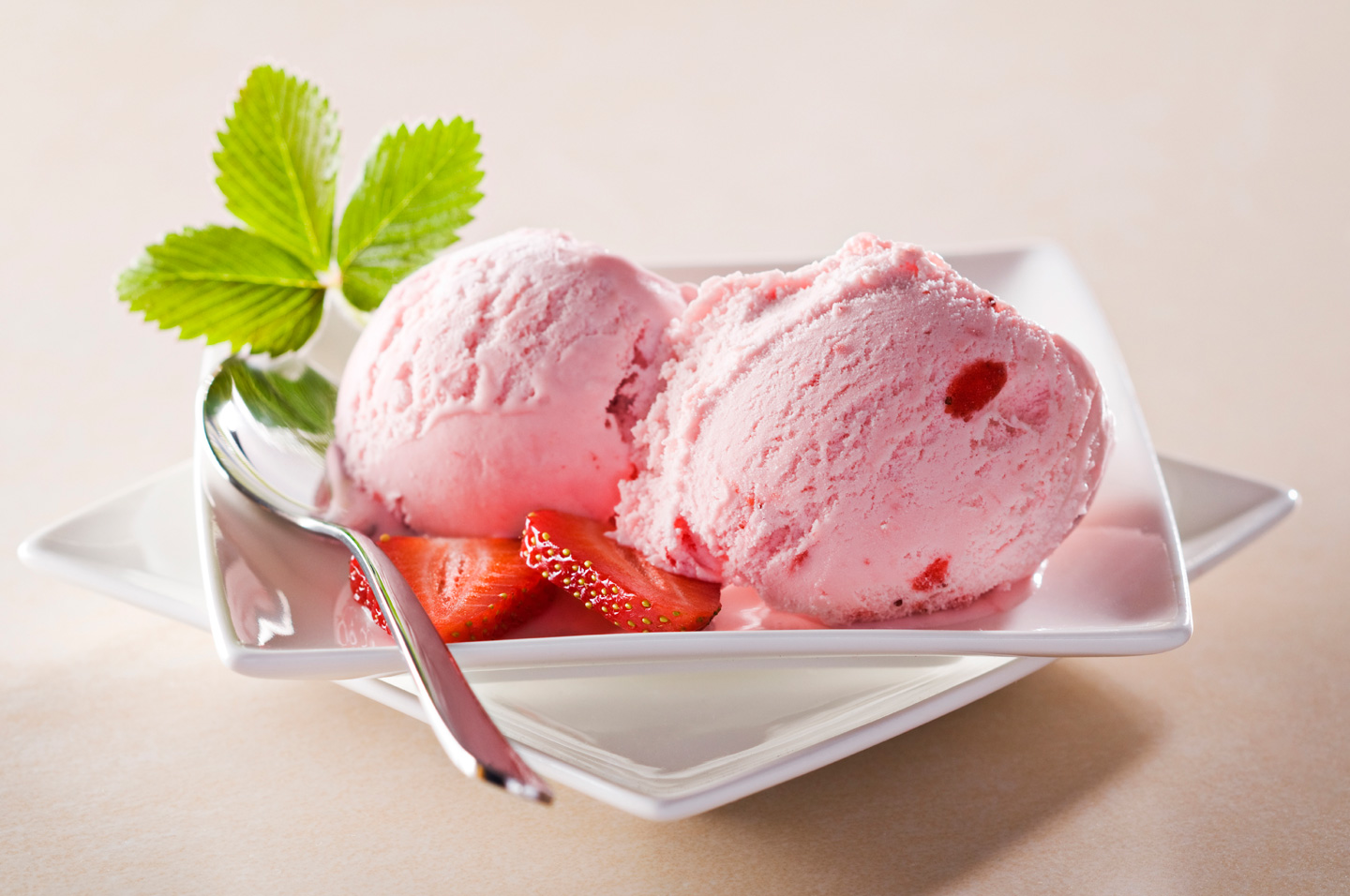 Strawberry Ice Cream
June is here and that means hot and long summer days. What better way to cool off than with a scoop (or three) of some delicious Florida strawberry ice cream? Plus you have a head-start to this delicious recipe since you already froze some of those delicious Florida strawberries earlier in the year!
This ice cream is made in a more traditional, French-custard style for a creamy texture that no store-bought ice cream can touch.
This ice cream is great by itself but even better on a warm chocolate brownie!
Florida Strawberry Ice Cream
1 3/4 cups heavy cream
1 vanilla bean
1/2 lemon zest
1/8 teaspoon salt
2 large eggs
3/4 cup sugar
1 lb Florida strawberries trimmed and quartered (if frozen, let thaw)
In a sauce pan, combine cream, vanilla bean, zest and salt. Heat just to a boil and remove from heat, pour cream mixture through a strainer to remove lemon zest. Use a spoon to scrape the inside of the vanilla bean out. Add this to the cream.
In a large, chilled bowl, whisk together eggs with 1/2 cup sugar. Slowly add hot cream making sure to not cook the eggs and whisking the egg mixture as you pour. Pour back into saucepan and cook over moderately low heat in a double-boiler, stirring constantly, until slightly thickened and a thermometer registers 170°F.
Once it reaches 170°F, remove from heat and pour into a chilled bowl. Let it rest until it cools to room temperature, stirring occasionally. Place into your refrigerator for 2 hours to chill.
Meanwhile, coat the strawberries with sugar and allow them to macerate. After two hours, purée strawberries and sugar until smooth.  If you wish to remove the seeds, use a sieve or cheesecloth and push or squeeze the purée, forcing out as much of the strawberry purée as possible.
Combine the purée with the cream mixture and transfer to an ice cream maker. Follow ice cream maker instructions on how long to process. Transfer to an airtight container and put in freezer to harden.
Tips and Tweaks:
For even more Florida strawberry flavor, place a few diced strawberries into the cream mixture just before you freeze the cream in the ice cream maker. Those little pockets of Florida strawberries add a wonderful texture to an otherwise, delectably smooth ice cream.
Want a little flavor punch in your ice cream? Add 1/2 tablespoon of triple-sec to the macerating strawberries. This will add a zesty-fresh flavor and help the strawberries breakdown faster and purée even smoother.