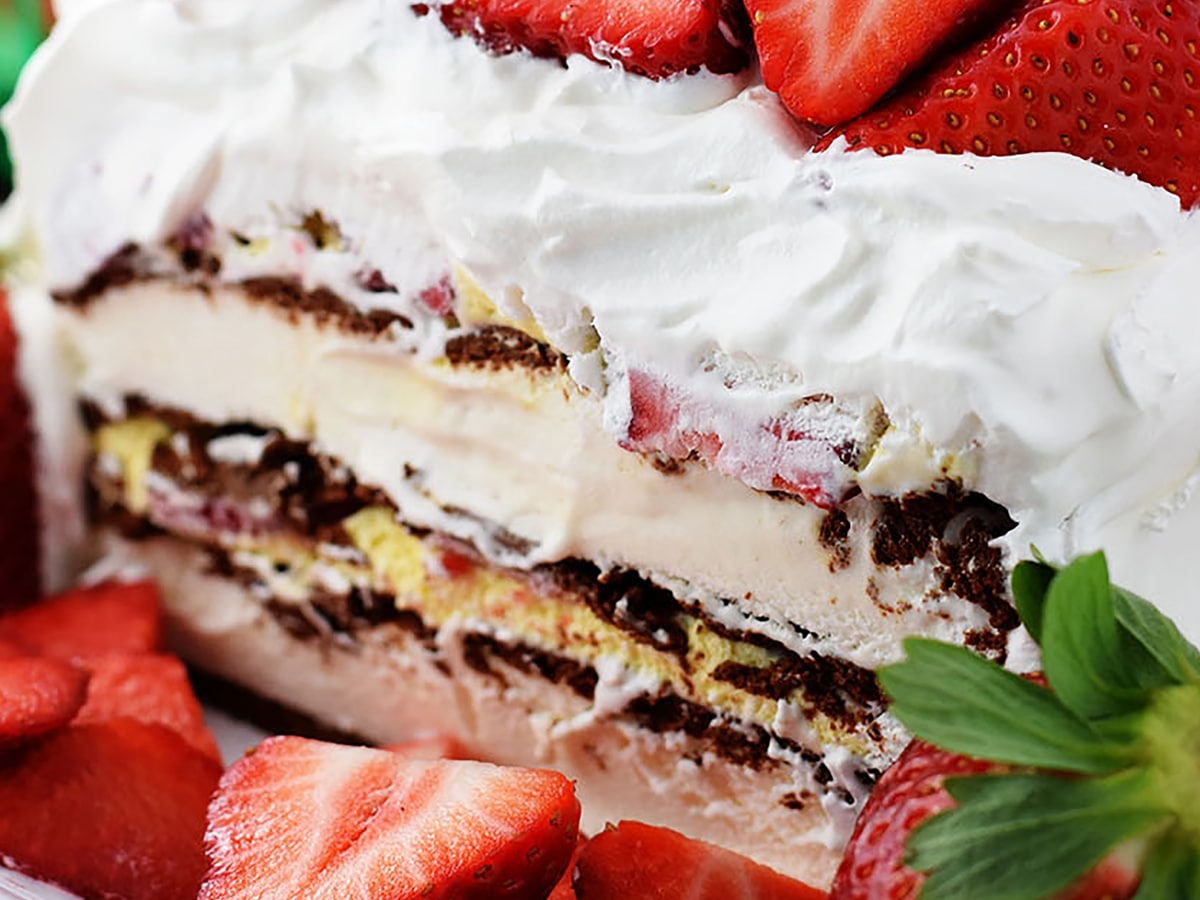 Strawberry Ice Cream Cake
Nikki Lee wants to bring family and friends together with her food! She values southern hospitality and southern food, and serves her recipes with love. On her blog, Soulfully Made, she passes on her family recipes, and hopes that you will enjoy them as much as her family does!
Nikki is sharing her recipe for Strawberry Ice Cream Cake with us! Here's what she has to say about the recipe:
Strawberry Ice Cream Cake is an easy no bake dessert made with layers of ice cream sandwiches, a creamy marshmallow pudding, whipped topping and delicious and nutritious Florida Strawberries!
Ingredients
12

 

Fat Boy Ice Cream Sandwiches

1

 

Vanilla Pudding Package

7

 

ounces

 

Marshmallow Fluff

20

 

ounces

 

Whipped Topping

 

(Cool Whip)

Florida Strawberries
Instructions
Take 6 of the chocolate ice cream sandwiches and make bottom layer.

Next mix your pudding (dry) with the marshmallow fluff.  TIP: Take that fluff, remove the cap and foil and pop in the microwave for 10 to 15 seconds. Remove and then mix with the pudding. Fold in 1 container of whipped topping.

 Layer ½ of the pudding mixture on top of ice cream sandwiches.

Remove stems from Florida Strawberries and slice lengthwise. Layer ½ of berries on top of pudding mix.

Tip: If you plan to freeze more than 1 hour I recommend dicing the strawberries instead of slicing them.

Repeat Layers and place in freezer for 15 minutes.

Remove from freezer and ice cake with remaining whipped topping on all sides and top. Freeze for 1 hour or overnight. Top with Strawberries and Enjoy!
Recipe Tip: For a taller cake make three layers of 4 sandwiches. You can also use food coloring in the pudding mixture to go along with holiday or special occasions. 
Originally posted on Soulfully Made.
Check out the Soulfully Made website, and follow Nikki on Facebook, Twitter, Pinterest, and Instagram!
Pin it!