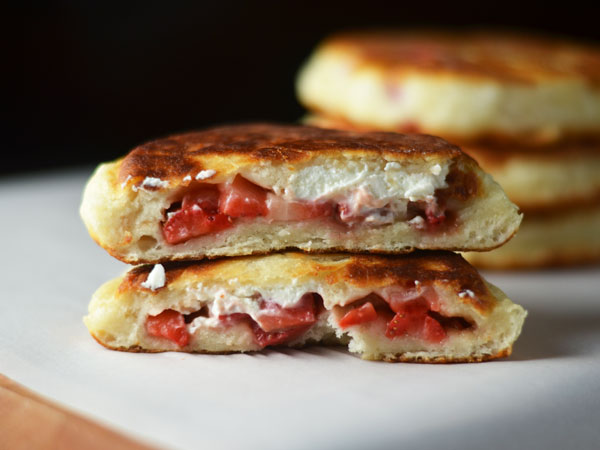 Strawberry Hotteok (Fried Stuffed Pancake)
Amy Kim is the founder and creator of kimchi MOM. She shares easy-to-follow Korean and Asian-inspired recipes that do not skimp on flavor!
This is what Amy says about this snack,
Hotteok (pronounced ho-duck) is a traditional Korean snack – a chewy dough pastry with a sweet filling typically comprised of brown sugar or honey and nuts. Because it is best enjoyed hot off the griddle, it's a popular snack during the winter. I'm putting a savory spin on hotteok by making a strawberry and goat cheese filling. Enjoy!
How can you resist strawberries and goat cheese? Give hotteok a try!
Ingredients
2 cups all-purpose flour
1 cup sweet rice flour
2 tablespoons white granulated sugar
2 teaspoons active dry yeast
1 teaspoon salt
1-1/2 cup warm water (115-120 degrees is ideal)
1 tablespoon vegetable oil
More oil for frying
6 ounces Florida Strawberries, finely chopped
2 tablespoons balsamic vinegar reduction (pre-made is so convenient)
6 ounces goat cheese log, cut into 8 discs
Method
In a large mixing bowl, combine the flours, sugar, salt. Stir together the yeast and warm water and add into the large mixing bowl. With a rubber spatula, mix until a dough forms.
Loosely cover the dough with plastic wrap and let it rise at room temperature for about 1 hour.
In a small bowl, mix together the strawberries and balsamic vinegar. Set aside.
Roll the dough out onto a lightly floured surface. Divide the dough into 8 equal parts.Take one portion and gently flatten it to about a 4-inch diameter circle. Place one disc of goat cheese in the center and add 2 tablespoons of the strawberry mixture. Pull the edges of the dough to the center and pinch to secure. Make sure there are no holes. Repeat for the remaining portions.
Heat a few tablespoons of oil in a non-stick skillet over medium-low heat. Please the the stuffed dough into the skillet. With a sturdy spatula, gently press down on the dough until it is roughly 4 inches in diameter. Let cook for about 3 minutes or until a light golden brown. Carefully flip over and let cook for another 3 minutes until golden brown. Gently flatten as it cooks and add oil if needed. Repeat until all are cooked.
Serve hot!
Originally posted at kimchi MOM.
Check out the kimchi MOM website, follow Amy on Facebook, Twitter, Pinterest, and Instagram.