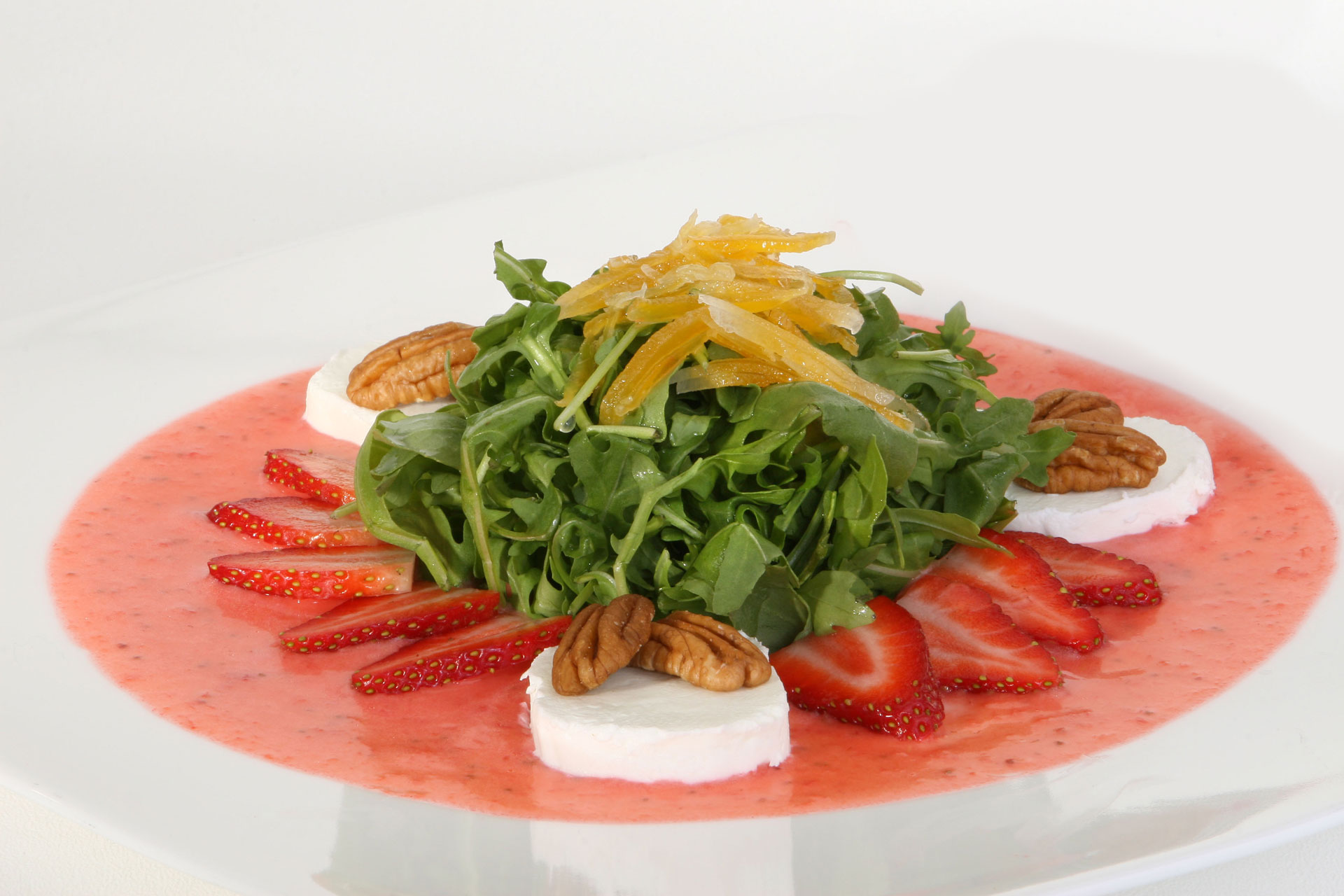 Winter Strawberry Salad
Chef Justin Timineri is the Executive Chef/Culinary Ambassador for the Florida Department of Agriculture, author, award winner, teacher, television personality and international culinary ambassador helping the world to rediscover simple healthy cuisine.
He is also one of five chefs that have joined the Florida Strawberry Growers Association's Chefs Advisory Board to spread the word about the state's winter strawberries.
Here's a fresh and good-for-you salad straight from his kitchen featuring several Florida-grown favorites — arugula, strawberries, mango and pecans. It's a cinch to assemble and almost too pretty to eat.
Give this salad a go the next time you are having guests in and want make a statement. You'll get plenty of compliments, we're sure of that. The dressing is superb on a traditional spinach, bacon and strawberry salad, too.
Florida Winter Strawberry Salad with Pecans & Goat Cheese
.
Vinaigrette
1/2 cup Florida winter strawberries, rinsed, hulled and sliced
2 tablespoons Champagne vinegar or balsamic vinegar
1 tablespoon canola oil
1 tablespoon brown sugar
1 pinch kosher salt
.
Salad
4 cups Florida arugula leaves or leaf lettuce
1 cup Florida winter strawberries, rinsed, hulled and sliced
1/2 log goat cheese, four ounces, sliced or crumbled
1/2 cup dried Florida mango, sliced thin
1/2 cup Florida pecans, toasted
Combine strawberries, vinegar and oil in a blender and puree until smooth. Taste and adjust seasoning with sugar and salt.
On four chilled salad plates, evenly distribute remaining vinaigrette. Reserve 1/3 of the vinaigrette to pass for additional use on salad, if desired. Place 1 cup of the greens on each plate. Garnish with sliced strawberries, goat cheese, dried mangoes and pecans.
Makes 4 servings.
Get an exclusive download of Chef Justin Timineri's Chefs Advisory Board recipe card by clicking the button below.