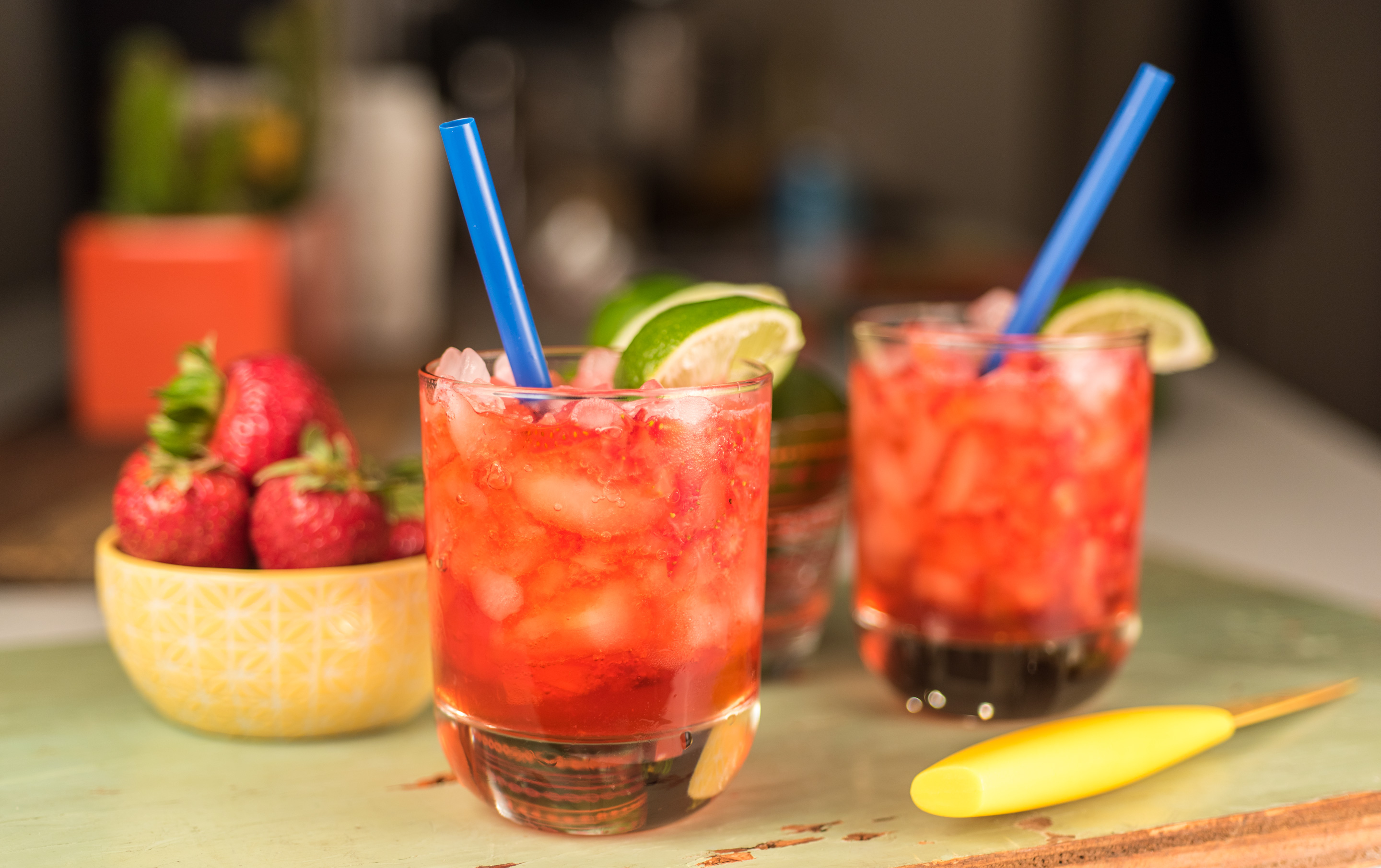 Strawberry Gin Fizz
I'm not a huge gin drinker, and had never used rose water, but the two combine in this recipe to be part of a beautiful and surprisingly delicious Strawberry Gin Fizz.
What's a Gin Fizz? For that matter, what's rose water?
A Gin Fizz is a 19th century cocktail combining gin, sugar, lemon juice and club soda all to make a refreshing and light cocktail. In the early 20th century this cocktail became so popular that bars would hire crews of people to shake the drinks. It's quite the workout making a single gin fizz, imagine making 100 in a night!
Now to the rose water, another food steeped in a long and interesting history! Rose water is created by, as you might guess, soaking rose petals in water, and depending on who you talk to, goes back thousands of years! It was originally used as a perfume but found its way into sweets and other foods, especially in the Middle East. Today you can find it in specialty food stores, often times near the the vanilla and other extracts. If all else fails you can find the brand I used, Nielsen-Massey Rose Water, at Amazon.com.
A word of warning. A little bit of rose water goes a LONG way. Another tip would be to double the recipe because you're going to want another one pretty soon after making the first!
Florida Strawberry Gin Fizz
3 large Florida strawberries
1 teaspoons sugar
2 shots gin
1/4 teaspoon rose water
1 pinch of salt
Club soda
Rinse and quarter the fresh Florida strawberries. Toss with 2 teaspoons of sugar and let the combo sit at room temperature to breakdown the strawberries. If you have time on your side, let the strawberries hang out in the sugar for a few hours to get the most juice. Otherwise, after about 10 minutes, mash the strawberries with a fork and set aside.
Fill a cocktail shaker with fresh ice. I prefer ice from the grocery store, it's crystal clear and makes for an even more beautiful cocktail. Add the strawberries, gin, rose water and a pinch of salt. Now you get to exercise! Shake, shake shake until your hand is freezing and can't take any more.
Pour the gin concoction from the shaker into a glass with ice. Top with club soda, garnish with a fresh strawberry and lime then enjoy!