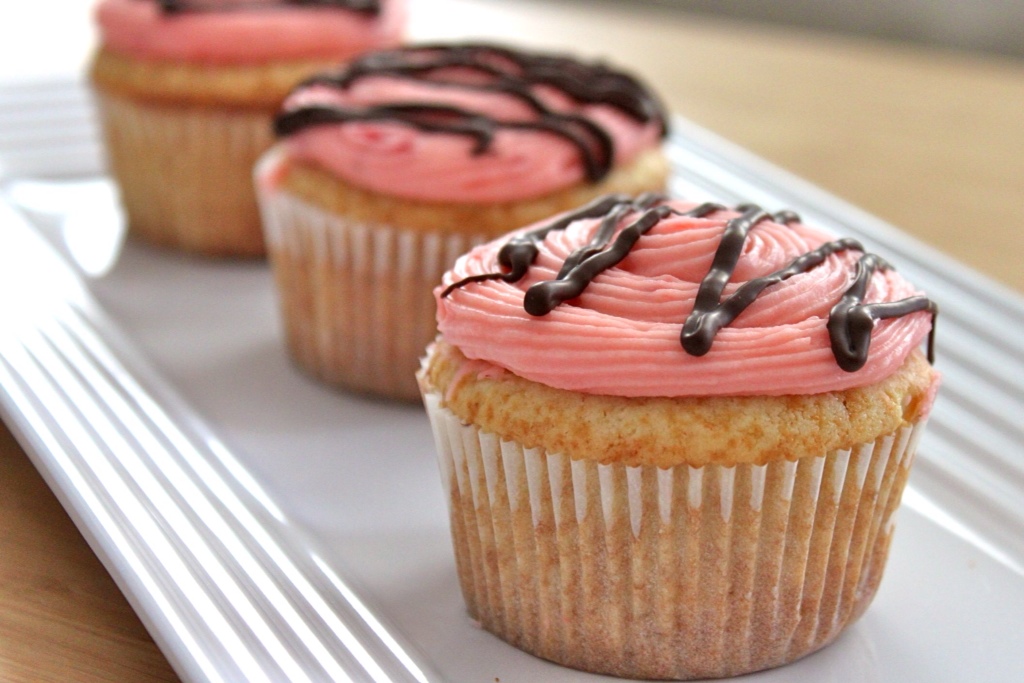 Strawberry-filled Cupcakes
According to the Perishables Group, a Chicago-based fresh food consulting firm, the sales of cupcakes increased between nine and thirteen percent each year between 2006 and 2010.
Remember when mom made those fluted-paper box-mix cupcakes for classroom celebrations? They've been a mainstay for a long time, only these days they're a much more gourmet affair!
Cupcakes make sense. They offer portion control, an endless variety of flavors, they're easy to store, easy to pack and easy on the budget. They're an affordable luxury, something many people are seeking in today's rough and tumble economy. Cupcakes are also a great choice for weddings, baby showers, birthday celebrations and holiday parties.
Our featured Culinary Chronicles cupcake lover is Risa Morrison who writes the food blog, Baked Perfection. Risa has been so kind as to share her delicious very popular strawberry cupcake recipe with us.
Strawberry-filled Vanilla Cupcakes with Strawberry Buttercream
Cupcakes:
1 cup butter, softened
2 cups sugar
3 eggs
2 teaspoons vanilla extract
2 3/4 cups all-purpose flour
1 teaspoon baking soda
1/2 teaspoon baking powder
1/2 teaspoon salt
2 cups sour cream
Preheat oven to 350°F. Fill muffin tins with paper liners; enough for 30 muffins. In a large mixing bowl cream the butter and sugar using a counter or electric hand-mixer until well blended, about two minutes. Add eggs one at a time, beating well after each addition. Add vanilla and mix thoroughly.
In a separate medium bowl combine flour, soda, baking powder and salt. Mix well. Add the flour mixture to the creamed mixture alternately with sour cream, beating gently after each addition. The batter will be thick.
Fill each muffin cup with 1/4 cup of batter. Bake for 25-30 minutes or until a toothpick inserted near the center comes out clean. Cool completely.
Strawberry Filling:
32 ounces of fresh strawberries
1/4 cup sugar
1 lemon, juiced
3 tablespoons cornstarch
Pinch of salt
Prepare strawberries by rinsing, draining, removing caps and cutting into small pieces. Place in a large bowl. Add sugar. Stir and allow to sit at room temperature for about 30 minutes. Strain the juice from the strawberries into a one-cup measure. Add enough water to make one cup of liquid. In a small saucepan, combine the strawberry liquid, lemon juice, cornstarch and salt.
Cook over medium heat, stirring constantly until the mixture boils and becomes thick enough to coat the back of a spoon. Cool completely. Stir mixture into reserved strawberries. Stir. Using a blender, blend on low speed until filling is smooth. Refrigerate until ready to use. Any leftover strawberry filling may be kept for several days and used on toast, pancakes or mixed in plain Greek yogurt.
To fill the cupcakes you can use the large end of a piping tip, knife or apple corer to cut out a round section in the cupcake. Then fill the cupcake and put the cut-out portion of the cupcake back over the filling.
Strawberry Buttercream:
2 sticks butter, softened
1 teaspoon vanilla extract
1/3 cup strawberry filling
Pinch of salt
6 cups powdered sugar
2 to 3 tablespoons milk.
Beat butter and vanilla until creamy. Add strawberry filling and salt and mix well. Add powdered sugar one cup at a time, beating until combined. Add milk one tablespoon at a time until the desired consistency is reached. Spread buttercream on each cooked and filled cupcake. Drizzle with chocolate (optional).
Makes 30 cupcakes.
(source)