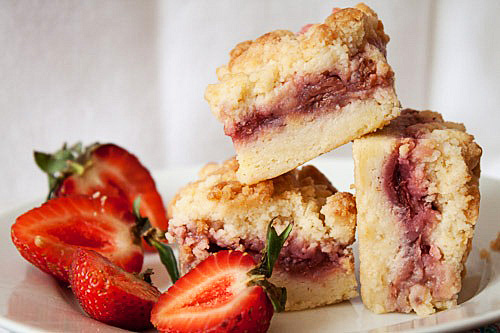 Strawberry Crumb Bars
You've already met Andie Mitchell, the fit and fabulous food blogger from Can You Stay for Dinner, right? If not, check out her Culinary Chronicle. Andie was kind enough to share this little treat with us, her Strawberry Crumb Bars. This recipe brings many ingredients you probably already have in your kitchen. In fact, I'm not sure there's a single one of these that aren't staples in mine!
The combination of tart lemon and sweet juicy strawberries resting between the two delicate and buttery shortbread layers is going to be a favorite of friends and family. Get ready for lots of recipe requests!
Strawberry Crumb Bars
1 2/3 cups sugar, divided
3 cups all-purpose flour
1 ¼ teaspoons baking powder
1/4 teaspoon salt
Juice and zest of one lemon
1 cup unsalted butter, cold and diced into small pieces
1 egg, lightly beaten
5 cups chopped fresh strawberries
1 tablespoon plus 2 teaspoons cornstarch
Preheat the oven to 375°F. Line a 13×9 inch baking pan with aluminum foil, allowing for an overhang so that you can remove the bars easily from the pan. Coat the foil with nonstick cooking spray.
Whisk 1 cup plus 2 tablespoons sugar, 3 cups flour, baking powder, salt, and lemon zest. Use a fork to blend in the cold butter and egg. The dough should be crumbly. Pat half of dough into the prepared pan.
In a large bowl, stir together the remaining ½ cup sugar, lemon juice, strawberries, and cornstarch. Evenly spread the strawberry mix over the crust. Crumble remaining dough over the berry layer.
Bake for 45 minutes, or until top is just turning golden brown. Let the bars cool completely in the pan before cutting into small squares.
Nutrition info for 1 bar: Calories: 190.6, Fat: 8.2g, Cholesterol: 28.4mg, Carb: 28g, Fiber: 1.2g, Sugars: 15.5g, Protein: 2.1g
Originally at Can You Stay for Dinner
Andie is also on Twitter as @StayForDinner, her blog has a wildly popular Facebook page and you are welcome to drool over her delicious Pinterest pins. I'll be sure to share both of her books with you as soon as they come out!