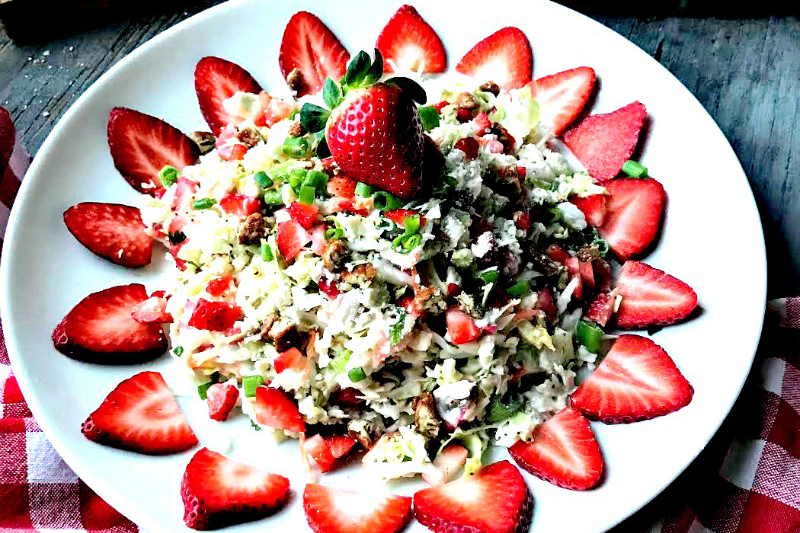 Strawberry Coleslaw
Isabel Laessig, better know as Family Foodie, is passionate about her family and believes that we can empower our families by nurturing them around the family table. She is also the founder of the Sunday Supper Movement as well as the Food Wine Conference. Isabel is no stranger here! She has other delicious recipes featured on our website; like her festive Sparkling Strawberry Sangria and fresh Strawberry Brie Flatbread Salad.
This is what Isabel says about her Strawberry Coleslaw:
The combination of chopped savoy cabbage, green cabbage, carrots, celery and cilantro is perfect for this salad. I also like to use a prepared strawberry poppyseed Greek yogurt dressing- because, you know, it's easy and delicious.
Ingredients:
1 10.5 ounce package of Asian Chopped Salad-Savoy cabbage, green cabbage, carrots, celery, cilantro

16 ounce package of Florida Strawberries, half sliced, half diced into small pieces

4 green onions, sliced thin

¼ cup blue cheese crumbles

15 candied pecans, chopped or nut of choice (almonds are also delicious)

1 cup strawberry poppyseed greek yogurt dressing



Mint leaves for garnish
Additional Florida Strawberries for garnish
Method:
In a large bowl, combine the cabbage mixture, diced strawberries, green onion, blue cheese and candied pecans.

Add the strawberry poppyseed greek yogurt dressing and mix until well combined.

Refrigerate for at least one hour but no longer than 3 hours.

When ready to serve, place the sliced strawberries along the outside of the plate.

Add the coleslaw in the middle of the plate and top with additional strawberries if desired.
Originally posted at Family Foodie.
Check out the Family Foodie website, follow Isabel on Facebook, Twitter, Pinterest, and Instagram.
Pin it!