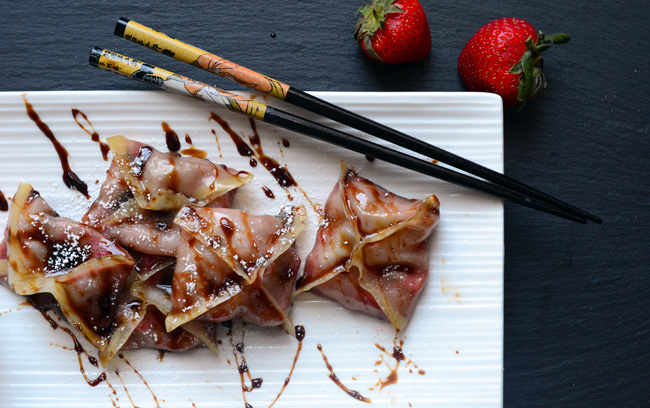 Strawberry Chocolate Dumplings
I'm so excited to share this creative recipe with you. It's from food blogger, designer and baker, Seton Rossini, who you might recognize from ABC's The Chew, Popsugar's featured blogger and of course our very own Culinary Chronicles.
This delicious dish merges Chinese dumplings with fresh strawberries and chocolate. It's eye-catchingly beautiful and equally tasty. Since these are sweet treats, Seton dips hers in a tangy balsamic reduction in place of the traditional soy sauce.
I was inspired to make this dish because I absolutely love dumplings. I love the challenge to take something savory and flip it into a sweet dessert. And since my blog is dessert focused, this was the perfect opportunity to reinvent dumplings. Strawberries were a natural choice not just because they're so delicious and pair so well with dark chocolate, but because they're readily available at any grocery store. I try to steer clear of ingredients that are hard to find or too expensive.
What are you waiting for, it's time to get cooking! For step-by-step photos, including how to perfectly pinch your dumplings, visit Pixel Whisk.
Strawberry Chocolate Dessert Dumplings
1/2 cup balsamic vinegar

1/4 cup plus 2 Tbsp. light brown sugar

1 lb. Strawberries, rinsed and chopped into small pieces

2 tsp. fresh lemon juice

Wonton wrappers

1 cup dark chocolate chips
In a small saucepan, bring the balsamic vinegar and 1/4 cup light brown sugar to a simmer. Continue to simmer until the mixture thickens and has reduced by half. Cool slightly, then transfer to a small bowl for serving.
While the balsamic/brown sugar mix is reducing, macerate the strawberries by placing the chopped strawberries into a bowl. Add the lemon juice and remaining 2 Tbsp. light brown sugar. Stir and set aside for at least 20 min.
Working with one wonton wrapper at a time, place a heaping teaspoon full of the strawberry mix in the center of the wrapper. Add several chocolate chips on top of the strawberries. Wet your finger in a small bowl of water and use it to dampen all four edges of the wrapper. Bring two opposite corners of the wrapper up to meet one another and press them tightly together to seal, then bring the remaining two corners of the wrapper up to meet the first point. Squeeze seams along the four edges to seal completely and set dumpling aside. Work quickly so wrappers don't dry out. 
Heat 3 Tbsp. olive or vegetable oil in a skillet (that has a lid) on med-high. Place dumplings in a single flat layer on the oil and cook uncovered for 2-3 minutes to crisp the bottoms of the dumplings.
Reduce the heat to medium. Add 1/4 cup of water to the pan and quickly cover to steam the dumplings. Be careful, hot oil hurts! Steam for 3-4 minutes, then take off the lid and gently remove the dumplings to plate.
Generously drizzle the balsamic glaze on top of the dumplings (or even sprinkle with some confectioners sugar) and serve with the remaining glaze.