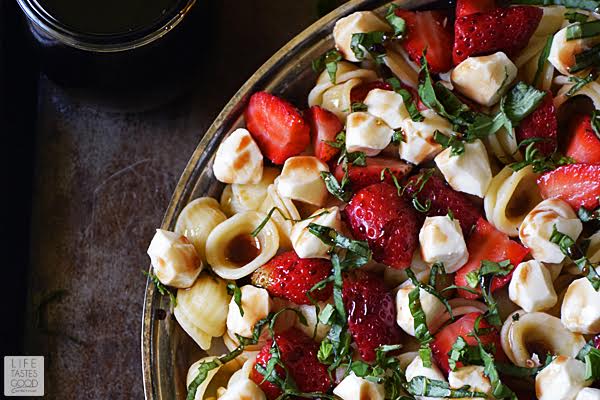 Strawberry Caprese Pasta Salad
Marion Myers is the the chief cook and founder of Life Tastes Good. She creates simple recipes utilizing fresh herbs and good cooking techniques.
Marion's Strawberry Caprese Pasta Salad is a twist on the traditional Caprese Salad. Instead of tomatoes, she used sweet Florida strawberries for a refreshing change to a classic flavor combo!
Ingredients
12 ounces Orecchiette pasta, cooked and drained
1 pound fresh from Florida Strawberries, washed, hulled, and halved
4 ounces Mozzarella pearls
1/2 cup fresh basil, chiffonade
Balsamic Glaze
kosher salt & pepper to taste
Method
Cook pasta as directed on package. Drain, reserving a little of the pasta liquid. Rinse the pasta under cold water and chill in the freezer for about 10 minutes. Remove the pasta from the freezer and place in serving dish. Toss with a little of the pasta water.
Top the pasta with fresh strawberries, 4 ounces of Mozzarella pearls, and 1/2 cup fresh basil chiffonade. Drizzle with balsamic glaze. Give it a taste and add salt and pepper as needed. Serve with extra balsamic glaze. NOTE: I make my own balsamic glaze, but you can purchase it already made for you. If you purchase it, be sure to look at the ingredients. I recommend buying one that has just balsamic vinegar and sugar listed for best results. Enjoy!
Originally posted at Life Tastes Good.
Check out the Life Tastes Good website, follow Marion on Facebook, Twitter, Pinterest, and Instagram.