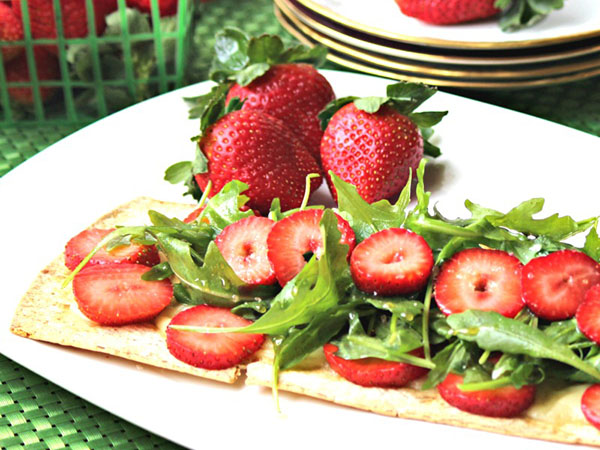 Strawberry Brie Flatbread Salad
Isabel Laessig, better know as Family Foodie, is passionate about her family and believes that we can empower our families by nurturing them around the family table. She is also the founder of the Sunday Supper Movement as well as the Food Wine Conference.
This is what Isabel says about her Strawberry Brie Flatbread Salad:
Packed with delicious flavor and combination of sweet and salty, this crispy flatbread is a perfect delight for entertaining or a light bite with the family. The Florida Strawberries are the superstar in this delicious flatbread. To me, brie and strawberries are a match made in heaven… add some arugula and drizzle with honey and boom!
Ingredients
1 large thin flatbread
6 thin slices of brie cheese, approximately ¼ brie wheel. Skin removed and sliced thin
6 large Florida Strawberries or 9 large Florida Strawberries, sliced thin
1 cup of arugula
2 tablespoons olive oil
1 tablespoon champagne vinegar or white wine vinegar
1 tablespoon honey
fresh ground sea salt and pepper to taste
Method
Preheat oven to 350ºF.
Lay the flatbread on a pizza tray and evenly top with the slices of brie cheese.
Bake for approximately 8 minutes or until the flatbread is crispy and the cheese is bubbling.
Let cool for 5 minutes.
In a small bowl, mix the arugula, olive oil and vinegar.
Layer a row of Florida strawberries on top of the brie flatbread.
Top with the arugula.
Add the additional sliced strawberries on top of the arugula.
Drizzle with honey and sprinkle with fresh ground salt and pepper to taste.
Originally posted at Family Foodie.
Check out the Family Foodie website, follow Isabel on Facebook, Twitter, Pinterest, and Instagram.