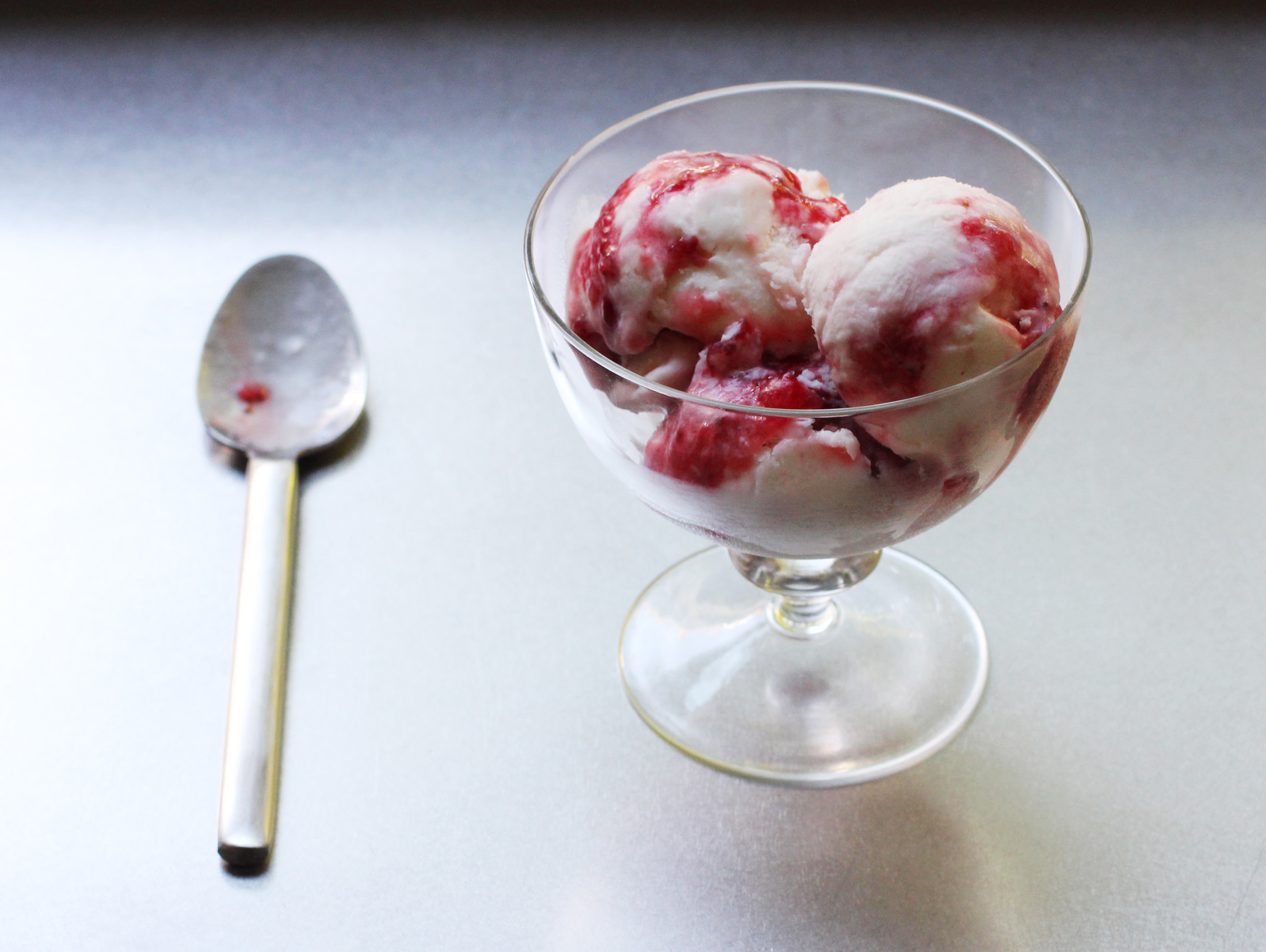 Strawberry Bourbon Ice Cream
Our latest Culinary Chronicles feature, Brandon Matzek, shares this recipe with us. It's an adult twist to the classic strawberry ice cream, replacing macerated strawberries with bourbon-infused fresh Florida strawberries!
Beyond adding a kick to your ice cream, including alcohol in homemade ice cream has another happy side-effect. Alcohol lowers the freezing temperature of the cream. This means it makes your homemade ice cream easier to scoop, smoother in texture and store longer than many other homemade ice creams which can easily get hard and dry.
I asked Brandon what inspired him to make this delicious marriage of strawberry-infused bourbon and ice cream.
I love making fun ice cream flavors. Several months ago I discovered this website, We All Scream, and was blown away! One of the flavors that jumped out at me was strawberry bourbon because it included an infused alcohol (another love of mine). I decided I'd give it a try. The results were delicious! A perfect treat for a warm summer evening.
And a warm flavor for a cold wintery evening I'd say!
The amount of alcohol in this recipe is small and most of the ethanol in the bourbon is cooked out but it keeps its adult flavor.
The instructions with this recipe are for people who are making this ice cream without an ice cream maker. Of course, this will be much easier and quicker if you do have an ice cream maker. Those of you who are planning to make a lot of ice cream might want to look at investing in one – these reviews (https://allgreatappliances.com/best-ice-cream-maker/) will help your decision.
Want another quick tip for making homemade ice cream? It's as simple as 1/4 tsp of xanthan gum. You've probably seen this on the ingredient list for many foods but just what does it do? Xanthan gum has many uses, one of which is to thicken liquids while maintaining a smooth texture. Best of all it's cheap! One $15.00 container of xanthan gum will last to make hundreds of batches of ice cream.
Feel free to add a tiny bit to watery gravies or sauces and of course, to your favorite ice cream recipes. And now, without further ado, here's Brandon's recipe!
Strawberry Bourbon Ice Cream
2 cups plus 2 tablespoons whole milk (divided)
1 1/2 tablespoons corn starch
3 tablespoons cream cheese, softened
1/4 teaspoon fine grain sea salt
1 1/2 cups heavy cream
2 tablespoons light corn syrup
2/3 cup white sugar
1/3 cup strawberry-infused bourbon sauce
Strawberry-infused Bourbon Sauce
You'll need to make the strawberry-infused bourbon about one week before making the ice cream. It's a simple two ingredient recipe and it's right here!
In a small bowl, add 2 tablespoons whole milk and cornstarch, stirring to combine. Set aside.
Add softened cream cheese and fine grain sea salt to a medium bowl and whisk until smooth. Place a fine-mesh basket strainer over the bowl and set aside.
Prepare an ice bath in a large bowl (cold water and ice).
In a medium saucepan, combine remaining 2 cups of whole milk, heavy cream, corn syrup and white sugar, stirring to combine. Bring the mixture to a boil over medium-high heat and let bubble for 4 minutes. Remove the saucepan from the heat and gradually whisk in the milk-cornstarch mixture.
Bring the mixture back to a boil over medium-high heat, stirring frequently. Cook until slightly thickened (about 1 minute). Remove from the heat.
Slowly pour the hot milk mixture through the strainer into the bowl with the cream cheese, then whisk until smooth. While the mixture is chilling, prepare the strawberry-bourbon sauce.
Combine strawberries, 1 cup sugar and 2 tablespoons strawberry-infused bourbon in a medium saucepan over medium-high heat. Bring mixture to a boil and bubble away for 10 minutes, stirring occasionally. Let cool before adding to ice cream.
Stir strawberry-infused bourbon sauce into the chilled cream mixture. Float the bowl containing the ice cream base in the prepared ice bath and chill until cold (about 30 minutes). Stirring the mixture occasionally can speed this process up. Refrigerate until thoroughly chilled (at least 4 hours).
Freeze ice cream base in an ice cream maker according to the manufacturer's instructions. Transfer to a container and swirl in strawberry-bourbon sauce. Finish by freezing the ice cream until hard or enjoy soft immediately.
Recipe originally posted at Kitchen Konfidence.