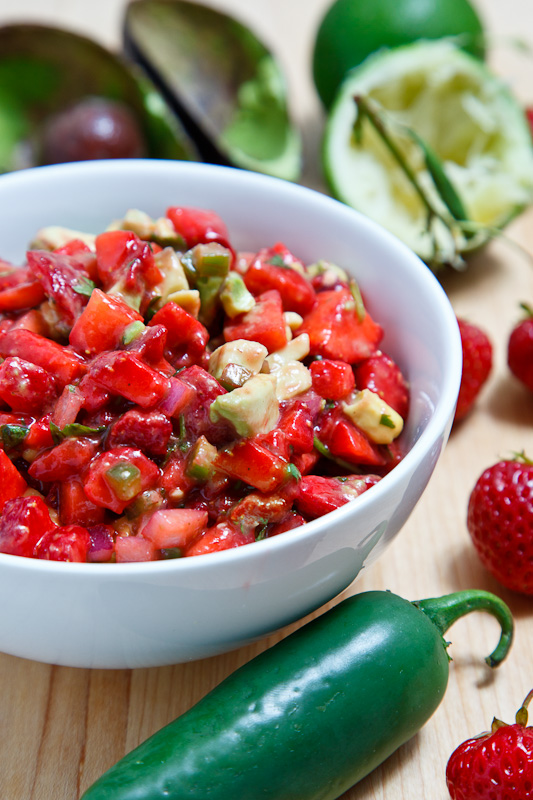 Strawberry and Avocado Salsa
Thanks go to Kevin Lynch for this great recipe. Kevin is a home cook from Ontario Canada who "enjoys strawberries by the bowlful whether with a bit of good balsamic vinegar or on vanilla yogurt or just by themselves."
The birth of this recipe came about because Kevin had a yearning to do something with strawberries that was more savory than sweet. This healthy, zesty and delicious strawberry salsa was the result! Check out Kevin's other great recipes on his Closet Cooking blog.
Try pairing this salsa with Kevin's Mojito Grilled Fish Tacos for a light and healthy, nutrient-rich dish.
Strawberry and Avocado Salsa
Ingredients
1 1/4 cups Florida strawberries
1/2 cup avocado
1 jalapeño
1/4 cup red onion
1 lime
1 handful cilantro
salt and pepper to taste
Begin by chopping and dicing fresh ingredients. Chop strawberries and avocado into small pieces. Dice jalapeño (remove the seeds if you want a milder salsa) and red onion. Combine in a mixing bowl.
Zest and juice one lime into the mixing bowl. Add in some chopped cilantro and season to taste. Toss and serve.
(source)