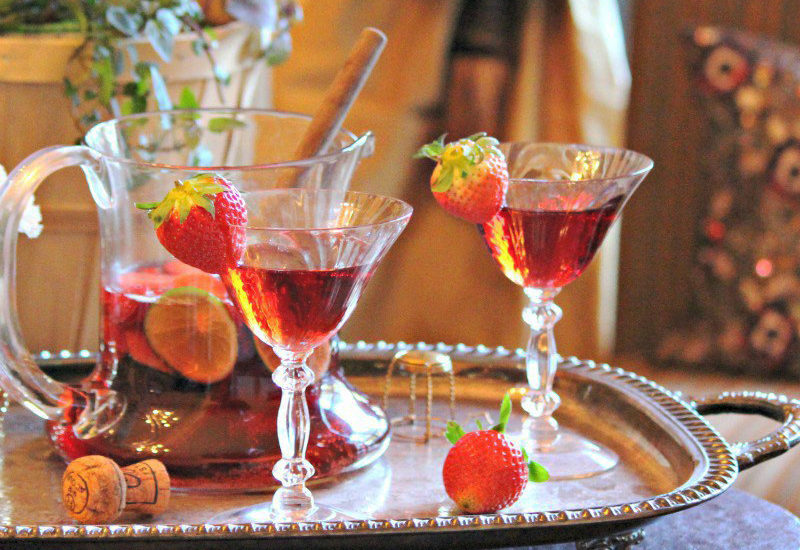 Sparkling Strawberry Sangria
Isabel Laessig, better know as Family Foodie, is passionate about her family and believes that we can empower our families by nurturing them around the family table. She is also the founder of the Sunday Supper Movement as well as the Food Wine Conference.
This is what Isabel says about her Sparkling Strawberry Sangria:
This recipe for Sparkling Strawberry Sangria is a much lighter version than the traditional Portuguese sangria. It's perfect for a fun afternoon and it pairs perfectly with anything chocolate.
Ingredients:
6 Florida Strawberries, sliced
2 tablespoons sugar
4 mint leaves (chocolate mint leaves if you can find them) , chopped fine
1 small bottle(375 ml) of sparkling red wine or champagne (I used Rosa Regale and it was fantastic) 1 cup ginger ale
1 cup vodka
1 lime sliced thin
Mint leaves for garnish
Additional Florida Strawberries for garnish
Method:
Combine the sliced Florida Strawberries, sugar and 4 chopped mint leaves in a pitcher.
Gently stir and let sit in the refrigerator for a minimum of 2 hours.
Add the sparkling wine, ginger ale, vodka and 4 slices of lime.
Using a wooden spoon still until well blended.
Chill or add ice and serve cold.
Garnish with additional Florida Strawberries, mint or lime slices.
Originally posted at Family Foodie.
Check out the Family Foodie website, follow Isabel on Facebook, Twitter, Pinterest, and Instagram.