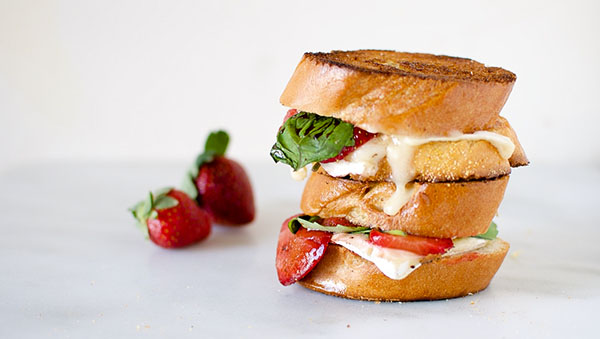 Savory Balsamic Roasted Strawberry and Basil Grilled Cheese
Kita Roberts is the "mountain biking, travel junkie, professional photographer, and meat maven" behind the website Pass the Sushi. She shares a little bit of everything – delicious recipes, gorgeous photography, a bit of adventure – all laced with good humor.
This is what Kita says about her Balsamic Roasted Strawberry and Basil Grilled Cheese:
I decided to go a little while and make a luxurious grilled cheese oozing with creamy brie and popping with a burst of sharp flavor from the basil and freshly ground black pepper.
Now doesn't that sound delicious? Here's the recipe!
Ingredients
8 fresh strawberries, hulled and sliced
1/4 cup balsamic vinegar
1 tbs honey
Freshly ground black pepper
4 to 6 slices hearty white bread, sliced thick
1 – 2 tbs butter butter, divided
Fresh basil
1 wedge triple crème brie (about 5 – 8 oz)
Method
Preheat the oven to 375. Toss the sliced strawberries in a bowl. Whisk the balsamic vinegar and honey together. Toss the strawberries with the balsamic mix to coat. Arrange on a baking dish in an even layer and sprinkle with freshly ground salt. Bake for 7 to 10 minutes. Set aside.
Preheat your skillet to medium heat.
Meanwhile, butter one side of each slice of bread. Arrange the strawberries, brie and basil on half of the bread. Season with a bit of black pepper. Top with the remaining slices. Melt remaining tablespoon butter in pan and toast each sandwich on both sides until golden and cheese is getting all gooey and perfect.
To serve, brush with any remaining balsamic mixture on the roasting pan if desired.
Originally posted at Pass the Sushi.
Check out the Pass the Sushi website, follow Kita on Facebook, Twitter, Pinterest, and Instagram.