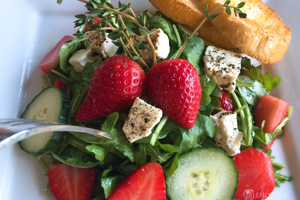 Pickled Strawberry and Pepper Feta Salad
Christina Thomas is the voice behind GO Epicurista where she shares her celebration of life with great food, wine and friends throughout Central Florida. She is the eternal optimist on a mission to #MakeSomedayHappen one delicious bite, sip and trip at a time. Pickling was on Christina's "someday list" and she was able to cross it off her list with her recipe for pickled Florida Strawberries. Today she shares her recipe for refreshing Pickled Strawberry and Pepper Feta Salad which she guarantees will be a hit at your next party. The tangy pickled strawberries, the sweet dressing, the peppery and creamy feta all play together so well – an intoxicating combination.
Ingredients:
5 oz fresh arugula
4 oz creamy feta cheese, whole
½ English cucumber, thin sliced
8 fresh ripe Florida strawberries (if in season), sliced
½ fresh baguette bread, sliced
¼ cup extra virgin olive oil
¼ cup pickling strawberry brine juice
¼ cup white balsamic vinegar
1 teaspoon raw honey
pinch sea salt
fresh cracked pepper
4 sprigs fresh thyme
Method:
Whisk olive oil, honey, pickling juice and vinegar. Add salt and pepper to taste.
Toss arugula, strawberries and cucumbers with dressing .
Add fresh cracked pepper and fresh thyme leaves atop whole feta cheese, rough chop into large chunks.
Plate salad and top with crumbled feta cheese.
Slice baguette and toast, drizzle with olive oil once toasted. Use as garnish. It can also be served as crostini with feta and pickled strawberry on top.
Originally posted at GO Epicurista.
Check out the GO Epicurista website, follow Christina on Facebook, Twitter, Pinterest, and Instagram.
Pin it!