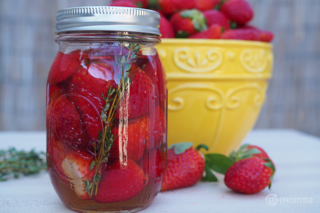 Pickled Strawberries
Christina Thomas is a hospitality consultant, freelance writer, food & travel enthusiast, brand cheerleader, ice cream fanatic, chocoholic, and eternal optimist on a mission to #MakeSomedayHappen one delicious bite, sip and trip at a time. Pickling was on Christina's "someday list" and she was able to cross it off her list with her pickled Florida Strawberries. She also shares more tips and serving suggestions about pickling and pickled strawberries on her website!
Ingredients:
1 lb. ripe firm Florida strawberries, stems removed
1½ cups white balsamic vinegar
2 Tablespoons Demerara cane sugar
2 teaspoons kosher salt
4 sprigs fresh thyme
½ cup water
Materials: 
(2) pint size heatproof glass jars
Method:
Wash strawberries carefully, remove the stems.
Slice smaller berries in half and larger ones in quarters.
Place half strawberries and (2) thyme sprigs into each heatproof glass jar. Set aside.
In a small saucepan over medium heat, combine vinegar, water, sugar and salt. Whisk to combine ingredients. Heat until the sugar and salt dissolves and mixture begins to simmer. Remove from heat.
Pour the hot brine vinegar mixture over the strawberries. The liquid should cover most or all of the strawberries.
Let the jars cool to room temperature on the countertop. Then seal jars and refrigerate overnight (at least 12 hours).
Once the pickling process is completed to your satisfaction, remove the strawberries from their brine, give them a quick rinse, pat dry and use as desired.
Originally posted at GO Epicurista.
Check out the GO Epicurista website, follow Christina on Facebook, Twitter, Pinterest, and Instagram.
Pin it!