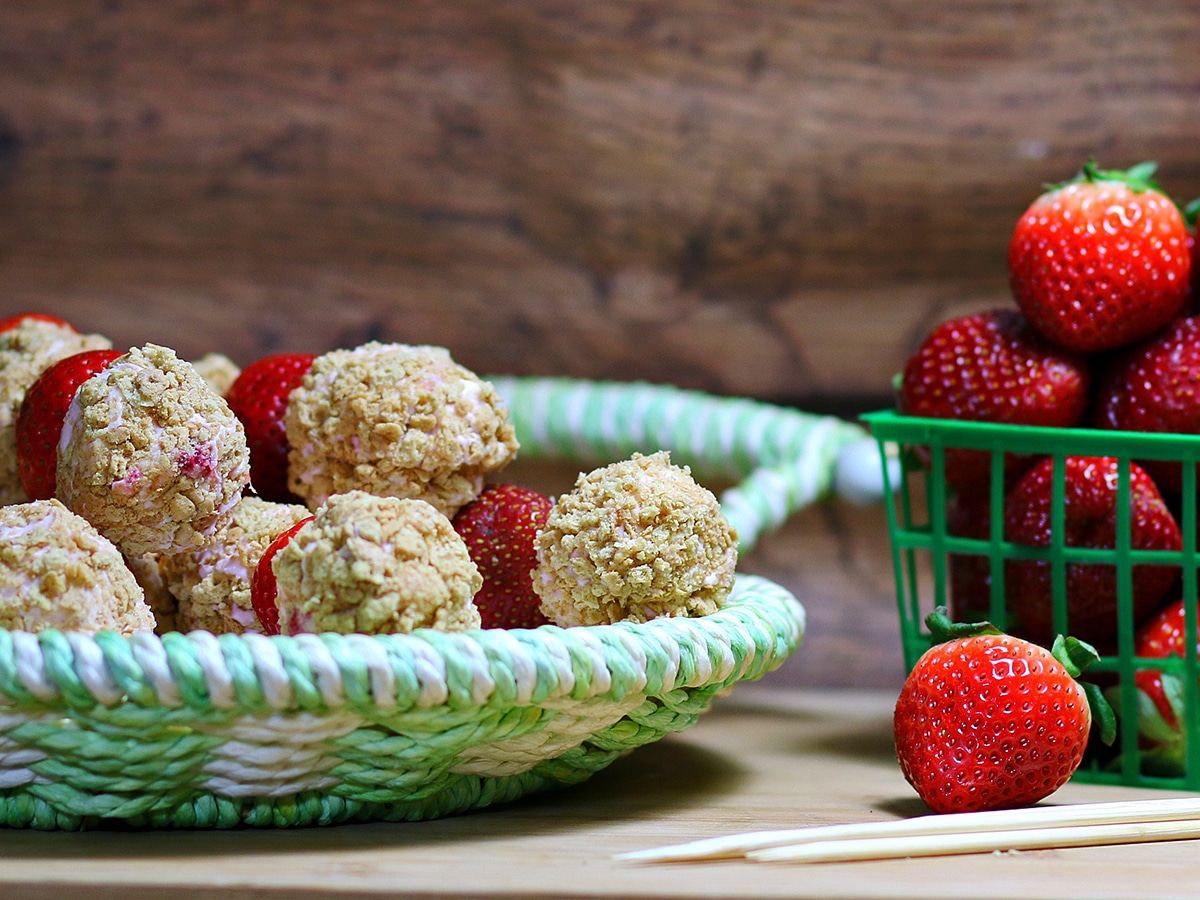 No Bake Strawberry Cheesecake K-Bobs
Mary Ellen shares her lovingly crafted recipes, many of which are old family favorites, on her blog, Recipes, Food & Cooking! She believes in using fresh ingredients, and that you can cook quick meals on a budget without sacrificing flavor.
Mary Ellen is sharing her recipe for No Bake Strawberry Cheesecake K-Bobs with us! Here's what she has to say about the recipe:
We really love these No Bake Strawberry Cheesecake K-bobs. These strawberry no bake k-bobs couldn't be easier to make and you only need 6 ingredients.
The best thing is they are ready whenever you are because you make the balls and keep them in the freezer until ready to put your k-bobs together.
Ingredients
2 8 oz. packages cream cheese
¾ cup confectioner's sugar
¼ cup sugar
1 teaspoon vanilla
½ cup sour cream
1 cup chopped strawberries
2 cups graham cracker crumbs
2 qts. Florida Strawberries
Instructions
In a mixing bowl combine the cream cheese, confectioner's sugar, sugar, vanilla and sour cream.
Add in the strawberries.
Put the mixture into a storage container that can go in the freezer. Freeze overnight or for 4 – 6 hours.
Take out of freezer about 15 minutes before rolling into balls. I used a small scoop to then make balls about the size of walnuts. Roll in the graham cracker crumbs.
Thread onto a skewer surrounded by strawberries. Serve right away.
Notes
The cheesecake balls can be kept in the freezer until ready to use. Let set out about 10 minutes before putting on a skewer with the strawberries.
Originally posted on Recipes, Food & Cooking.
Check out the Recipes, Food & Cooking website, and follow Mary Ellen on Facebook, Twitter, Pinterest, and Instagram!
Pin it!