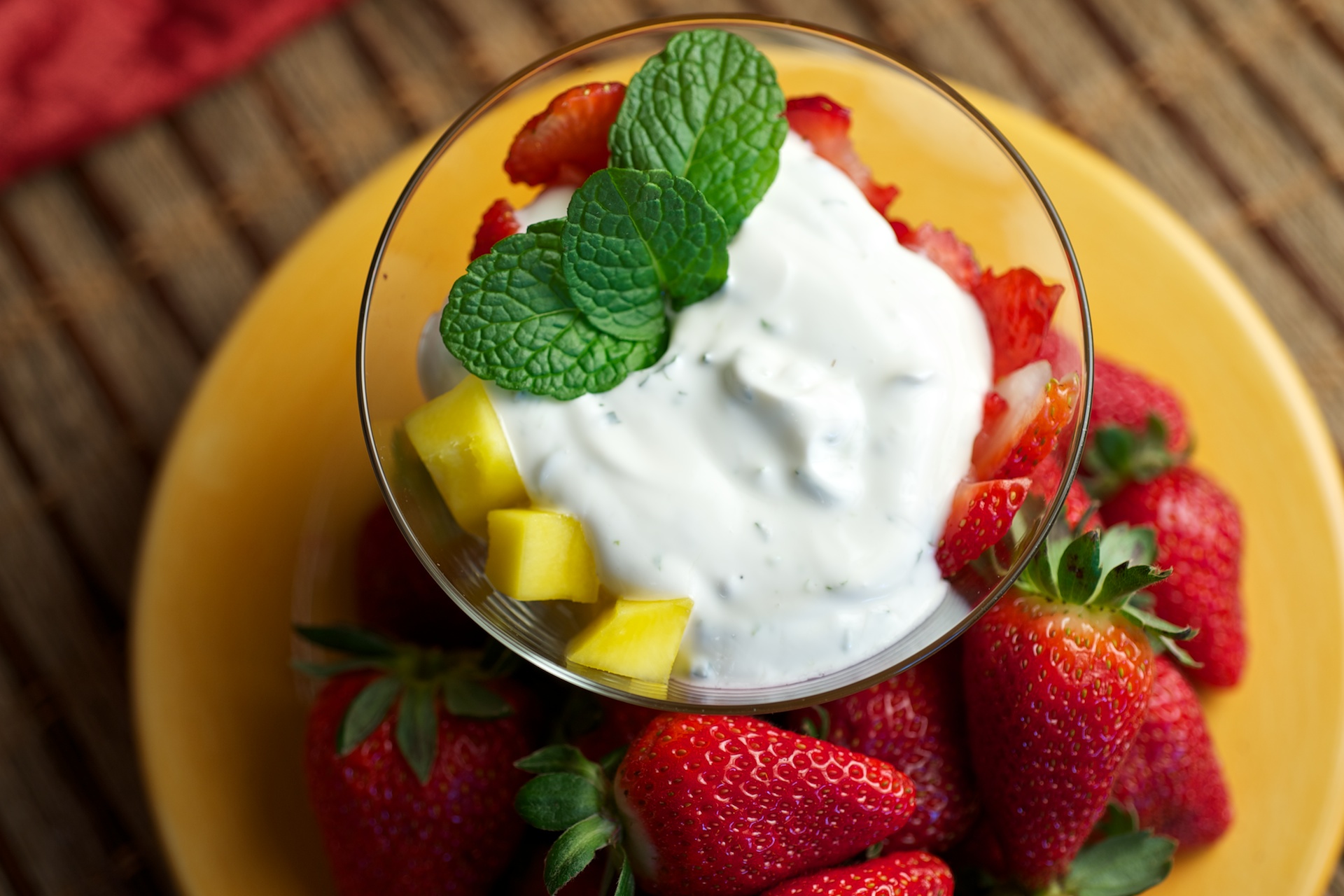 Mojito Strawberry Yogurt
With the popularity of Greek yogurt  in America today, Mojito Yogurt with Fresh Florida Strawberries and Mixed Tropical Fruit is a timely choice when dining out or whipping up breakfast at home.
This healthy recipe comes from Executive Chef Jason R. Gronlund of Hard Rock Cafe® International who contributed this simple, refreshing and healthy idea for our Chefs Advisory Board. Florida strawberries are the star here, but we don't mind if you mix and mingle our strawberries with other fresh fruits – especially of the tropical kind.
Be sure to read the Chef Notes at the end of the recipe on ways to dress this baby up. Chef Gronlund isn't the only one serving yogurt and strawberries these days. We heard on the street that some Florida schools featured yogurt, strawberries and reduced-sugar cereal in a celebration of "Start Your Day the Parfait Way" – a program sponsored by the Florida Dairy Council and General Mills. Keep it up, guys.
Mojito Yogurt with Fresh Florida Strawberries & Mixed Tropical Fruit
2 cups Greek yogurt
1 tablespoon chopped fresh mint
2 teaspoons fresh lime zest
1/4 cup sugar
Using a medium-size mixing bowl, thoroughly mix the above ingredients with a wire whisk until evenly blended. Place in a plastic container. Cover and refrigerate for at least four hours prior to serving.
Strawberry Topping
3 cups fresh Florida strawberries, cleaned, stemmed and quartered
1 cup seasonal mixed tropical fruit of choice, diced
2 tablespoons sugar
Place fruit and sugar in a mixing bowl and gently blend. Store in a plastic container with a tight-fitting lid. Chill for four hours.
To serve: Place 1/2 cup of the mixed fruit in individual serving glasses or clear glass bowls. Top with 1/2 cup of the yogurt mixture and garnish with fresh mint leaves, if desired.
Chef Notes:
Tropical fruits may include mango, papaya and pineapple or other fruits of choice. For an added kick, mix 1/2 ounce Chambord liqueur and 3/4 cup rum. Chill and pour over fruit before topping with yogurt. A long-stemmed red wine or other elegant cocktail glass makes an attractive presentation.
You can download a copy of Chef Jason Gronlund's beautiful recipe card by clicking the download button below.