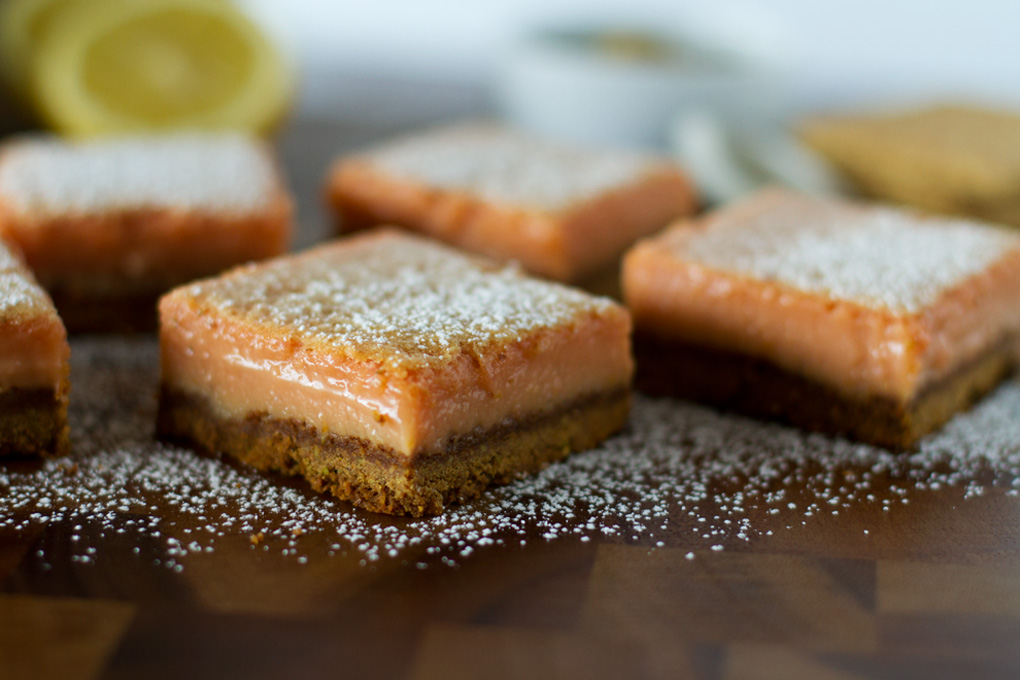 Strawberry Lemonade Bars
This recipes comes to us from Aida Mollenkamp from her work with Attune Foods and The Honeybee Project. I stumbled upon the recipe on Pinterest one day and contacted Aida to see if we could share it with you all. If you haven't heard of The Honey Bee Project, you should definitely check it out. It is a collaboration between Attune Foods and the Rodale Institute's Honeybee Conservancy to spread awareness about the importance of honeybees in communities.
It isn't something many of us think about, especially those outside of the agriculture industry, but our food supply relies on honeybees. According to the U.S. Department of Agriculture, these workers pollinate 80% of the nation's flowering crops which constitute 1/3 of everything we eat. There have been several articles and even a documentary about just the importance of honey bees and the dangers their dwindling population brings to head.
Colony collapse hit us pretty hard last year when nearly 1/3 of all honeybees in America died. Thankfully there are organizations and foodies like Aida doing what they can to turn this around.
For The Honeybee Project, it only seemed natural to remake lemon bars with a bit more elevated flavors. So I whirred some pistachios, grahams, and coconut oil together for a crust with depth and whisked together honey, lemon, and strawberries for a bright, sweet, tart fruit curd that's as gorgeous as it is tasty.
These lemonade bars are sure to be an instant hit with your family and a perfect pairing to a summer barbecue.
Honeyed Pink Lemonade Bars with Pistachio-Graham Crust
For the base:
 1 1/2 cup graham cracker crumbs (about 6 ounces / from 10 to 12 whole crackers)
1 cup shelled unsalted pistachios
1 1/4 teaspoon kosher salt
5 tablespoons coconut oil, plus more for coating the dish
1/4 cup clover honey
For the filling:
2 cups strawberries (about 10 ounces // for about 1 cup puree)
1 cup unrefined cane sugar
1/2 cup clover honey
3/4 cup freshly squeezed lemon juice (from 10 to 12 lemons)
6 large eggs
3 egg yolks
4 tablespoons white whole wheat flour
2 teaspoons lemon zest
2 teaspoons pure vanilla extract
1/4 teaspoon kosher salt
Powdered sugar and/or toasted coconut flakes, for serving
For the base:
Heat oven to 350°F and arrange a rack in the middle. Coat a 13-by-9-inch baking dish with coconut oil and line the pan with 2 pieces of parchment that overhang each side of the pan by 1 inch.
In a food processor, finely grind pistachios with graham-cracker crumbs and salt until it resembles a fine meal. Add honey and coconut oil and process until mixture is thoroughly moistened and it begins to lump together, about 30 seconds. Press mixture into bottom of prepared pan. Bake until lightly browned, 10 to 12 minutes.
Remove from the oven and let cool while you make the filling.
For the filling:
Place strawberries in the food processor and process until they're a super smooth puree. Pass strawberry puree through a fine mesh sieve and press on the sieve with a spatula to extract as much of the puree as possible; discard any seeds.
Combine puree with all ingredients in a large non-reactive bowl and whisk until sugar is dissolved and mixture is smooth, about 2 minutes.
Pour filling over baked crust and return to the oven, and bake until just set in the middle, about 25 to 30 minutes. Remove from the oven and let cool completely on a wire rack, about 1 hour. Cover and place in refrigerator to set up for 2 to 3 hours.
Using a knife dipped in hot water, cut into squares then, as desired, top with powdered sugar or toasted coconut flakes and serve.
Originally posted by Aida Mollenkamp for Attune Foods The Honeybee Project in the Kitchen.