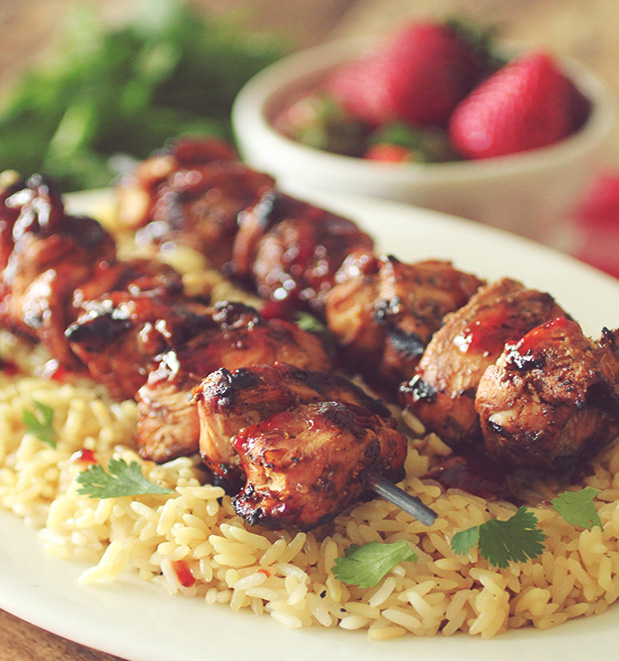 Grilled Strawberry Balsamic Chicken Kabobs
Food blogger, entrepreneur and healthy living extraordinaire Katie Farrell shares her delicious recipe for strawberry chicken kabobs with a balsamic glaze.
The photo alone from this recipe no doubt has your mouth watering! Just wait until you get your first taste! And because it's from Katie, you know it's going to be healthy and something the entire family will love. You can learn more about Katie in her Culinary Chronicles feature.
Here's what Katie had to say about this recipe:
If you are looking for a new and unique way to grill your chicken and use up your sweet and delicious strawberries, look no further! The sweet and tangy flavors blend beautifully in this easy to prepare kabob recipe! Enjoy!
Ingredients
 1 1/2 lb chicken breasts, cut into 1 inch cubes
1/4 cup balsamic vinegar
2 tbs dijon or yellow mustard
1/4 cup honey
1 tbs garlic, minced (or 1 1/2 tsp garlic powder)
1/2 tsp salt
1/2 tsp pepper
1 tsp oregano
1 cup fresh strawberries
Glaze:
1/4 cup no sugar added strawberry jam
2 tbs balsamic vinegar
Method
Blend everything for the marinade together in a blender, (or you could mash strawberries really well, and stir in the rest of the ingredients for the marinade in a medium bowl). Pour marinade into a Tupperware or medium bowl, and place the chicken (the chicken should be cut into 1 inch even size cubes) in the marinade, and toss to evenly coat.
Cover Tupperware/bowl and refrigerate for at least 30 minutes (The longer you marinade the chicken, the more flavor it will have. This can also be done overnight. Also, if you are using wood skewers, soak skewers in water for 20-30 minutes before grilling so they don't burn on the grill.)
Assemble kabobs by placing the chicken on the skewers. Grill on medium low heat for 15-20 minutes, turning frequently. Grill until chicken is cooked through (no longer pink in the middle). You could also place skewers on a baking sheet lined with foil, sprayed on cooking spray, and bake uncovered at 400 degrees for 20-30 minutes, or until cooked through, turning every 5-10 minutes.
If you desire to make the glaze (only adds about 10-20 calories to each serving), place strawberry jam and balsamic vinegar in a small bowl, and microwave 20-30 seconds, or until jam thins out just enough to stir. Brush or drizzle glaze over kabobs when they are done grilling, and serve just as is, or over whole grain rice, quinoa, or over a bed of lettuce or with veggies if desired!
Originally posted at Dashing Dish.
Check out the Dashing Dish site, follow Katie on Facebook, Twitter, Instagram and Pinterest and don't miss her cookbook, Dashing Dish: 100 Simple and Delicious Recipes for Clean Eating, available in hardback and eBook.