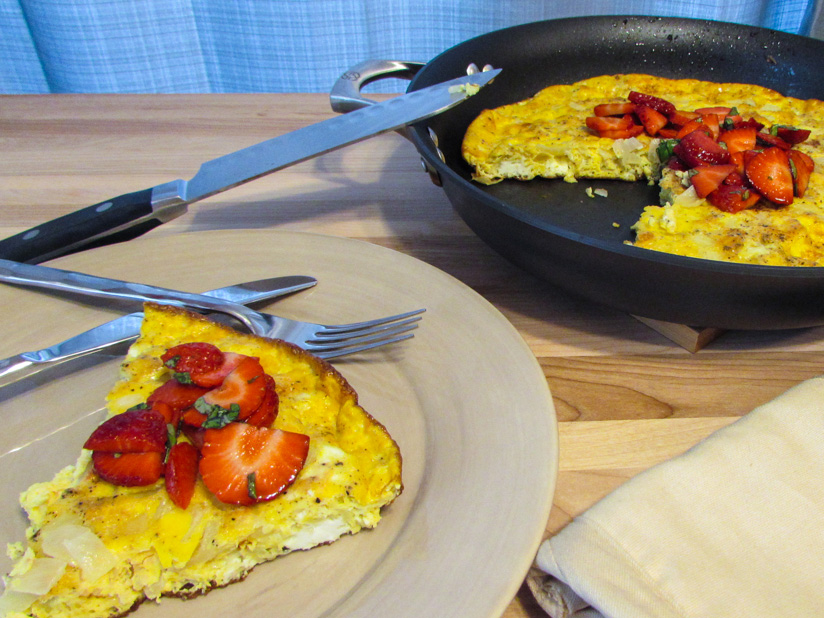 Gluten-Free Strawberry Balsamic Frittata
T.R. Crumbley is the author and owner of Gluten Free Crumbley. He hopes that through the recipes and lifestyle articles shared on his website, that others new to being gluten insensitive or Celiac can more easily transition to a gluten-free lifestyle.
A frittata is an Italian dish similar to an omelet enriched with vegetables and cheese. This frittata is filled with onions and cheddar cheese, and topped with fresh strawberries and herbs.
Ingredients
2 garlic cloves
1 medium yellow onion
1 tbsp extra virgin olive oil
2 tbsp extra virgin coconut oil
1 dozen large eggs
½ cup milk
2 tsp salt
1 tsp ground black pepper
1/2 cup shredded white cheddar cheese
2 tbsp balsamic vinegar
8 Florida strawberries
2 tbsp chopped basil
1 tbsp chopped thyme
Method
Preheat the oven to 350°F.
Mince the garlic and chop the onion.
Saute the onion and garlic in the olive oil over low heat for 4 minutes. Remove them from the heat.
Whisk the eggs, milk, pepper and salt together. Add the coconut oil to a skillet over medium heat. Pour the eggs into the skillet, and sprinkle with the onion and garlic. Cook for about 5 minutes, or until the sides of the eggs are slightly set.
Sprinkle with cheese and bake in the oven for 20 minutes.
After removing the eggs from the oven, chop the strawberries, basil, and thyme. Toss the strawberries and herbs together with the vinegar and sprinkle on top of the frittata.
Originally posted at Gluten Free Crumbley.
Check out the Gluten Free Crumbley website, follow T.R. on Facebook, Twitter, Instagram, and Pinterest.