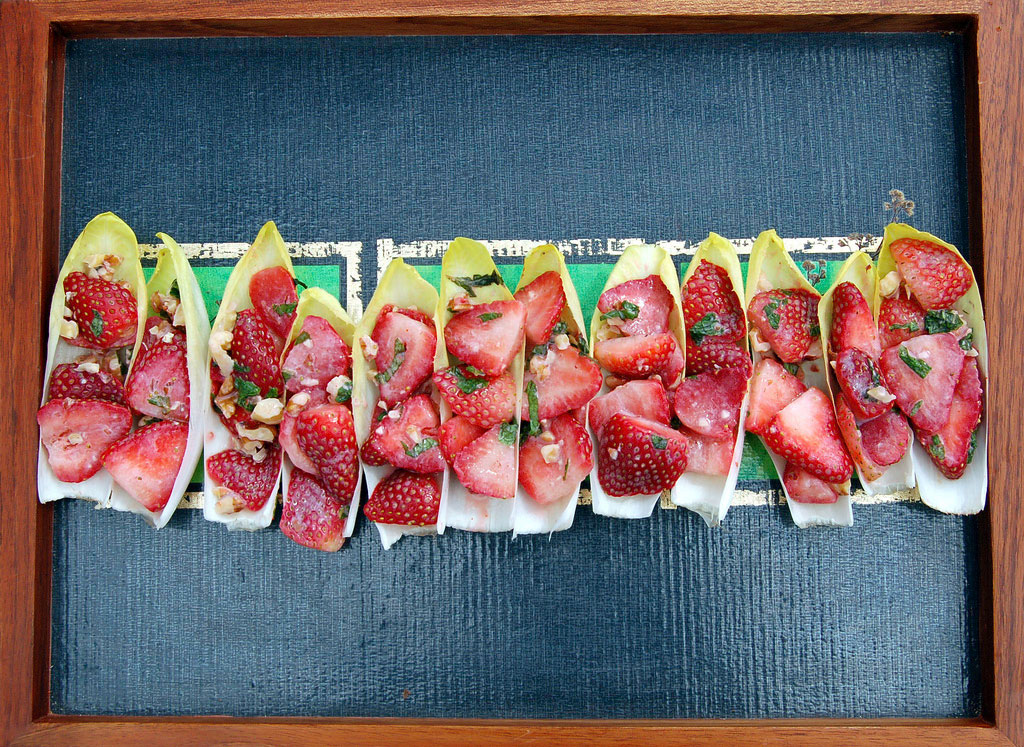 Gluten-free Shrimp Ceviche
This recipe comes from Shannon Kohn, winner of the professional division's starters/salsas category in theFlorida Strawberries — A Taste of Summer All Winter Long recipe contest last year. Her entry, Floridian-Style Strawberry Shrimp Ceviche, garnered Kohn a $500 cash prize!
Gluten-free diets are all the rage in Hollywood it seems. Many restaurants now have gluten-free sections, along with low carb and heart healthy options. But do you know what gluten is or why someone would follow a gluten-free diet? Let's see what the Mayo Clinic has to say about the subject.
A gluten-free diet is a diet that excludes the protein gluten. Gluten is found in grains such as wheat, barley, rye and triticale (a cross between wheat and rye).

A gluten-free diet is used to treat celiac disease. Gluten causes inflammation in the small intestines of people with celiac disease. Eating a gluten-free diet helps people with celiac disease control their signs and symptoms and prevent complications.

Initially, following a gluten-free diet may be frustrating. But with time, patience and creativity, you'll find there are many foods that you already eat that are gluten-free and you will find substitutes for gluten-containing foods that you can enjoy.
Ceviche (sometimes spelled seviche) is a popular Latin American seafood dish often made up of raw fish, marinated in citrus juice. The citrus acid works to cook the raw fish. Once marinated, the fish is tossed with spices, fresh onions and peppers and served as an appetizer. In Shannon's recipe, she has substituted raw fish for cooked shrimp and jazzed it up to match the culinary styles of Florida.
We've posted this recipe before as a bruschetta-style dish. This time around we're replacing the toasted, gluten-rich bread with endive. Endive is a slightly bitter-flavored green rich in vitamins and minerals, such as folate and vitamins A and K, and is also high in fiber.
You might hear endive pronounced "in-dive" or "on-deev" but did you know that there is actually a difference between the two? Yes, both pronunciations are correct but in this case we're working with "on-deev". The "on-deev" variety has leaves shaped into scoop-like petals while the "in-dive" varieties are curly and leafy and what you will often find in a spring-mix salad.
Gluten-free Floridian-Style Strawberry Shrimp Ceviche
1 pound cooked medium shrimp, peeled, deveined, and chopped
1 (16-ounce) container fresh florida winter strawberries, chopped
1⁄4 cup thinly sliced sweet onion
1⁄4 cup sweetened flaked coconut, toasted
2 tablespoons minced fresh cilantro
3 tablespoons fresh key-lime juice
2 tablespoons honey
1⁄4 teaspoon salt
1⁄8 teaspoon ground black pepper
1⁄8 teaspoon ground cinnamon
endive leaves
garnish: fresh cilantro leaves
In a large bowl, combine shrimp, strawberries, onion, coconut and cilantro.
In a small bowl, whisk together lime juice, honey, salt, pepper and cinnamon. Add to shrimp mixture, tossing gently to coat. Cover ceviche and refrigerate for at least 1 hour before serving.
Spoon ceviche into endive leaves. Garnish with cilantro if desired.
Yield: about 6 servings