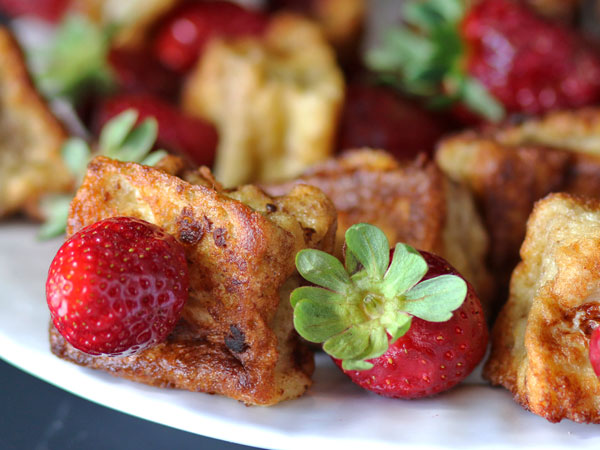 French Toast Strawberry Kabobs
Mary Ellen Seavey is the creator and voice behind Recipes, Food & Cooking. She takes old favorite recipes and refreshes them. Her recipes are simple, nutritious, budget-friendly, and most importantly tasty!
Let's talk about these French Toast Strawberry Kabobs. She has created a fresh new recipe for french toast that is quick and easy. The Florida strawberries add a pop of color and flavor to an old breakfast favorite. The kabobs just make it more fun to eat!
Ingredients
1 loaf french bread or Texas toast
6 eggs
½ cup milk
2 teaspoons sugar
½ to 1 teaspoon cinnamon
2 – 3 tablespoons oil
1 quart Fresh Florida Strawberries – washed and caps removed.
Method
Cut the french bread into 1 inch slices. Cut off the crusts and cut into cubes. I got 2 square cubes out of each slice.
Beat the eggs until well mixed. Add the milk and stir it in. Add the cinnamon and sugar. Stir it in.
Add the cubes to the egg mixture. I turned them over with tongs. When coated place on a plate, Repeat until of the cubes are coated with the egg mixture.
Heat the oil in a large frying pan over medium heat. Add the cubes, brown on all sides. Remove to a paper towel.
Thread 3 pieces of french toast on an 8 inch skewer, alternating with a strawberry. Serve with syrup.
Originally posted at Recipes, Food & Cooking.
Check out the Recipes, Food & Cooking website, follow Mary Ellen on Facebook, Twitter, and Pinterest.