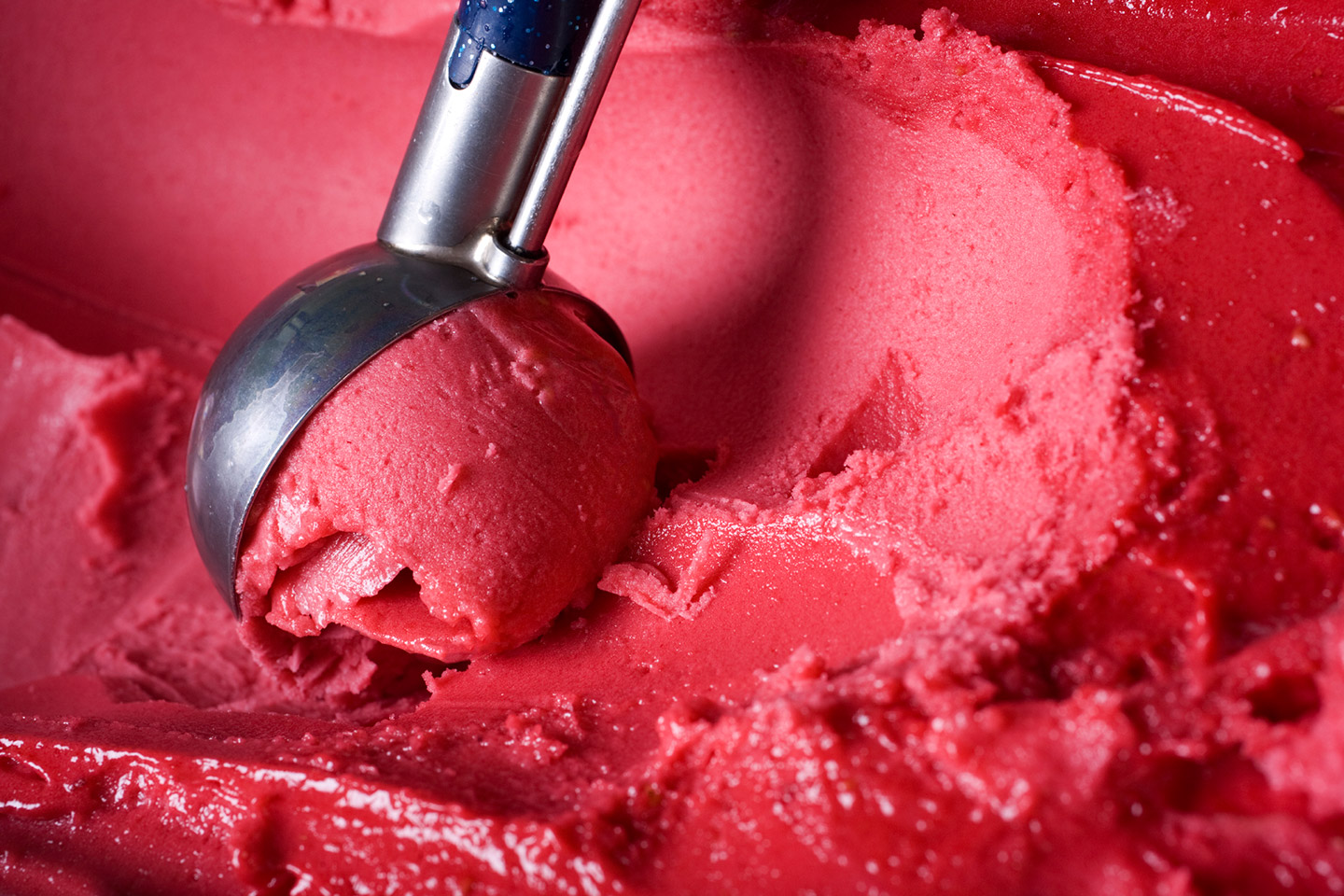 Florida Strawberry Sorbet
One of the greatest treats on a hot summer day is a devine sorbet. Sorbets have become a hot commodity these days. With nearly zero fat, absolutely no dairy and whole fruit beginnings, it isn't just a delicious choice for cooling off, it's a pretty healthy one!
Another great thing about sorbet is how easy it is to make!
It is generally believed that either the ancient Romans or Middle Easterners first created the sorbet using sweetened fruit and water. Whoever it was, thanks! Since they didn't have freezers back then, the sorbet was served as a drink to be consumed as a palate cleanser between meal courses.
Later, through the magic of refrigeration (or blocks of ice), sorbet lovers started freezing the concoction and that is where the sorbet, as we know it today, came from!
This is another great recipe that takes advantage of those Florida strawberries you froze near the end of our growing season. Yay for that! With just four ingredients, this might be one of easiest and tastiest recipes yet!
Ingredients:
1/3 cup water
1/3 cup sugar
1 pound frozen Florida strawberries (thawed)
1 tablespoon lemon juice
1 tablespoon Grand Marnier (optional)
In a small saucepan, over low heat, combine water and sugar. Stir until all the sugar is totally dissolved. This should take around five minutes. Any grains in the syrup will work against your smooth sorbet.
Once all of the sugar is dissolved, put the syrup in the refrigerator to cool. Next, puree the strawberries with lemon juice using a blender or food processor. Transfer pureed berries to a large bowl and refrigerate until very cold.
After about an hour, remove the syrup and the strawberries from the refrigerator.
If you have an ice cream maker, pour puree and syrup into the bowl and process using the manufacturer's instructions. Once it is finished, place in the freezer until you are ready to enjoy your sorbet.
If you do not have an ice cream maker, combine the syrup and berries. Then transfer to a small, metal baking sheet, cover with plastic wrap and place in the freezer for 3-4 hours.
Remove from freezer and let thaw slightly on the counter. Transfer sorbet back to your blender or food processor to whip it up a bit more, breaking any ice that might have frozen solid. Transfer to an air-tight Tupperware type container and refreeze. Once it has hardened, you are ready to enjoy your sorbet!
If you want a smoother and even tastier sorbet, add 1 tbsp of Grand Marnier to the strawberries as you puree them.
Related articles