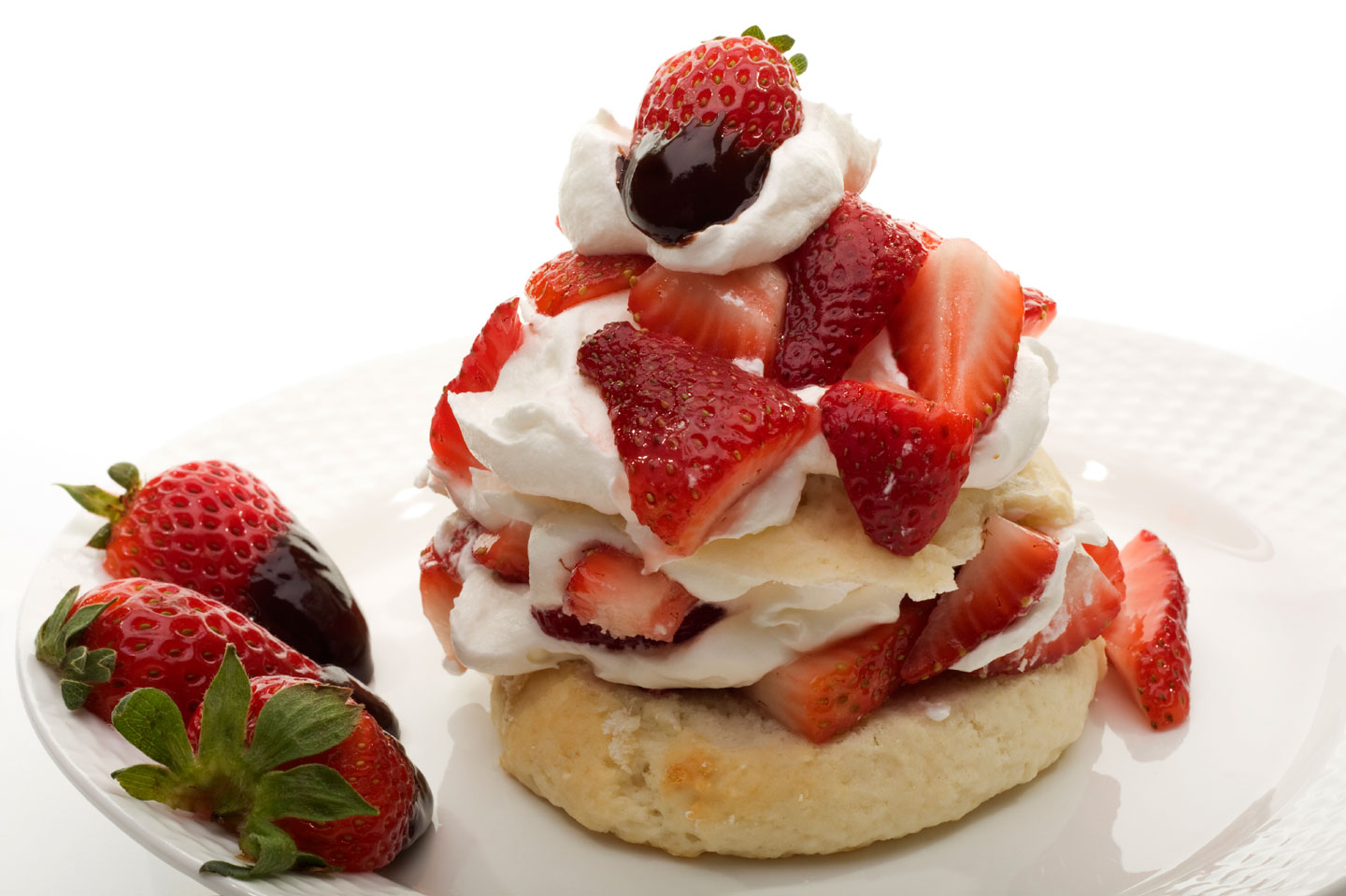 Florida Strawberry Shortcake
Chef Jacqueline Grantham is the award-winning chef who enjoys serving her guests Florida winter strawberries at the Douglas Golf and Country Club.
"The idea of doing the shortcake with Florida strawberries was a given. They are available local here at our farmers market straight from Plant City, Florida. I really love using the winter strawberries for their color and sweetness," says Chef Grantham.
This recipe for Florida Strawberry Shortcake was inspired by Chef Grantham and edited for the home cook.
When she serves it at the Club, diners are overwhelmed by the presentation. Why?  Not only is it beautiful, it stands more than 8-inches high!
Florida Strawberry Shortcake
Ingredients:
3 pints Florida strawberries
½ cup granulated sugar
2 ¼ cups all-purpose flour
4 tsp baking powder
2 tbsp granulated sugar
¼ tsp salt
1/3 cup shortening
1 egg beaten
2/3 cup milk
1 tsp real vanilla extract
2 cups heavy whipping cream
2 tbsp powdered sugar
Mint for garnish (optional)
Balsamic vinegar (optional)
Chocolate for dipping (optional)
Rinse, drain and remove caps from strawberries. Slice lengthwise and toss with ½ cup granulated sugar; wrap and chill.
Preheat oven to 425; grease and flour one 8- inch baking pan
In a medium bowl combine the flour; baking powder, sugar and salt. With a pastry blender cut in the shortening until the mixture resembles coarse crumbs. Make a well in the center and add the beaten egg, milk and vanilla extract. Stir until just combined.
In a chilled bowl, whip together heavy whipping cream and powdered sugar until you have a light and fluffy consistency. Place in the refrigerator.
Spread the batter into the prepared pan. Bake at 425 for 15 to 20 minutes or until golden.
Let cool partially in pan or wire rack. Cut with 2 inch biscuit cutter and slice each in half.
Place bottom half of a biscuit in center of plate and spoon 2 tablespoons of strawberry mix on top. Add another biscuit layer and top that with another scoop of whipped cream and strawberries.
Top with a sprig of mint and drizzle with balsamic vinegar. Try dipping the tips of a few strawberries in chocolate for an even more delectable treat!