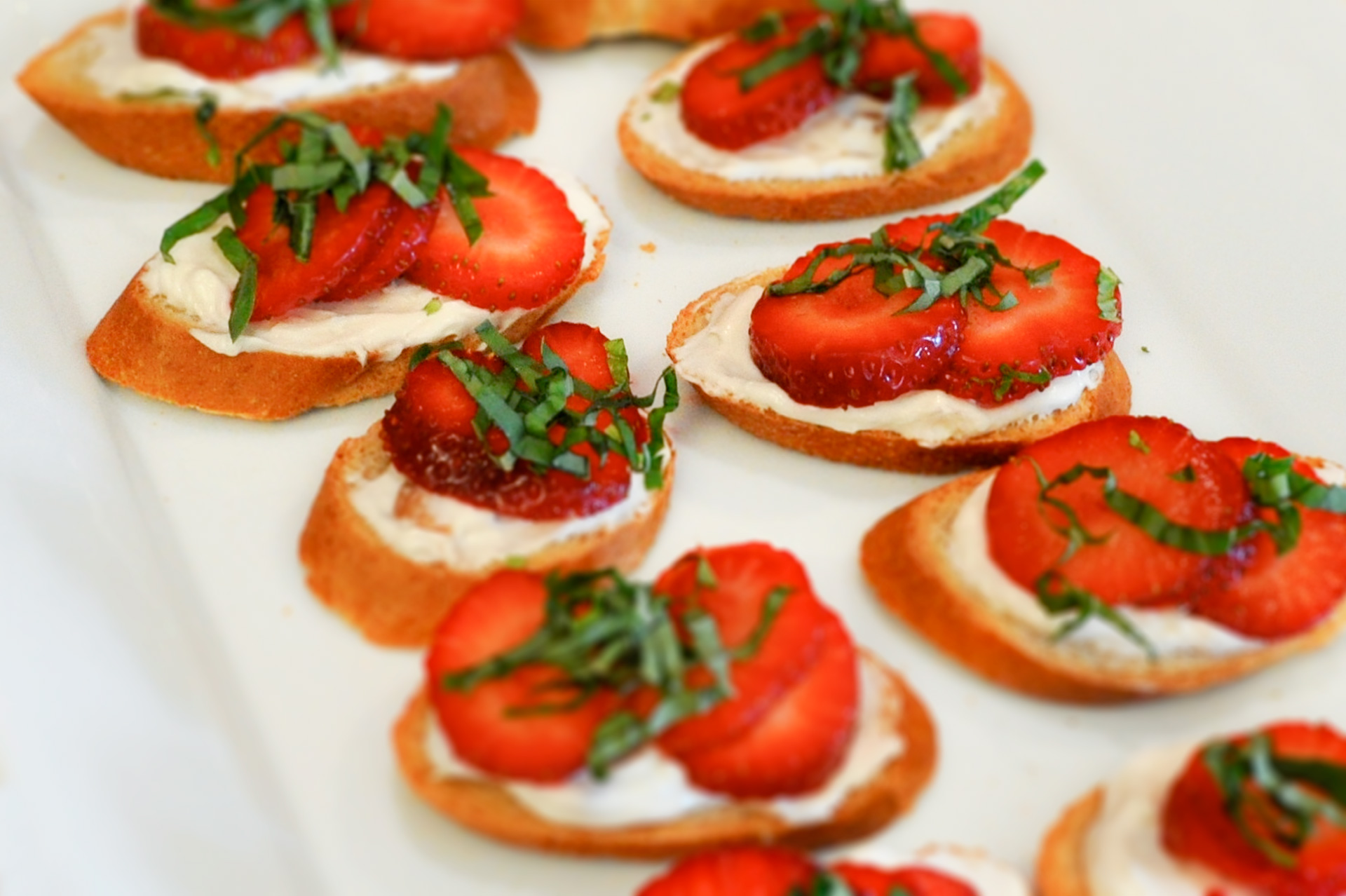 Florida Strawberry Crostini
Savory and Sweet Florida Strawberry Crostini with Balsamic Syrup
Winner, Home-Cook Division – Starters
Barbara Estabrook, Rhinelander, Wisconsin
1/2 cup balsamic vinegar
1 (8-ounce) container nonfat plain Greek yogurt
1 (8-ounce) package cream cheese, softened
4 slices hardwood smoked bacon, cooked and crumbled
2 tablespoons confectioners' sugar
36 (1/4-inch-thick) slices French baguette, toasted
1 (16-ounce) container fresh Florida winter strawberries, cut into 1/4-inch-thick slices (about 2 1/2 cups)
3 tablespoons slivered fresh basil
In a small saucepan, bring vinegar to a boil over medium-high heat. Reduce heat, and simmer for 3 to 4 minutes, or until vinegar is reduced to 1/4 cup. Remove from heat, and set aside.
In a small bowl, combine yogurt and cream cheese, stirring until smooth. Add bacon and confectioners' sugar, stirring until combined. Spread yogurt mixture evenly over toasted baguette slices. Top each evenly with sliced strawberries. Sprinkle each with basil, and drizzle with balsamic syrup. Serve immediately.
Makes about 3 dozen.
Recipe credit Taste of the South magazine.
Barbara Estabrook, Rhinelander, Wisconsin, swept the home-cook division by winning the best recipe in two categories – starters/salsas and salads. Judges chose Estabrook's Savory and Sweet Florida Strawberry Crostini with Balsamic Syrup as the best starter recipe. Her entry for Roasted Asparagus Salad with Fresh Florida Winter Strawberries was the winning salad and was voted the best overall recipe in the home-cook division. Estabrook's winnings totaled $2,000.
Estabrook enjoys re-creating recipes she finds in old cookbooks. Passionate about cooking and baking and since early retirement from real estate. She has competed in eight national cook-off's including the National Beef and Pillsbury Bake-Off twice and has won numerous other cooking contests. In 2007 she won the grand prize in Applebee's Big Burger Showdown contest co-sponsored by Food Network. A chicken recipe she created made it to the regional finals in the National Chicken contest.
Estabrook says, "Contest cooking is a hobby and I tackle every contest I enter with a lot of enthusiasm. I am competitive and remain focused and calm while in the cook-off arena."
Living in northern Wisconsin, Estabrook forages for wild berries in season, pick wild mushrooms, hazelnuts and cranberries. The Wisconsin Department of Natural Resources magazine has published two articles she wrote since retirement, one on picking wild berries and another on drying wild flowers and weeds.