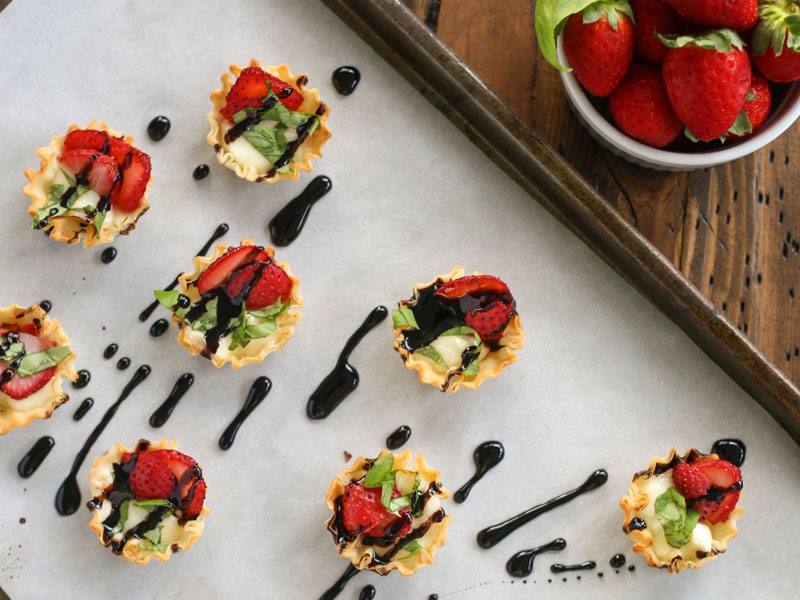 Crispy Strawberry and Brie Bites
Katie Compton is the creative voice behind Ruffles & Truffles. Among the numerous recipes and posts about food, you can also expect to see posts about DIY projects, personal style, and favorite beauty products.
These crispy strawberry and brie bites are perfect for a party or just to pass around the table as an appetizer. The kicker: they are SO easy to put together and only take a few minutes to create from start to finish.
Ingredients
Florida strawberries, sliced thin into quarters
Brie, cut into ½ inch cubes
Basil, cut in a chiffonade
Filo shells
Balsamic glaze
Method
First, preheat oven to 350 degrees F.
Slice brie cheese into small cubes (about ½ inch) and place inside filo cups: one or two cubes per cup.
Add thin slices of strawberry on top of the brie – about two slices per cup.
Place crispy brie bites in the oven and bake for 8-10 minutes, until cheese is melted through.
Remove from oven: sprinkle with fresh basil, and drizzle with balsamic glaze.
Serve immediately and enjoy!
Originally posted at Ruffles & Truffles.
Check out the Ruffles & Truffles website, follow Katie on Facebook, Twitter, Instagram, and Pinterest.