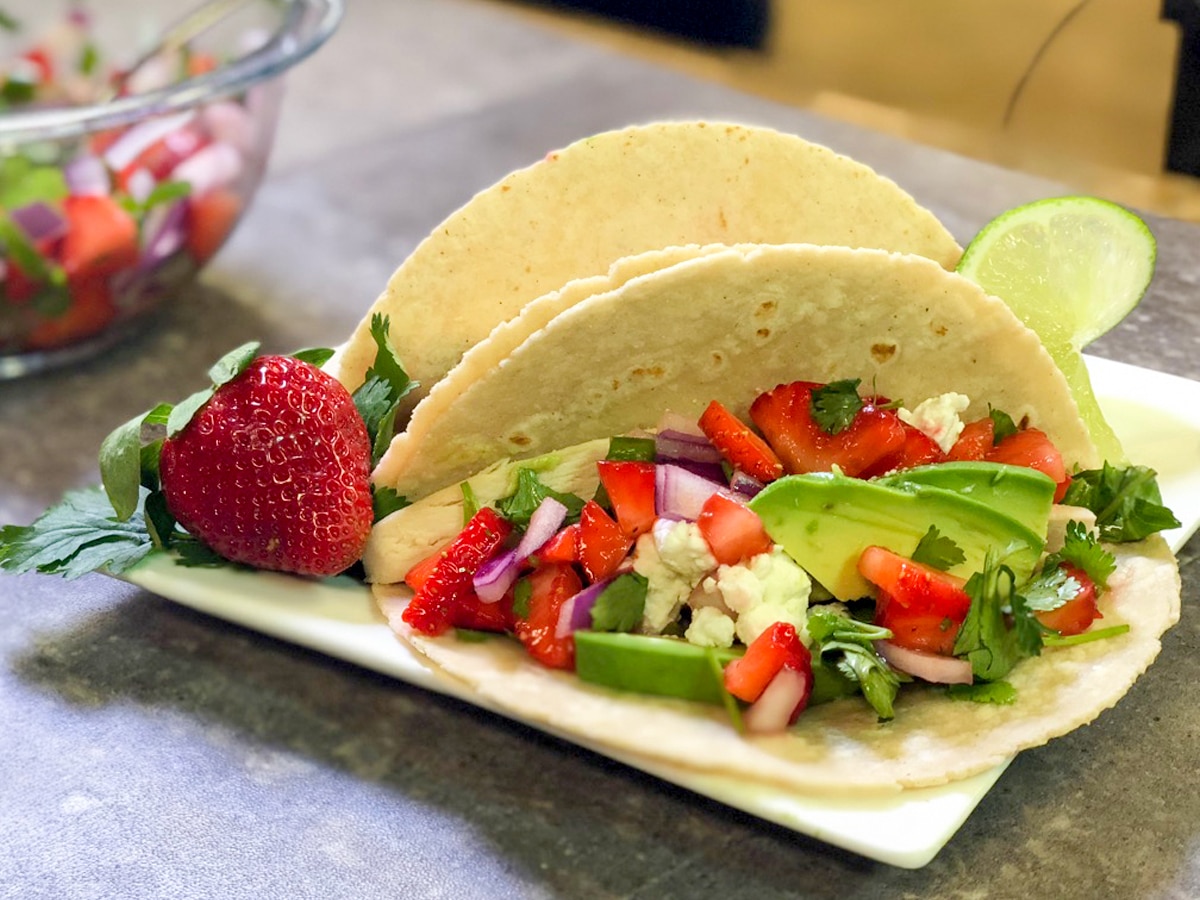 Chicken Fajitas with Strawberry-Jalapeno Salsa
Nichole Crews shares healthy, everyday food on her blog, Casa de Crews! She loves meal planning, at-home entertaining, and cooking competitively with her husband.
Nichole is sharing her recipe for Chicken Fajitas with Strawberry-Jalapeno Salsa with us! Here's what she tells us about the recipe:
One of my go-to meals when I can't think of what to make is a good ol' taco or fajita dinner. They're so versatile since you can use just about anything you want. Chicken Fajitas with Strawberry-Jalapeno Salsa use sweet strawberries with jalapenos, fresh avocado and all my other favorite fajita ingredients.
Ingredients
Strawberry Salsa

1 1/2 cup Florida strawberries, chopped small
1 jalapeno pepper, seeds removed and chopped
1/2 red onion, diced
1/4 cup cilantro, roughly chopped
1 lime, juiced
salt and pepper to taste

Chicken Fajitas

1 lb chicken breast
1 tbsp cooking oil of choice (evoo, spray, etc)
1 tbsp ground cumin
1 lime, juiced
Kosher salt and pepper, to taste
tortillas of choice
avocado, optional
goat cheese, optional
Method
To make the strawberry salsa, mix all ingredients well and allow to chill at minimum 1 hour.
For the Chicken Fajitas – to a bowl, add chicken, oil, lime juice, cumin, salt and pepper. Mix well to coat chicken. Allow to marinate 30 minutes.
Heat non-stick skillet to medium heat. Grill chicken breasts for 5-6 minutes, and flip. If chicken resists, side is not done. Once done, flip and grill other side until done. Allow to cool.
Once cooled, slice chicken into strips and add to tortillas. Top with salsa, avocado, and goat cheese.
Originally posted on Casa de Crews.
Check out the Casa de Crews website, and follow Nichole on Facebook, Twitter, Pinterest, and Instagram!
Pin it!