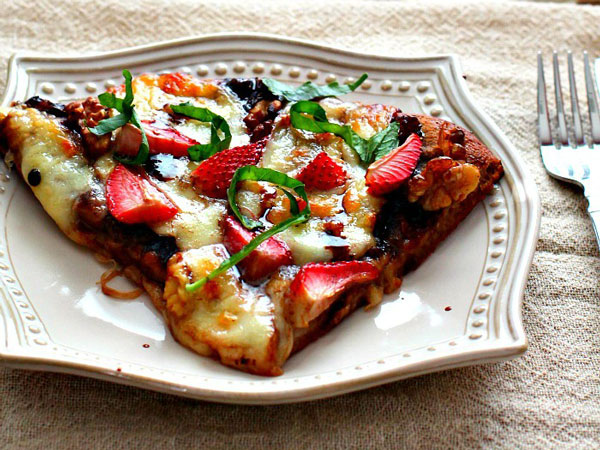 Balsamic Strawberry Walnut Pizza with Fresh Mozzarella and Basil
Soni Sinha is the cook, photographer and author behind the blog soni's food.  Soni is a self-taught cook with a fascination for creating contemporary Indian inspired recipes, but she also experiments with recipes from around the world from time to time. This includes her Balsamic Strawberry Walnut Pizza which has some amazing flavors going on with the fresh mozzarella and basil. Obviously, the star of the show is the balsamic strawberries. The walnuts add a nice crunch to every sweet and savory bite!
Ingredients:
1 ball Whole wheat pizza dough
10-12 Thinly sliced fresh mozzarella cheese
Fresh basil leaves
1 cup Fresh Florida strawberries sliced
1/4 cup Walnuts
For Balsamic Strawberry Reduction:
1/4 cup Balsamic vinegar
2 tbsp Brown sugar
1 cup Fresh Florida strawberries diced
Method:
Preheat the oven to 375 degrees.
In a small pot mix the balsamic vinegar and brown sugar. Bring to a boil, reduce and let it cook for about 10 minutes. Add the strawberries and let it cook for about 5-6 minutes.
In a pan dry roast the walnuts until fragrant.
Lightly flour your surface and roll your pizza dough into a 10-12 inch circle. Cover your sheet pan with parchment paper and transfer the rolled dough onto the parchment paper.
Drizzle some balsamic reduction over the dough. Follow with the fresh mozzarella and walnuts all over.
Arrange the strawberries all over and bake in the oven for 30-35 minutes.
Once it's done scatter fresh basil all over and drizzle some of the balsamic sauce.
Originally posted at soni's food.
Check out the soni's food website, follow Soni on Facebook, Twitter, Pinterest, and Instagram