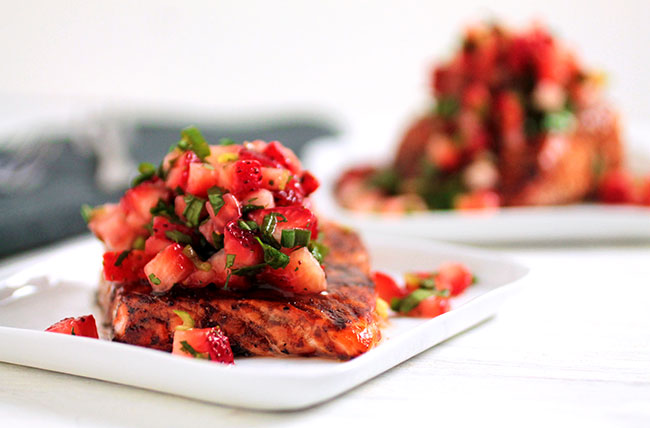 Balsamic Glazed Salmon
I'm so excited to share this delicious and fresh recipe with you. It's from food blogger Jessie Johnson, who shares her love of food at Life as a Strawberry. This recipe combines her love of fresh strawberries and her passion for supporting sustainable seafood.
This delicious and fresh recipe doesn't require lots of time or energy yet it still provides some healthy ingredients that will have your guest talking. Even better, this recipe can be put together in less than a half an hour and is about as healthy as dishes can get combing fresh strawberries with salmon, both rich in essential nutrients.
This recipe uses two of my most favorite things in the entire worldddddddd strawberries and wild salmon.
What are you waiting for? It's time to get cooking! For step-by-step photos visit Life as a Strawberry.
Balsamic Glazed Salmon with Strawberry Salsa
1 1/2 lb salmon filet
¼ cup balsamic vinegar
1 1/2 cups diced strawberries
¼ cup cilantro
1 tbsp diced jalapeños
2 tbsp diced green onion
2 tsp lime juice
Salt and pepper to taste
Preheat the oven to 375°F.
While the oven is preheating you can brush your salmon filet that you've placed on a baking sheet with a few coats of balsamic vinegar, making sure to save the majority of the balsamic for later. Season lightly with some salt and pepper then put in the oven to bake for 15-20 minutes.
While the salmon is baking you can begin working on the strawberry salsa. In a medium bowl mix the strawberries, cilantro, jalapeños, green onion and lime juice. Feel free to add a little salt and pepper to taste. Set the salsa in the refrigerator to chill until the salmon is ready to serve.
Once the salmon is finished take it out of the oven and brush on the remaining balsamic vinegar. Top with a heaping serving of strawberry salsa and serve!