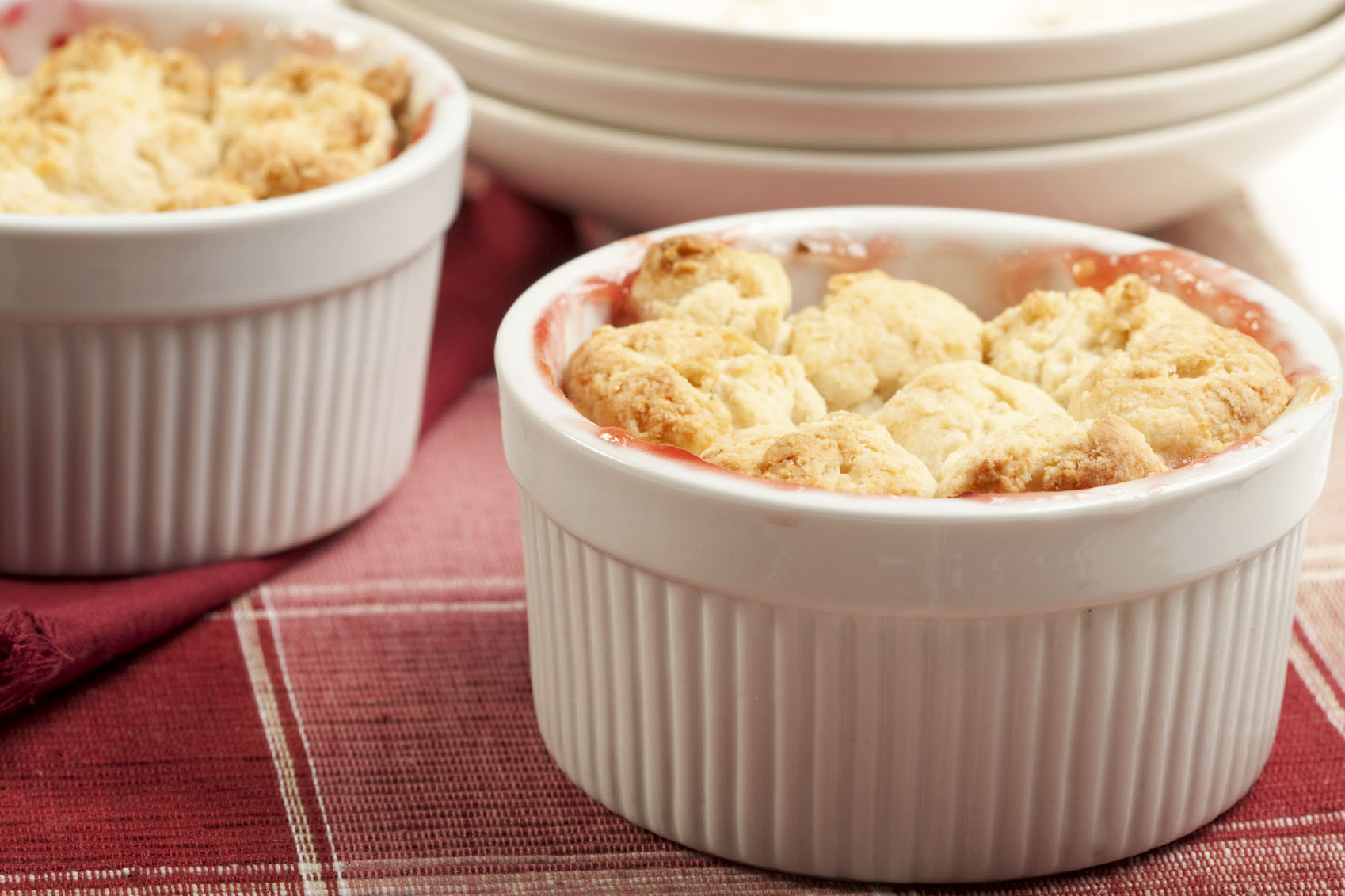 Florida Strawberry Cobbler
Grand Prize Winner, Professional Division
Recipe submitted by Emily Hobbs, Springfield, Missouri
"Recently I discovered how cooking strawberries intensifies their flavor making them even sweeter. I decided to make a simple strawberry cobbler for this contest. I didn't think something this easy would win," Hobbs exclaimed.
Baked Florida Strawberry Cobbler
1 3⁄4 pounds fresh Florida winter strawberries, sliced 1⁄4 inch thick (about 5 cups)
1 cup plus 4 teaspoons all-purpose flour, divided
1⁄4 cup plus 3 tablespoons sugar, divided
1 teaspoon baking powder
1⁄4 teaspoon salt
1⁄4 cup cold unsalted butter, cut into small pieces
1 large egg, lightly beaten
3 tablespoons whole milk
Garnish: vanilla ice cream
Preheat oven to 350°.
In an 8×8-inch baking dish, combine strawberries, 4 teaspoons flour, and 1⁄4 cup sugar.
In a medium bowl, combine remaining 1 cup flour, remaining 3 tablespoons sugar, baking powder, and salt. Using a pastry blender, cut in butter until mixture is crumbly. Add egg and milk, stirring just until dry ingredients are moistened. Spoon dough over strawberries by teaspoonfuls.
Bake until crust is golden brown and filling is bubbly, 35 to 40 minutes. Let cool for 5 to 10 minutes before serving. Serve with vanilla ice cream, if desired. Yield: 6 to 8 servings
Recipe credit Taste of the South magazine.
Emily Hobbs is a twenty-four year old native of the Springfield-Branson area and has been cooking and baking her entire life. Emily is the creator of Sugar Plum, an award-winning baking website, where she creates and posts original recipes.
Emily was chosen as a finalist and competed in Food Network's Ultimate Recipe Showdown (twice). Her recipes have won multiple cash prizes and have been featured in Cooking Light and Taste of the South magazine. She has also won trips around the globe for various cooking competitions, including the Quaker Oats Top Chef Quickfire Challenge, the Manischewitz Kosher Cook-Off and the NBWA's Cooking with Beer Challenge. Recently she won the $5,000 grand prize in Regal Spring's Tilapia recipe contest.
Emily aspires to attend culinary school in New York City and to work in the test kitties of a food magazine or company, with recipe testing and food styling. Writing a cookbook is also a goal for the future.