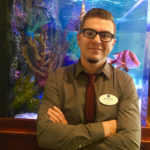 Anthony Ciecalone is a mixologist at RumFish Grill located in St. Pete Beach. Anthony, originally from Las Vegas, Nevada, started bartending at 18 years old. He honed his skills at TAO, Planet Hollywood, and Pete's Piano Dueling Bar, where he quickly excelled at creating top notch cocktails with a flair for incorporating unique and unexpected ingredients. On a whim, he decided to move to Florida ten years ago. Anthony joined the RumFish Grill team in 2015 and has become one of the restaurant's most innovative mixologists. Anthony's favorite parts of the industry are meeting interesting people and exercising his creativity in a way that customers are able to interact with and enjoy.
He was the featured mixologist at Florida Strawberry's most recent event hosted in part with Sunday Supper. Eighteen bloggers and social media influencers spent the weekend touring farms, meeting growers, and most importantly learning about Florida strawberries! Anthony shared this recipe for the refreshing Strawberry Mojito Martini showing the group how to use strawberries in a cocktail.
Strawberry Mojito Martini
1/2 part vanilla vodka
1/2 part vodka
1/2 part coconut vodka
Fresh pineapple
Fresh strawberry
*Shaken w/ mint and topped with a spritz of Sprite.
Check out the RumFish Grill website, follow them on Facebook, Twitter, Pinterest, and Instagram.
Pin it!